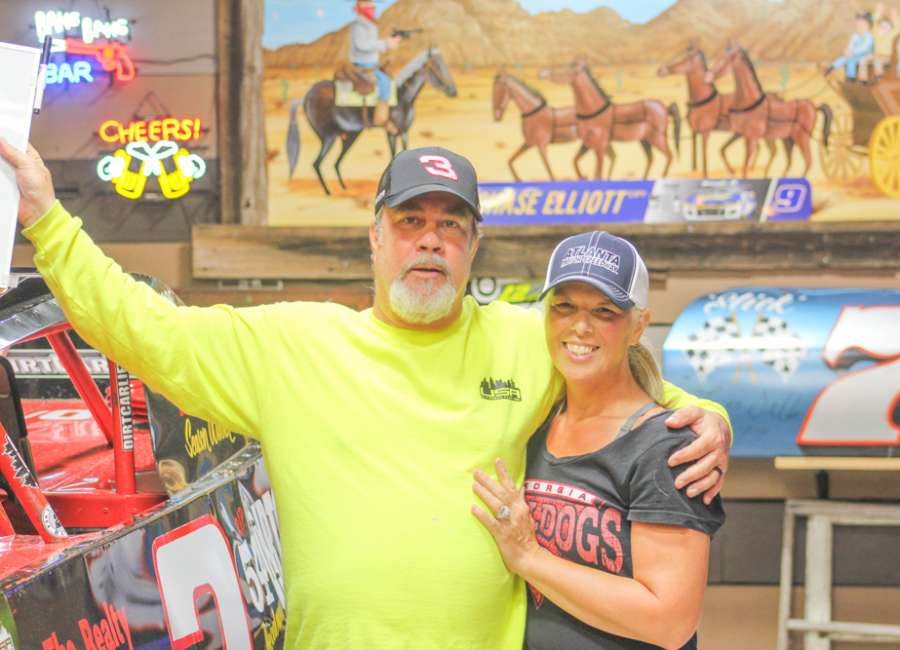 On Saturday night at Senoia Raceway, race car driver Mark Newton will go for his eighth win in a row in the Mini-Stock division.
His Black #3 Chevrolet Monza has been upfront all season; it is a place he is used to.

The situation has caused the race promoters at Senoia to try and level the playing field by issuing a "bounty" on Newton. The amount escalates each week, but if a fellow racing competitor can defeat Newton, they get the regular winners' purse plus an additional $300 this week.
Another win by Newton on Saturday, and the bounty goes up $100.
When asked how he gained a love for the sport, he talked of his dad, a drag racer. He remembered going down Highway 85 between Riverdale and Fayetteville at 100 mph, which started his love for speed.
He saw a race car in 1982 when he went to a gas station in Riverdale to fix a flat on his bicycle. The attendant told him about dirt track races in Senoia and asked him to go with them. He has been hooked ever since.
He has won everywhere he raced: Senoia, Dixie Speedway, 7-Flags, the list goes on and on. He is just a man who loves his wife, Lisa, loves life and loves racing. How could you ask for anything more?
To consider Newton as just a race car driver is selling him short; he is a true entertainer.
He had a show on Facebook live, "The Mini-Stock Minute Live Racing Report," that gained notoriety and a considerable following. He likes an open car hauler so young kids can see the race car as he drives to the track. He wants to win, but he also likes to put on a show.
His racing week starts on Saturday when they get home from the track and unload the car.
"We come in and take the tires off and pressure wash them. We do some maintenance like changing the plugs. Then I wash it before I load it back up on race day," he said. "I like to take time and read the mud for any clues it might have left before I wash them off. We put a lot of effort into our car, but we love it."
Newton and his wife also love the atmosphere of the Senoia facility since it has come back to the Pollard Family.
"They bought it back; Sonny has his dad's legacy back," Newton said. "They have remodeled everything. They give you the feeling that they want you there. It is just a fun place to go and compete."
While he said he would be glad when the bounty is over, there is a part of him that probably will hate to see that happen.
A showman loves putting on a show, and Mark Newton excels at it, just as much as he excels at driving a race car.