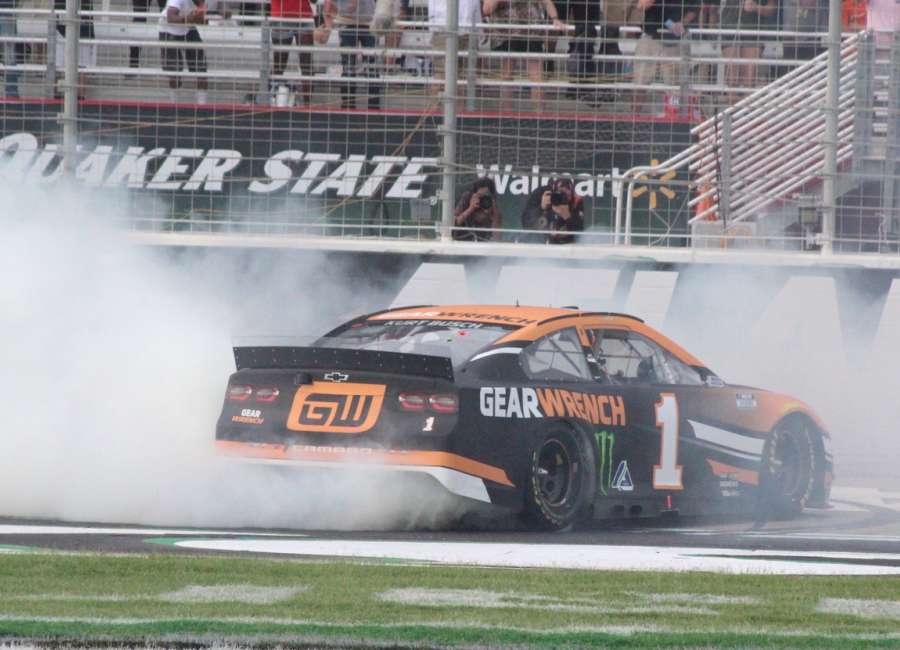 Kurt Busch took a popular victory on Sunday, winning the Quaker State 400, the last race on the old Atlanta Motor Speedway.
Busch won the race after a close duel with his younger brother Kyle, taking the lead for keeps on lap 236 of 260. The win marks Kurt's 33rd career NASCAR victory, and his first since taking a win at his home track in Las Vegas in late-September of last year.
Kurt led the most laps in the race, leading 144 of the 260 laps. Kyle led 91 laps in the race.
In the post-race press conference, Kurt spoke of how delighted he was to beat his younger brother on the race track, even if Kyle might not have been as pleased to have come out second.
"The adrenaline gets going, the childhood memories come back, the best of the best in this business is in my mirror, and yet, I can giggle to myself sometimes and tell myself, 'I taught him everything he knows,' but it's an awesome genuine battle between the two of us. We've had some friction over the years, but as we get older, we've gotten slightly a bit wiser, and we've raced each other with a ton of respect on track, to almost be teammates, although we race for different organizations."
Kurt drives for Chip Ganassi Racing, while Kyle drives for Joe Gibbs, former Super Bowl-winning head coach for the Washington Football Team.
The role of Ross Chastain, Kurt's teammate, in the victory, was controversial after the race. Kurt joked that Ross's late move to help Kurt get by his brother may have cost him his ride home.
"I already knew to find another ride, especially with Ross Chastain coming off the top rope and throwing down a good block," Kurt said. "That helped us get by Kyle. Me and my little brother were supposed to share a ride home. It's only about four hours back to Charlotte, so it's not too big of a deal, but I'm pretty sure Kyle has already taken off."
Kurt chuckled with glee as he thought about it.
"We got the trophy. I ain't worried about it."
Kyle, meanwhile, was less than thrilled with the outcome.
"We ran up front most of the day, won the first stage, second in the second stage, we came off pit road with the lead on the final stop, thought we had the race in hand, and just gave it away," Kyle said.
Kyle was frustrated with Chastain's moves, saying he was blocked.
"He turned right in order to get dead right in front of me," Kyle said. "For a whole two laps, I just killed the tires trying to get turned underneath him. You can't just change direction, and when I tried to change direction, he watched his mirror and changed direction with me. It's just pathetic."
When asked if it was ethical for Chastain to throw blocks of that sort, Kyle said, "It's racing, man."
"You can do whatever the hell you want," Kyle said. "It'll just come back on you."
The race was marred by an incident with around 100 laps to go when a small piece of the track came up on the front straightaway. The piece of pavement was small, but was enough for NASCAR to stop the race entirely for around 19 minutes.
The race was the final one for the old pavement at the Atlanta Motor Speedway, which had not been resurfaced since the track was reconfigured in 1997.
Since then, the track had gone from ultra-fast, as seen with Geoff Bodine's 197 mph qualifying lap during the first race weekend with the pavement, to slick, patched-up and abrasive on tires.
"I came into this weekend respecting the race track more than I ever have," Kurt said. "Atlanta Motor Speedway is one of the top tracks for all the drivers, based (on) how we're able to slide the car through the corners and choose which lane we want to race on. I came in to respect her surface and ask her for the right amount of grip today, and I could feel it. I could feel like she was helping me pull through and come out on top."
Kurt said he really wanted to win the last race on the old surface.
"This was the last little bit of the old school, and I'm glad an older guy won the race today," Kurt said.
Kurt, now in his early 40s, has been competing in the NASCAR Cup Series full time since 2001, having now scored 33 career wins in his 741 career NASCAR starts. The win moved him to 25th all time for most career wins, moving him past Dale Jarrett and into a tie with Glenn "Fireball" Roberts, who won the first ever race at the Atlanta Motor Speedway, back in 1960.
Together, the Busch brothers have 92 career wins in NASCAR — Kurt with 33, Kyle with 59. Kurt said he would like to see he and his brother become the winningest brother combination in NASCAR history, a standard currently set by the Allison brothers, who officially have 94 career wins between the two.
Bobby Allison officially has 84 wins, while many, including Bobby himself, claim 85 wins, the result of an Aug. 6, 1971 race at Bowman Gray Stadium in Winston-Salem, North Carolina. Bobby, driving a Grand American-spec car, won the race driving a Ford Mustang. NASCAR does not credit a winner for that race, as Allison was not driving an official Cup Series car in that race.
"I'm just gonna keep plugging away and do my part," Kurt said. "They still have that record, but Kyle and I are out here finishing 1-2, we can chip away at it and get it done."