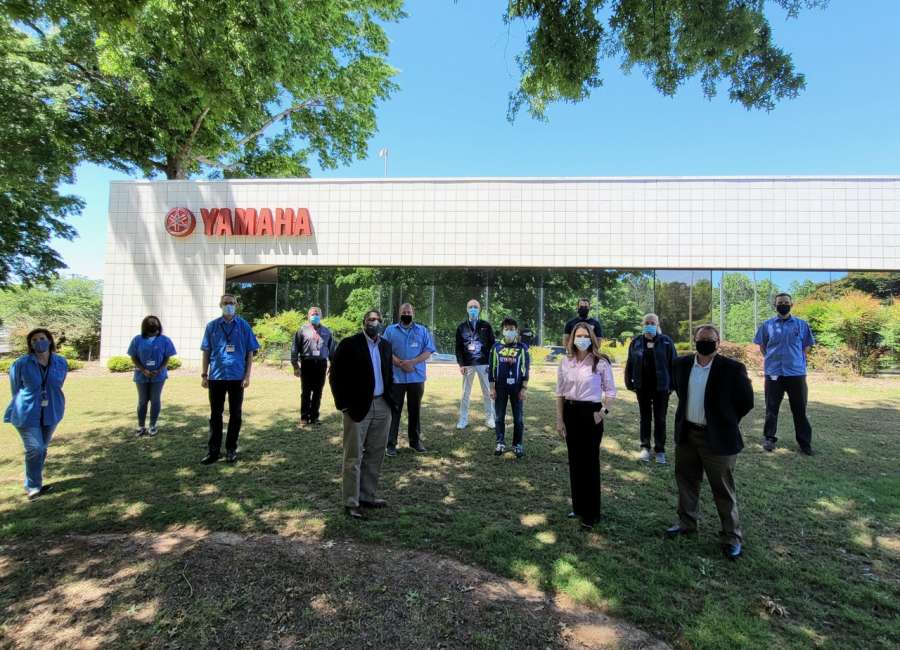 Yamaha Motor Manufacturing Corporation of Newnan and its employees have donated over $55,000 toward tornado relief efforts in Coweta.

The company designated the Coweta Community Foundation's Disaster Relief Fund as the key recipient of employee donations for relief efforts. Yamaha agreed to match donations by 200 percent up to $500, up to a matching fund total of $50,000.
Yamaha also donated $20 per employee hour volunteered toward the disaster relief fund, according to CCF, for a total of more than $55,000.
Yamaha's donation is the single largest made to the Tornado Relief Fund, said Cynthia Bennett, CCF vice chairman. "To engage their employees in the way they did was extraordinarily clever – and keenly appreciated," she said.
YMMC's corporate donations are funded by the company's recycling program, said Melanie Sewell, corporate planning senior business analyst at YMMG, all corporate donations are funded by the YMMC Recycling program.
"Our employees recycle waste materials such as plastic, cardboard and metal, allowing YMMC to reduce our impact on the environment and support community efforts and organizations," she said.
In addition to the donations, the local Yamaha plant reached out to the company's musical instrument division to arrange loaner instruments for the Newnan High School Marching Cats. All of the school-owned marching band instruments were destroyed by flooding at the school after the tornado.
"We greatly appreciate these generous donations from Yamaha and from the Yamaha employees," said CCF Board Chairman Jackson said. "These funds will go to help a great many individuals and local charitable organizations as they work toward tornado recovery."
Noting that he is also the father of a Newnan High band student, Jackson added that he is "awed by the incredible generosity of both the corporation and its employees. These donations, from both local employees and from the company and divisions across the U.S., are significant and are going to meet a wide range of needs."
The Foundation continues to accept donations to the county's official disaster relief fund. Those wishing to contribute may go to the Foundation's website, cowetafoundation.org , and click on the "Donate for Tornado Relief'' tab up top.
As of this week, roughly $530,000 had been donated to the fund and approximately $250,000 has already been distributed to individuals and nonprofits supporting recovery efforts.
The Coweta Community Foundation is a publicly supported 501(c)(3) organization that helps focus local philanthropy on the community's changing needs. The Foundation manages individual gifts and bequests as an endowed pool of assets, distributing grants to a wide variety of organizations that enhance and support the quality of life in Coweta County, while maintaining the charitable intent of the donors. For more information, call the Foundation at 770-253-1833.