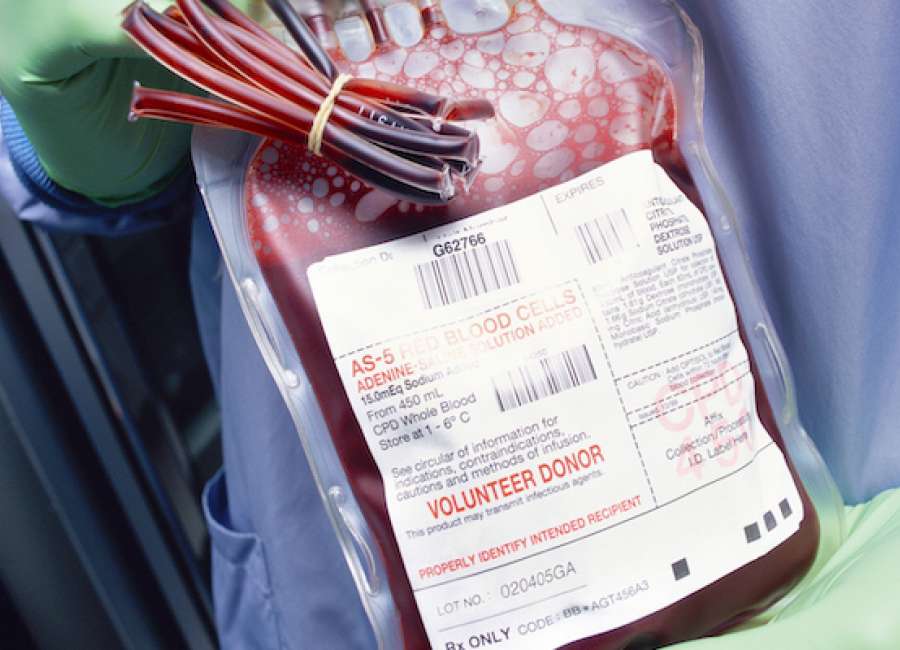 The American Red Cross is experiencing a severe blood shortage as the number of trauma cases, organ transplants and elective surgeries rise.

Donors of all blood types – especially type O and those giving platelets – are urged to make an appointment to give as soon as possible to prevent further impact to patients.
Hospitals are currently responding to an unusually high number of traumas and emergency room visits, as well as overdoses and resulting transplants. In comparison to 2019, the Red Cross has seen demand from trauma centers climb by 10 percent in 2021− more than five times the growth of other facilities that provide blood transfusions.
"When seconds count in emergency trauma situations, it's the blood already on the shelves that can make the difference in lifesaving care," said Baia Lasky, medical director of the American Red Cross of Georgia. "As many people begin to enjoy travel and time with loved ones again this summer, patients are relying on the generosity of donors to help ensure they have access to the treatment they need. Please consider blood donation as a summer activity that can help save lives."
In addition to trauma needs, there is a great hospital demand for blood as people who deferred care during the height of the pandemic are dealing with more advanced disease progression, requiring increased blood transfusions.
Over the last three months, the Red Cross has distributed about 75,000 more blood products than expected to meet these needs. As a result of this shortage, some hospitals are being forced to slow the pace of elective surgeries until the blood supply stabilizes.
Blood is perishable and cannot be stockpiled, so it must constantly be replenished by blood donors. As a thank you, those who donate through June 30 will receive $5 Amazon.com gift cards via email.
Upcoming blood drives in Coweta County
Monday, June 21, Newnan – Southside Church Newnan, 1821 GA-34, 1-6 p.m.
Thursday, June 24, Newnan – SouthCrest Church, 365 International Park, 1-6 p.m.
Thursday, June 24, Senoia – Legacy Christian Church, 1150 Rockaway Road, 1-6 p.m.
Friday, June 25, Newnan – Newnan City Church, 17 First Ave., 1-6 p.m.
Donors can schedule an appointment to give blood by using the Red Cross Blood Donor App, visiting www.RedCrossBlood.org , 1-800-RED CROSS (1-800-733-2767) or enabling the Blood Donor Skill on any Alexa Echo device.
In most cases, those who have received a COVID-19 vaccine can donate. However, donors should be prepared to provide the manufacturer's name for the vaccine they received to help determine donation eligibility. The Red Cross will discontinue antibody testing for blood, platelet and plasma donations after June 25.
Sickle cell trait screening
Most of the 100,000 individuals with sickle cell disease in the U.S. are of African descent and will require regular blood transfusions to help manage their disease. Some individuals with sickle cell disease may require as many as 100 units of blood per year.
The Red Cross is screening all blood, platelet and plasma donations from self-identified African American donors for the sickle cell trait. This additional screening will provide Black donors with an additional health insight and help the Red Cross identify compatible blood types more quickly to help patients with sickle cell disease.
Because the best blood match for a patient receiving ongoing transfusions comes from donors of the same genetic background, the Red Cross encourages people of all ethnicities to give blood and help increase the number of diverse donors to find the best match for all patients.
Donors can expect to receive screening results, if applicable, within one to two weeks through the Red Cross Blood Donor App and the online donor portal at www.RedCrossBlood.org .
•••
What should I eat and drink before donating blood?
Medical experts recommend the following iron-rich foods:
Meat: Beef, veal, poultry, shellfish and liver. (Eggs are another good source of iron.)
Vegetables: Spinach, sweet potatoes, peas, broccoli, string beans, beet greens, dandelion greens, collards, kale and chard.
Breads and cereals: Enriched white bread, enriched cereal, whole-wheat bread, enriched pasta, wheat, bran cereals, cornmeal, oats, rye bread and enriched rice.
Fruits: Strawberries, watermelon, raisons, dates, figs, prunes, prune juice, dried apricots and dried peaches.
Beans: Tofu, kidney beans, garbanzo beans, white beans, dried peas, dried beans and lentils.
Vitamin C boost. To help better absorb plant-based iron, experts recommend upping your intake of Vitamin C by eating foods like cantaloupe, citrus fruits and juices, kiwi, mango, papaya, pineapple, strawberries, raspberries, blueberries, cranberries, watermelon and tomatoes.
Extra water: Around half of the blood you donate is made of water, so you'll want to be fully hydrated. According to healthline.com, blood pressure can drop and lead to dizziness when you lose fluids during the blood donation process. In addition to the recommended daily consumption of 9-13 cups of water, the American Red Cross recommends drinking an extra 16 ounces (2 cups) of water or other nonalcoholic beverages before donating blood.
What should I avoid before giving blood?
Alcohol: Alcoholic beverages lead to dehydration. Try to avoid drinking alcohol 24 hours before giving blood. If you do drink alcohol, make sure to compensate by drinking extra water.
Fatty foods: Foods high in fat, such as french fries or ice cream, can affect the tests that are run on your blood. If your donation can't be tested for infectious diseases, then it can't be used for transfusion.
Iron blockers: Certain foods and beverages can affect your body's ability to absorb iron. You don't have to avoid these foods completely, but avoid eating them at the same time you consume iron-rich foods or iron supplements. Iron blockers include coffee and tea; high-calcium foods like milk, cheese and yogurt; red wine; and chocolate.
Aspirin: If you're donating blood platelets – which is a different process than donating whole, or regular, blood – your system must be aspirin-free for 48 hours prior to donation.
What happens after I donate blood?
After you donate blood, you'll be provided with a light snack and something to drink. This will help stabilize your blood sugar and fluid levels. To replenish your fluids, drink an extra 4 cups of water over the next 24 hours, and avoid alcohol.
Most people experience no side effects when giving blood. After donating blood, you'll be asked to wait in the refreshments area for 10 to 15 minutes to make sure you're feeling OK.
Once you've had a snack and something to drink, you can return to your daily activities. The Red Cross recommends avoiding heavy lifting and vigorous exercise for the rest of the day. For more information on donating blood, visit www.redcross.org .