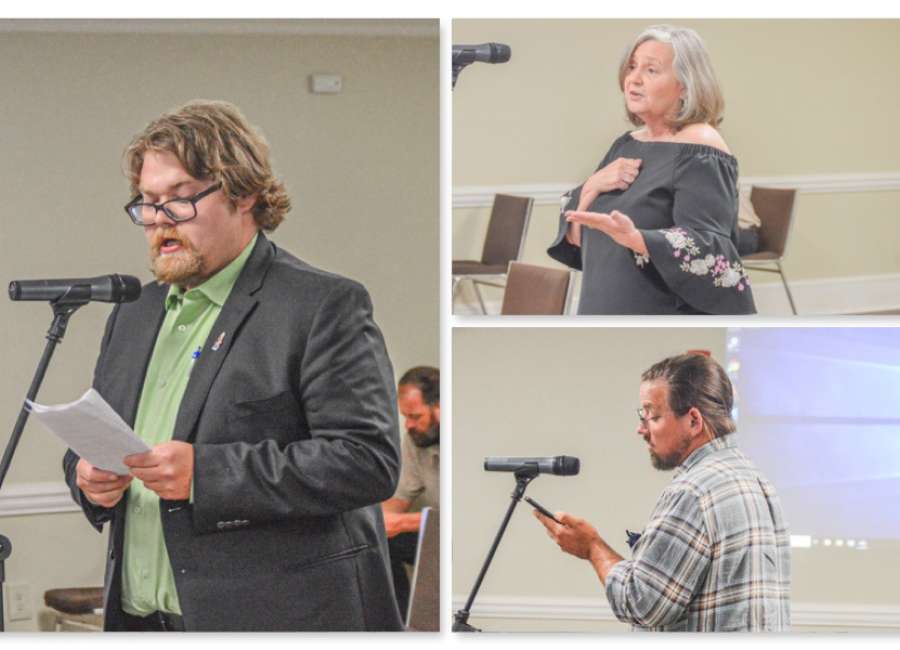 At the May 18 Coweta County Commissioners meeting, a large group of Cowetans – and at least one resident of a neighboring county – turned out to urge the commissioners to pass a resolution promising to uphold the Constitution, and expressing their fears about the infringement of their constitutional rights and the growth of communism and socialism.

At the June 3 meeting, three Cowetans spoke to respond.
Brant Frost V of the Coweta Republican Party "has the solution; it's as natural as meeting, praying and telling your wife you love her. Just reaffirm your oaths," said Josh Wieda.
"But not to our country. He wants you to reaffirm your oaths to them. He wants you to legitimize and notarize, with the seal of your authority, their privately held, dubiously sourced, highly debatable political beliefs." Wieda said.
Weida said people who are unwilling to abide by the outcomes of the last election and unwilling to compromise with the new administration, want to "just nullify it instead. They want out of the federal system and they want your official sanction and approval."
Wieda said that those asking for the constitutional sanctuary proclamation "want you to break faith with the federal system of elections, courts and laws to interpret the Constitution outside of its only legitimate context.
"They want out of the hard work of living in a shared community and shared reality. The proclamation is a poor man's secession ordinance. It's dime store treason. And if you swore your oaths on a Bible, it's blasphemy.
"Chairman Frost has faith in you, and so do I. My faith is not misplaced because you and I have in common our sworn oaths," Wieda said.
His was an enlistment oath; theirs are oaths of office.
"Our oaths are to every state, city and citizen. Not just our half, our corner, our voters. Certainly not just the eight people who tried too hard two weeks ago to be the only voices heard in this room. Our oaths are sacred and they are sufficient, and I think you know what to do."
Spencer Lewis said that, like the commissioners, he loves the Constitution – particularly for its role in organizing the federal government and guaranteeing rights to its citizens.
"The local GOP led by Brant Frost and Linda Menk would have you think that our rights are under attack so much so that it would appear that they brought in someone from Fayette County to recommend militias to help protect our sacred rights as Americans. With this fear they would like to bait you into being subversive to the federal and state government," Lewis said.
Lewis said if the previous meeting speakers are genuinely concerned with our constitutional rights as Americans, "I would think they would not still be championing the idea of voter fraud that led to the Jan. 6 insurrection."
"To me the reason is clear," Lewis said. "They are upset that the November election did not go the way they wanted and that Georgia may turn from red to blue. This reeks of the same logic that caused the Jan. 6 riot – and the Civil War: if I don't get what I want I will circumvent the whole process laid out in the very documents they wish for y'all to reaffirm your belief in."
"As we learned in January as well as in 1861, our republic is a fragile thing," Lewis said. "One light misstep and we could lose it. Please, commissioners. I implore you: Do not take up this matter. Like that rotten apple that it is, throw it in the trash where it belongs."
Deborah Carroll said that after listening to the meeting online and hearing the speakers, "it kept me up at night."
She wrote to her commissioner, Tim Lassetter, to express her concerns. She said he wrote her back and said that all commissioners have taken an oath to protect the Constitution.
"I cannot tell you the peace that that gave me, to know that my board of commissioners — part of my Newnan, my Coweta — is a commission that is going to uphold the Constitution, not only inside of these four walls, but outside of these four walls. Not just as a commissioner, but as a private citizen as well," she said.
During the May meeting, one speaker was Charles Bennett of Fayetteville, who said he was commander of the 496th militia district in Fayetteville and suggested that Coweta could benefit from the militia.
In a response to a letter to the editor from Lewis, Alan Brady, one the the speakers from May who presented the proclamation to the commissioners, said that Bennett said was not involved in his group and that, to his knowledge, no one else at the meeting knew him.
"He was not 'brought in' by us in any way. His comments seemed to be relatively unrelated to the topic of the proclamation," Brady wrote. "It's really unfortunate that he is being used to distract from our effort."