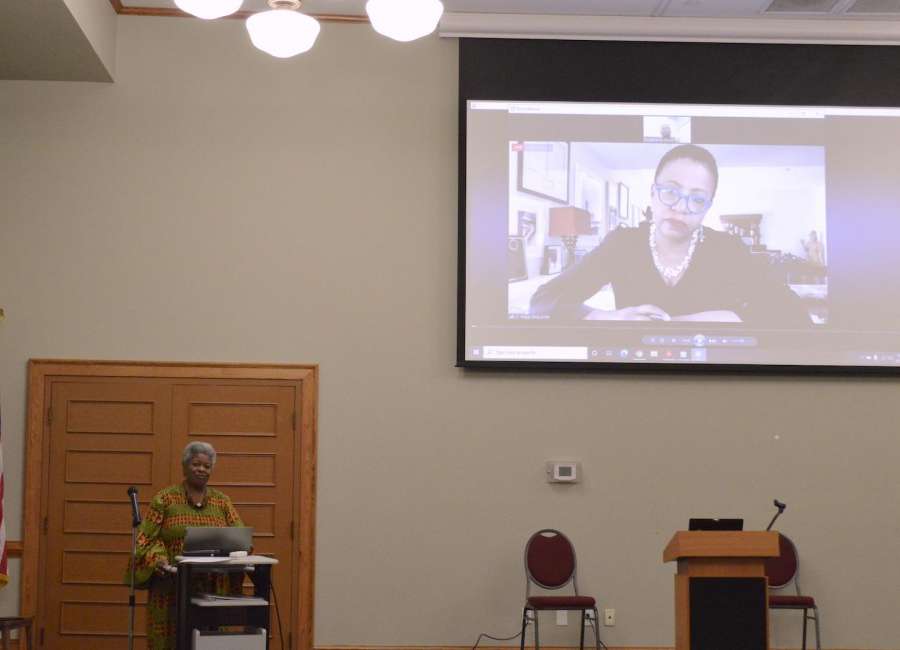 African American history, often lacking in records and written documentation, doesn't always get the attention it deserves.
The preservation of African American burial sites, the challenges of African American genealogy and the history of Newnan's Farmer Street Cemetery were discussed before a crowd in person and online Thursday.
The Preserving our History event was hosted by the Coweta African American Alliance and Elite Youth Organization in honor of Juneteenth.
Juneteenth – June 19 – celebrates the emancipation of enslaved people in Confederacy. The commemoration originated in Galveston, Texas in 1866 and is now celebrated throughout the U.S. It was recently named a federal holiday.
Peggy King-Jorde, a renowned expert on the preservation of African and African American burial sites, presented remotely from New York City, where she talked about preservation work in New York and on the island of St. Helena. King-Jorde also took questions from the audience about preservation work.
Genealogist John Wells, who specializes in genetic genealogy using DNA testing, also spoke (see sidebar), as did Lillie Smith, who gave the history of the Farmer Street Cemetery, African American Alliance, and Coweta African American Heritage Museum and Coweta Commissioner Al Smith.
The history of the Farmer Street Cemetery dates back to 1828. Andrew Berry moved to Coweta in 1827 and he owned much of the land in the area of Farmer Street and Berry Avenue. Smith said a map from 1828 shows a "negro graveyard" on the Farmer Street site of 16 acres, Smith said. It is later referred to as the Cole Cemetery or Colored Cemetery. The 1850 Census showed Berry owned 72 slaves, she said.
There's just one marker on the site, that of infant Charlie Burch, who died in 1869. But at least 249 grave depressions were identified in 1999 when archeological work began. The cemetery is now 4.4 acres; some of the land was transferred to the Newnan Cotton Mills.
While it's unknown who is buried there, other than 3-month-old Burch, surveys, deeds, and local legend lend credence to it being a slave cemetery and almost certainly an African American cemetery, Smith said.
King-Jorde grew up in Albany, Georgia, the daughter of a civil rights attorney, and moved to New York to study architecture.
"I never would have imagined that while working with New York's first African American mayor, my career would take me on a journey – a journey leading in the fight to protect a burial ground for free and enslaved African people, a site that would ultimately gain significant international attention," she said. "I would serve at the helm to implement the plans for honoring the memory of more than 15,000 individuals buried in New York City in lower Manhattan, enslaved and free."
The graves were discovered during the construction work for a federal building. A gag order that was put in place sparked outrage, King-Jorde said. It was "an attempt to erase and render irrelevant the memory, lives and history unfolding at the burial ground. This was about my community, my history, and it mattered who would tell their story," she said.
It eventually took an act of Congress to stop the construction, and to call for a public hearing, which resulted in altering the original building design and the redirection of public money to come up with a plan for honoring those who were buried at the site, she said. She prepared and evaluated the plans for a memorial design and interpretive center and the reburial of over 400 remains.
They saw the historic designation of a five-block radius of the burial ground as a way to guard against future threats of development, she said. Artists were commissioned to create works throughout the district.
"Physical reminders are what we use to keep ourselves close to important places, people and events," King-Jorde said. "We weren't satisfied with just a sign or plaque. We wanted the work to be integrated into the building so that no one would ever, ever forget."
Commissioner Smith spoke about how racism hurts everyone. "When one group tries to put a group or race against another group, we all suffer," he said.
People "are not created by ourselves. We are created by a deity or a divine entity. It is from God that I got my skin color. It is from God that I got my hair, my eye color, all my DNA. You don't choose how you came here. Some will say you don't choose how you leave. The proof is in the dash between when you were born and when you transition out.
"I'm calling upon you and pleading with you, and I implore you to do what you can do in your area, in your circle," he said.
For more information about the Coweta African American Alliance, museum and cemetery, visit ccahm.org or the Coweta County African American Heritage Museum page on Facebook.