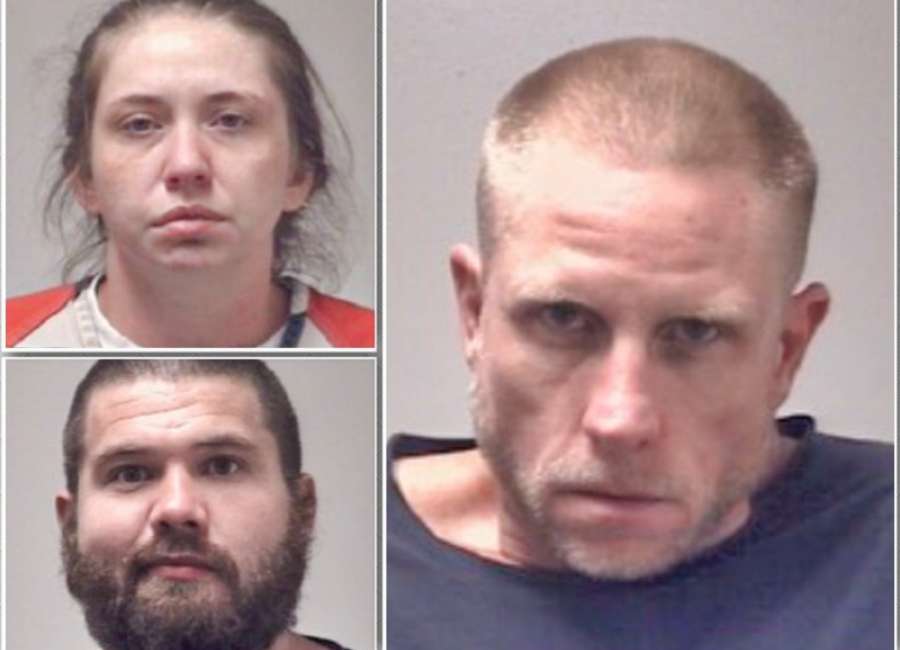 Three people suspected of shenanigans at Southtowne are now facing criminal charges.

Saturday night, police responded to the Southtowne overflow lot after a security company reported two people trespassing, possibly stealing catalytic converters from the cars.
An officer spotted two men bent over one of the trucks wearing all black, a black mask and carrying a black backpack. Inside the backpack, police found a battery-operated reciprocating saw, a pack of saw blades, batteries and a flashlight with a red bulb.
One suspect, identified as Dennis Cory Denny, told police he intended to trade the saw for money and was cutting through the parking lot to get to the interstate, according to the police report.
Denny also was reportedly in possession of a short-range walkie talkie, which he told police was used to communicate with his family.
The second suspect, identified as Joseph David Young, was wearing a full mesh camo mask and reportedly told police he intended to take a nap underneath the truck and was unaware he wasn't allowed to do that.
An officer began communicating on the walkie talkie with a female who agreed to meet him at a nearby parking lot. The female, identified as Charity Michelle Edwards, was seen inside a U-Haul, and a traffic stop was performed on the truck.
All three were taken to the Newnan Police Department for interviews and then to the Coweta County Jail.
Young, 45, and Denny, 30, were both charged with conspiracy to commit a crime, possession of tools to commit a crime and criminal trespass.
Edwards, 31, was charged with conspiracy to commit a crime and possession of tools to commit a crime.
Investigators believe the two men may be connected to another recent incident of catalytic converter thefts at a different local car dealership.
The Coweta County Sheriff's Office and Newnan Police Department have reported over $33,000 worth of stolen catalytic converters to date in 2021.
Catalytic converters are made of three different metals that hold a pretty steep price tag. Two of the metals, palladium and rhodium, are worth more per ounce than the price of gold.
Law enforcement is encouraging businesses and churches, or anyone with a vehicle that doesn't get cranked often, to park their vehicle close to surveillance cameras they may have on the property.
A catalytic converter can be removed in as little as two minutes with a saw, Nix said.
Along with making the car unsafe to drive, the cost to repair the part can range between $945 and $2,475, with up to $2,250 being the cost of the part itself, according to the CarBrain website.
The Environmental Protection Agency made selling used catalytic converters illegal in 1990, unless they were tested and certified by the EPA.