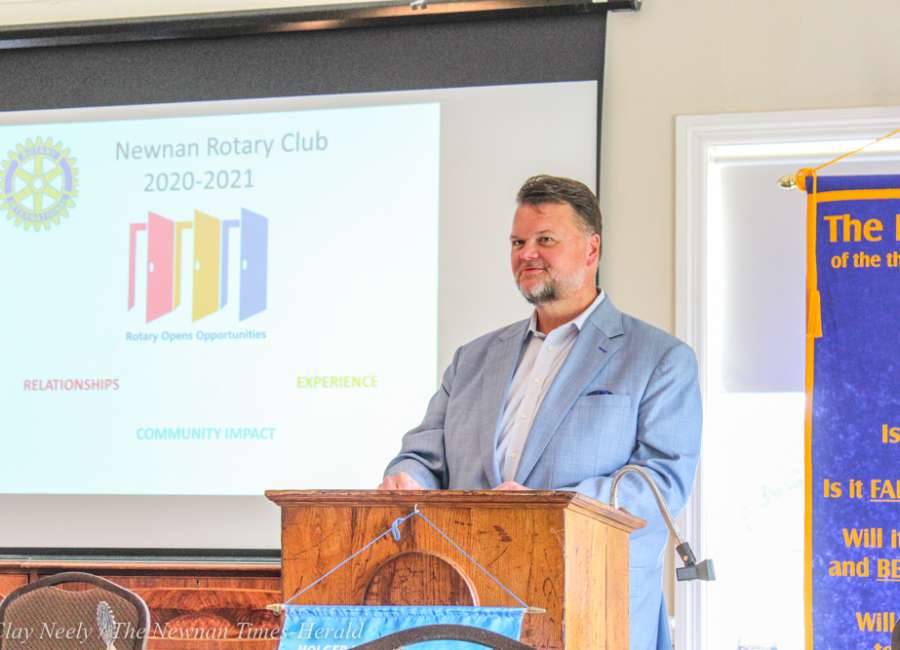 Piedmont Newnan CEO Mike Robertson said he's often asked about the extent of the COVID-19 pandemic and if it's actually as bad as people think.

"When you see the CEO in scrubs, it's bad," he said. "When a CEO is putting your breathing tube in, it's bad. When a CEO has to cancel 100 percent of surgeries, the revenue coming through the hospital, that's a bad scenario."
In a presentation to Rotary, Robertson said the hospital was 145 percent of total capacity and experienced staffing shortages because employees left early in the pandemic to help hard hit areas, before COVID-19 cases rose in Newnan.
The hospital also had little personal protective equipment such as masks or test kits, Robertson said.
To slow the spread of the virus, the operating room was closed twice, and visitations were not allowed.
PNH has 18 ICU beds and ventilators, all of which were in use at one time, Robertson said.
"As a CEO, I've never worked or prepared for an event remotely close to this," he said. "Normally, our catastrophes have a start and an end. We were literally within 48 hours of looking at calling the National Guard to call for hands.
Robertson spoke at the Newnan Rotary Club's Friday meeting to discuss the trials the hospital faced through the pandemic and the recovery PNH is making to get to pre-pandemic operations.
Now, PNH has the lowest number of COVID-19 hospitalizations since the beginning of the pandemic, Robertson said. Their highest amount was earlier this year in January.
"We had COVID patients falling out the doors. Two-thirds of our hospitals were full of patients," he said. "It was a really bad situation. I can remember seeing the cloth masks and thinking, 'What kind of world are we living in where cloth masks are the end all be all?'"
PNH has, and is licensed for, 154 beds, but in January this year, the hospital had 225 patients and placed those patients wherever they could.
According to Robertson, PNH did not have the staff to take care of all of the patients coming in.
"When we had to close the OR, it was because we needed staff," he said.
Since COVID-19 cases have dropped, Robertson said the volume in the hospital is at 85 percent of pre-pandemic levels since some patients stopped seeking healthcare during the pandemic. Surgeries are at 98 percent of pre-COVID levels.
"We learned that we had to run two hospitals," Robertson said. "We had a COVID hospital and a regular hospital. People didn't stop getting sick and people don't stop having health care emergencies."
So far, Robertson said PNH has distributed more than 170,000 doses of COVID-19 vaccines to employees, staff and patients.
The goal is to get as many people vaccinated as possible so COVID-19 is not easily spread, Robertson said.
Robertson closed his talk with how PNH will be growing.
PNH is planning to get a new license for a total of 167 beds, Robertson said, and putting together a proposal for a second tower, which would hold 45 beds and cost $60 million.
The hospital has expanded its cardiology services and purchased new state of the art equipment. It is also expanding its oncology services by bringing on new physicians.