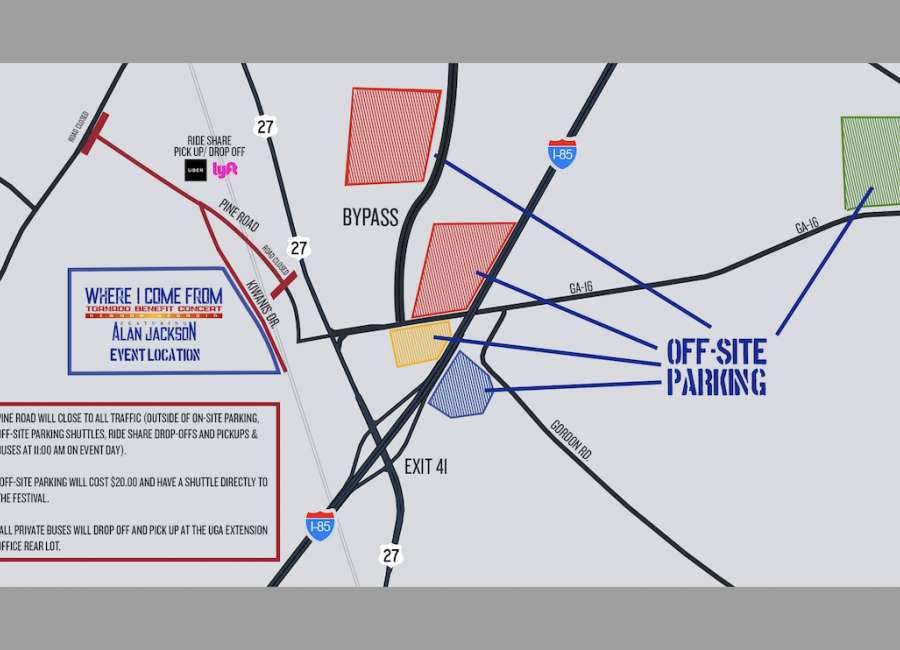 Multiple offsite parking lots will be available for those attending the Where I Come From tornado relief benefit starring Alan Jackson.
The concert, which sold out in one day, will be held Saturday, June 26 at the Coweta County Fairgrounds. Limited onsite parking passes went quickly. There will still be limited handicapped parking on site.
The offsite parking plan was announced Friday afternoon. There will be several grassed areas along Highway 16 and Gordon Road that will be used for parking. Concert goers will be guided to those lots by signs and personnel.
Parking in the lots will cost $20, cash only. All proceeds from parking fees will benefit the Coweta Community Foundation, and all proceeds from the concert go into a special tornado relief fund, separate from the main tornado relief fund.
Shuttle buses will run from the parking lots to the concert site.
Private shuttles or busses can drop off and pick up in the parking lot of the Coweta Extension Office, located at the entrance to the fairgrounds. Drop off and pick up from rideshare will be across from the fairgrounds entrance.
Other private parking lots are expected to be available. "We highly encourage carpooling and patience," said spokesperson Maurice Miner.
Most of Pine Road will be closed to traffic, other than rideshare, shuttles and onsite parking, starting at 11 a.m. the day of the concert. Offsite parking opens at 11 a.m. and gates open at 1.