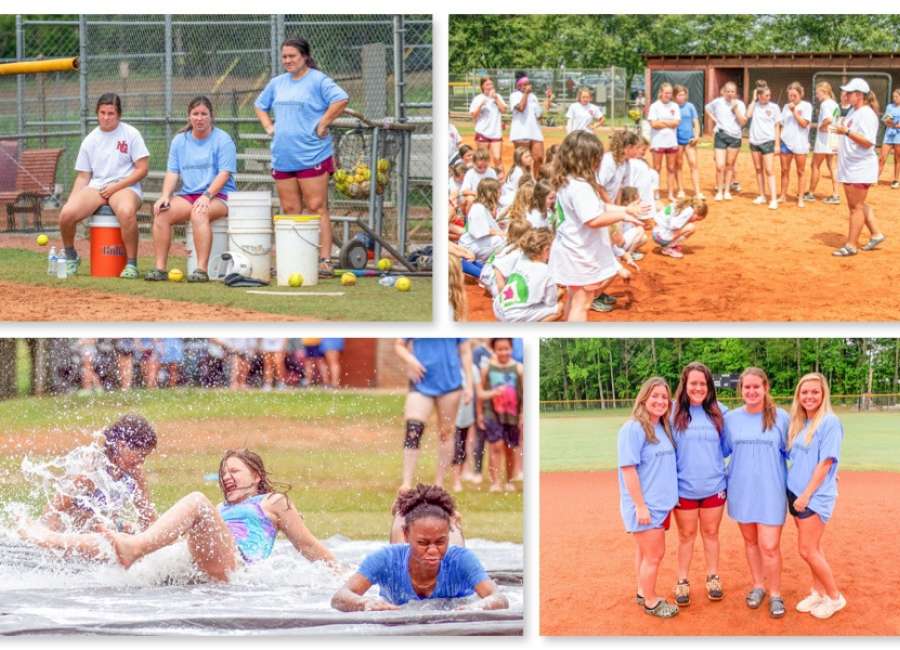 The Northgate Lady Vikings completed a successful junior camp this week on the softball diamond.
It was an opportunity to get back on the field with the younger players and to teach the fundamentals and love for the game after missing last season's camp because of COVID-19.

It was also a special moment as someone other than now-retired Head Coach Lisa Skelton was in charge. It was an opportunity for new Head Coach and Northgate alumna Carleigh Baker to transition into her new role.
Coach Baker was a member of Northgate's Class of 2013 and a junior on the 2011 Northgate Lady Vikings State championship team that defeated Whitewater 4-3. After a stellar softball career at Reinhardt University, she came back home to start her teaching and coaching career.
Asked about the transition, she shared, "It was a little intimidating at first, but since I was younger, I have always dreamed of having this opportunity."
The Lady Vikings made it to the Final-8 last season and just missed out a trip to Columbus, Georgia, for the final state tournament after two tough losses to Apalachee. While graduation took their entire outfield and slugging third baseman Natalie Heath, Coach Baker has a lot coming back, including a pitching staff that is special.
Troy State signee Olivia Cato and Kyra Aycock anchor a staff that is athletic, talented and experienced. Not only are they great in the circle, they are also great in the batter's box. Add to the equation the return of the starting catcher in Fran Lumpp, and the Lady Vikings have some key pieces to build around.
There is also some depth at pitching as well. Coach Baker shared, "We are really excited about the potential that Savannah Dickman and Jackie Burns bring as well."
Also behind the plate. Coach Baker said to watch for Harmony Jackson to get some playing time. "We are really excited for her to learn from Lumpp's experience and knowledge, but also to push her."
Other players counted on heavily this season are Hannah Smith, Breigh Totten and Anna Baldwin. Coach Baker also mentioned that the upcoming eighth grade group has the potential to be special as well.
Coach Baker welcomes an all-Northgate Alumni coaching staff. Jordan Hamilton, Lauren Deloach and Katie Burns round out the staff.
The region will once again be a challenge. Starr's Mill and Whitewater both finished in the final four in Class 5A and bring back strong pitching. Harris County and McIntosh will also field top level teams.
The Lady Vikings begin the 2021 season on Aug. 5, 2021 with a scrimmage game against the Trinity Christian Lady Lions.


PHOTOS BY MICHAEL CLIFTON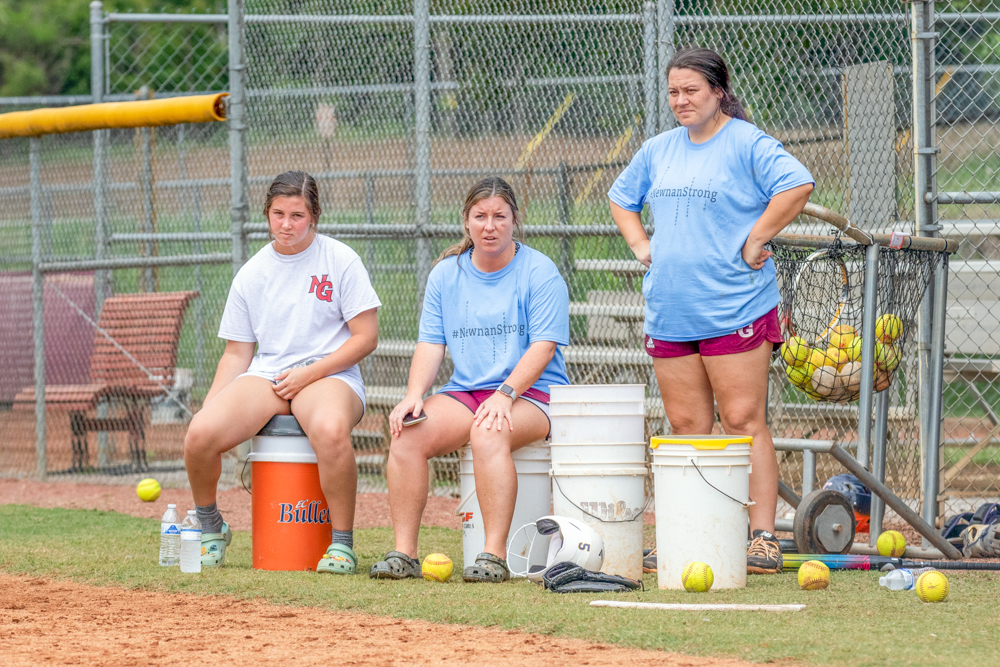 Senior pitcher Olivia Cato and Coach Burns and Coach DeLoach look on during a practice game.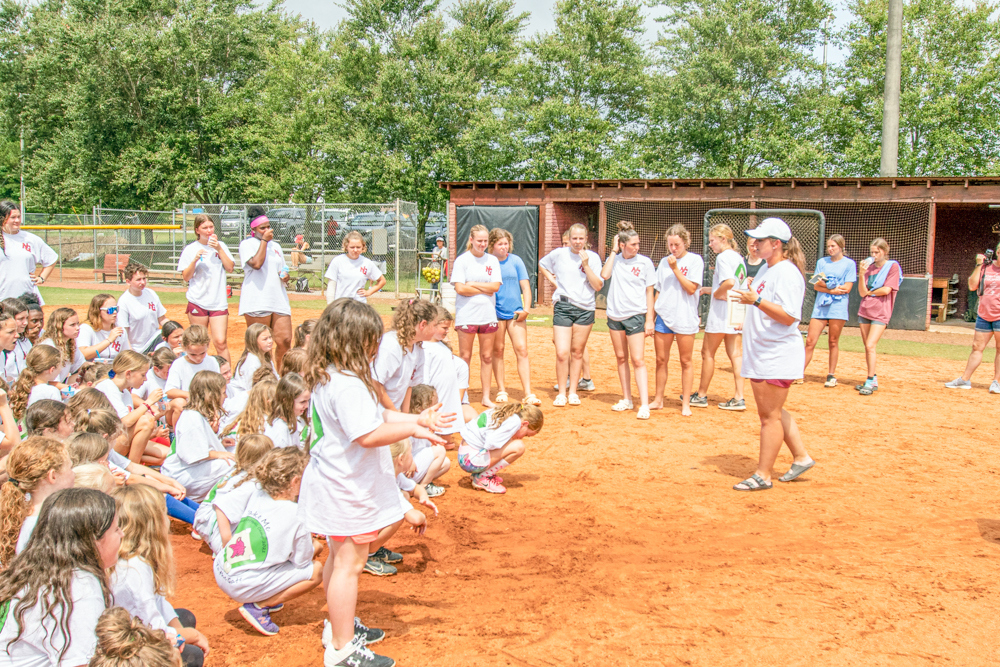 The junior campers received instruction all week from current Lady Vikings players and coaches.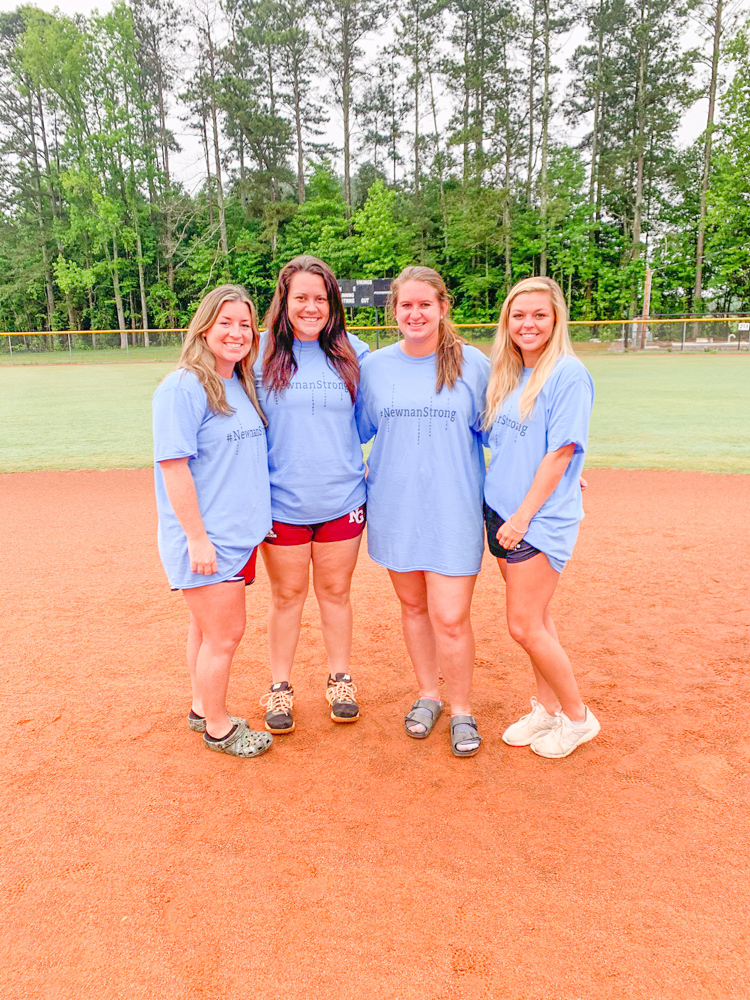 The 2021 Northgate Softball coaches include Lauren DeLoach, Katie Burns, Head Coach Carleigh Baker and Jordan Hamilton. All are alumni of Northgate High School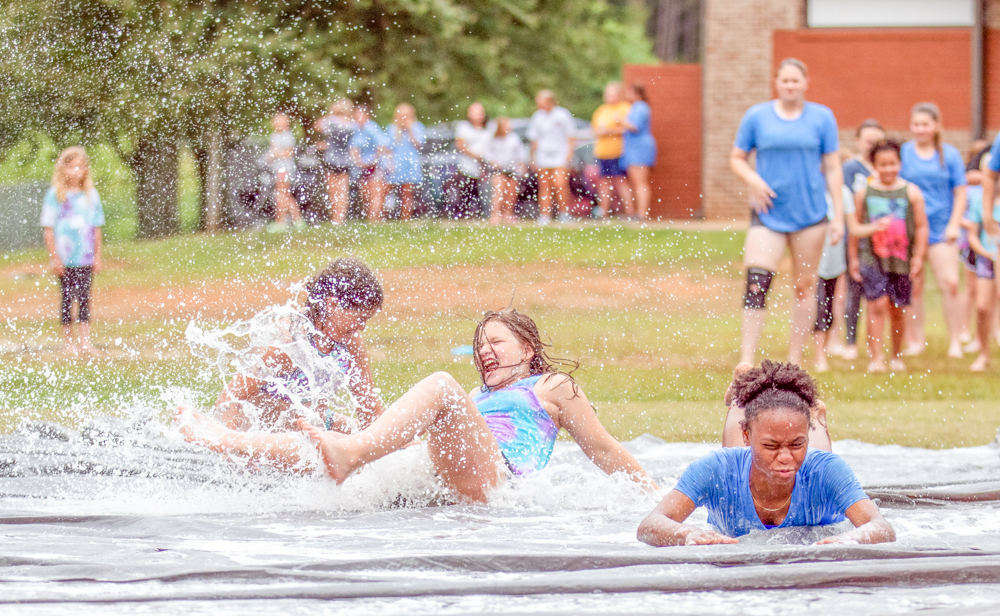 You can't have softball camp without a slip-n-slide. Lady Viking Maya Bostic (right in blue shirt) enjoys a cool down with a couple of campers.