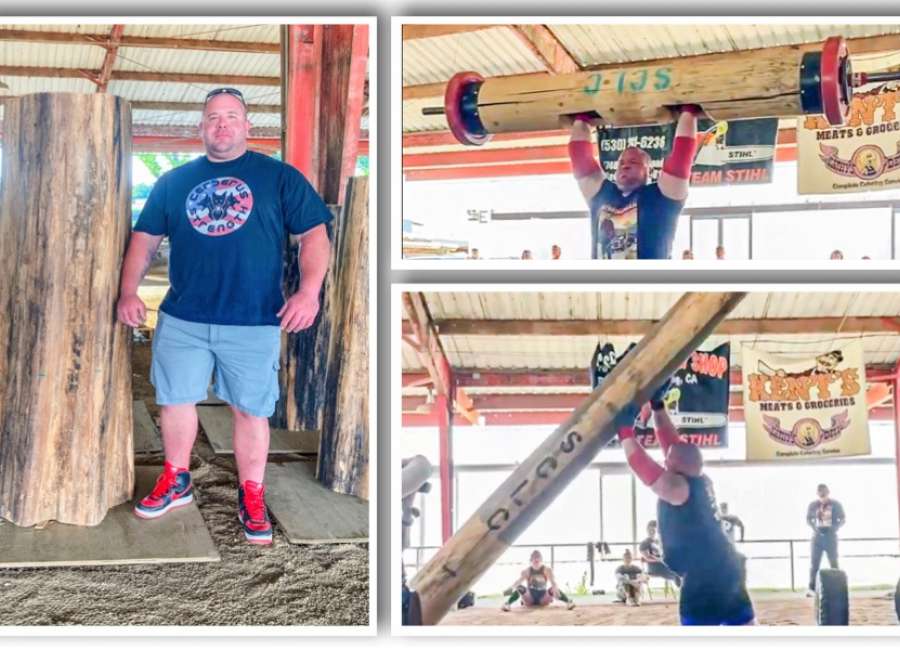 Justin Kealhofer, a firefighter at Coweta County Fire and Rescue, placed second in the World's Strongest Logger competition in Redding, California.

The competition is exclusive — the only way to compete is by invitation. Luckily for Kealhofer, a video of him lifting a 322-pound stone made its way to Casey Garrison, the competition's organizer, and secured his entry.
World's Strongest Logger is a combination of events from strongman competitions and Highland Games held at the Sierra-Cascade Logging Conference. The competition is held over two days, with five events on each day.
The events focused on unconventional types of lifting, Kealhofer said. Many of the weights in the competition were stones or metal tubes that resembled telephone poles.
"They probably went to a rock quarry and picked one out and weighed it and said, 'They could probably do that,'" Kealhofer said of one of the rocks he had to lift.
In past competitions, Kealhofer said he had to pull a 30,000-pound truck for 60 feet as fast as he could. Other competitions involved participants strapping refrigerators to their backs and running down a 50-foot course.
The first day's events resembled the Highland Games, while the second day was similar to strongman events, according to Kealhofer.
Typically, strongman competitions are just one day.
"It makes it a lot tougher because your body is so beat up after day one, and then you have to come back and do it all over again," Kealhofer said.
The first event was a stone press, Kealhofer said. It involved two stones — one weighed 260 pounds, and the other weighed 305 pounds.
According to Kealhofer, by lifting the heavier stone once, he could win the event because he chose the heavier stone if the other competitors went for the lighter one and lifted it multiple times.
Unfortunately, Kealhofer said his balance got away from him and he couldn't get the lift.
The second event was the caber toss — participants must lift and run with a 16-foot-long pole and throw it so that it flips end over end. Whoever throws the pole the furthest wins.
Following that was the stone throw, which was similar to a shotput, but features a 40-pound rock. Kealhofer said he finished second place in that event.
The next event was the dinnie stone carry, which Kealhofer said involved picking up two stones with uneven weights — one was 300 pounds and the other was 330 pounds — on either side and walking fifty feet.
"When you pick these things up, they're right in line with your shins. They're scratching you all up," he said. "We actually didn't have anybody complete the course because of how difficult it is."
Kealhofer said he finished fourth in that event.
The final event for the day had the participants finding out who could carry a 400-pound stone the farthest distance.
At the end of the first day's events, Kealhofer said he was tied for fourth place.
"It wasn't the day I wanted to have for day one," he said. "So going into day two, I had to make up a lot of ground."
The second day's events were closer to traditional strongman events, according to Kealhofer. He won three of those events and placed second in two others.
"I dominated that day," Kealhofer said of the second day in the competition.
The second day's first event was a log press. Weight was added to the log until the competitors could no longer lift it. Kealhofer said he finished first with a weight of 360-pounds.
The next event was a truck pull. The athletes were strapped into a harness connected to a truck that weighed 30,000 pounds, according to Kealhofer, and upon a whistle blow, they ran as fast as they could for 50 feet. Kealhofer said he finished in second place.
A medley of deadlifts followed the truck pull. The series of weights started with a 675-pound deadlift, said Kealhofer. Next, participants completed farmer's carries, which involved walking and carrying two 340-pound weights.
Finally, Kealhofer had to complete a frame deadlift. He said he stood inside a metal frame with 800 pounds of logs behind him and a metal bar in front of him to lift the logs.
The fourth event was Fingal's Fingers, an event that requires large poles to be lifted and flipped as many times as possible in 60 seconds. Kealhofer said he completed four reps in 50 seconds.
Lifting Atlas stones was the final event, Kealhofer said. Participants had to lift five stones that escalated in weight — starting at 250 pounds and ending at 420 pounds — on to platforms.
At the end of the day, Kealhofer finished the competition in second place.
"The entirety of day one was new to me," he said. "It was my first time touching a lot of these implements."
Despite the WSL being a competition with a winner, the atmosphere was filled with support by the competitors for one another, said Ansley Smith, Kealhofer's girlfriend.
"The competitors were cheering each other on and supporting each other through it all," she said. "I thought it was neat to see. That has been an ongoing thing throughout his strongman competitions — everyone is supportive and cheering everybody on through it all."
The World's Strongest Firefighter
Kealhofer isn't a stranger to strongman competitions.
"I've always been into weightlifting," he said. "I grew up watching World's Strongest Man when it was on TV regularly."
Kealhofer said his first attempt competing was about six years ago in a local strongman competition.
He placed third and when he competed again the next year, he placed first.
"I was hooked ever since," he said. "I jumped forward and went head first just to see what would happen."
Kealhofer trains twice a week for two to three hours doing regular strength exercises such as bench squats and deadlifts. On Saturdays, he said he trains with a group using equipment specifically for strongman competitions for four or five hours.
The time for rehab and recovery between training sessions is just as important as the training itself, Kealhofer said. Because of that, he said he trains less often than people would expect.
"You can build up a core strength, but it's not really until you actually start touching all of these different implements — lifting them and learning techniques with them — that you build a different kind of strength," he said.
"For the sport of strongman, it's a lot of core, your midsection, abdominals and your back — that's the strongest part of most people in this sport because of how much staring and force you're having to exert in doing a lot of these awkward lifts."
Kealhofer said the key to lifting is in the hips and core rather than legs.
"Having strong legs helps out, but hips and core — you have to have it. It's a very large part of what we do, so I concentrate on that as well. I try my best not to wear any supportive equipment so that makes me focus more on making sure everything is nice and tight, and I don't move front or back and get out of position because you run the risk of injuring yourself if you do."
Smith said the level of training required for Kealhofer takes an intense amount of dedication.
"He trains for a good couple hours, if not longer," she said. "Whenever he's not working at the fire department or doing his lawn care cutting yards, he's at the gym training. It takes a lot of dedication. We make it work. We still make time for each other and everything, but it does have its moments and can be a little challenging."
With an intense amount of training comes an equally intense appetite. Kealhofer said he eats about 4,000-5,000 calories per day. And it's usually the same food every day.
His meals regularly consist of chicken and white rice for lunch and beef and rice for dinner. Kealhofer said he'll have a protein shake two or three times a day, and he snacks throughout the day.
Constant hydration is imperative, he said.
When a competition is within a month, Kealhofer said he'll adjust his diet. He has more cheat meals during the week, such as eating a whole pizza for lunch or dinner to increase his calorie intake and help prepare his body for the abuse it'll face during the competition.
Because of Kealofer's strict diet, Smith said she often makes a separate dinner herself.
"For dinner, I'm pretty much on my own because he eats the same type of meals every day," she said. "For the most part, I fix my own dinner."
"The guys at the fire department watch me eat," Kealhofer said. "If you're not much of an eater, this isn't the sport for you. It requires you to constantly take in food — good food, not junk."
In 2019, Kealhofer won the Southern Powerlifting Federation's World Championship, which earned him the recognition of the world's strongest firefighter.
"I can technically say I'm the world's strongest firefighter," he said. "I try to be a very humble person, but I find that extremely cool to say."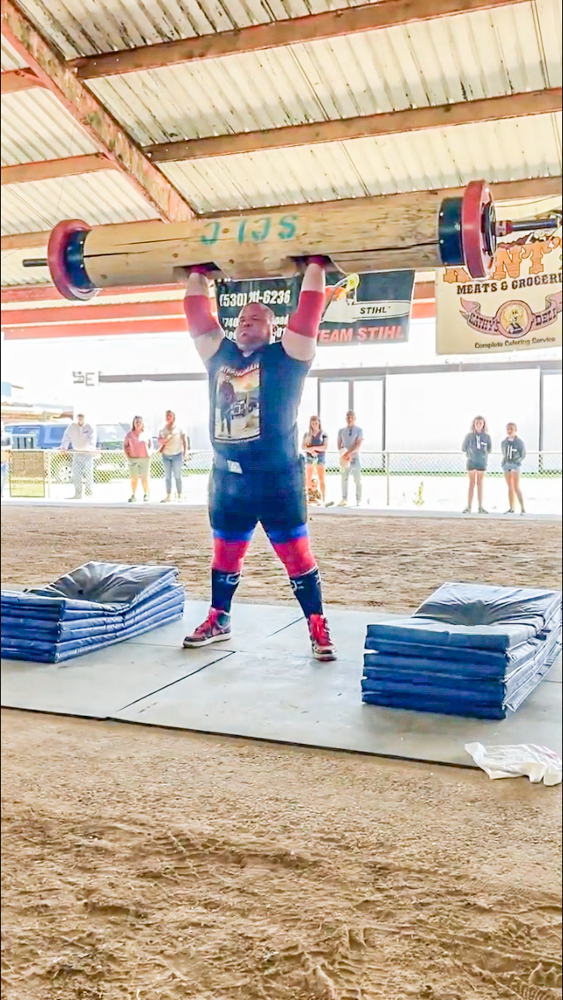 Justin Kealhofer lifts a 360-pound log press at the World's Strongest Logger competition.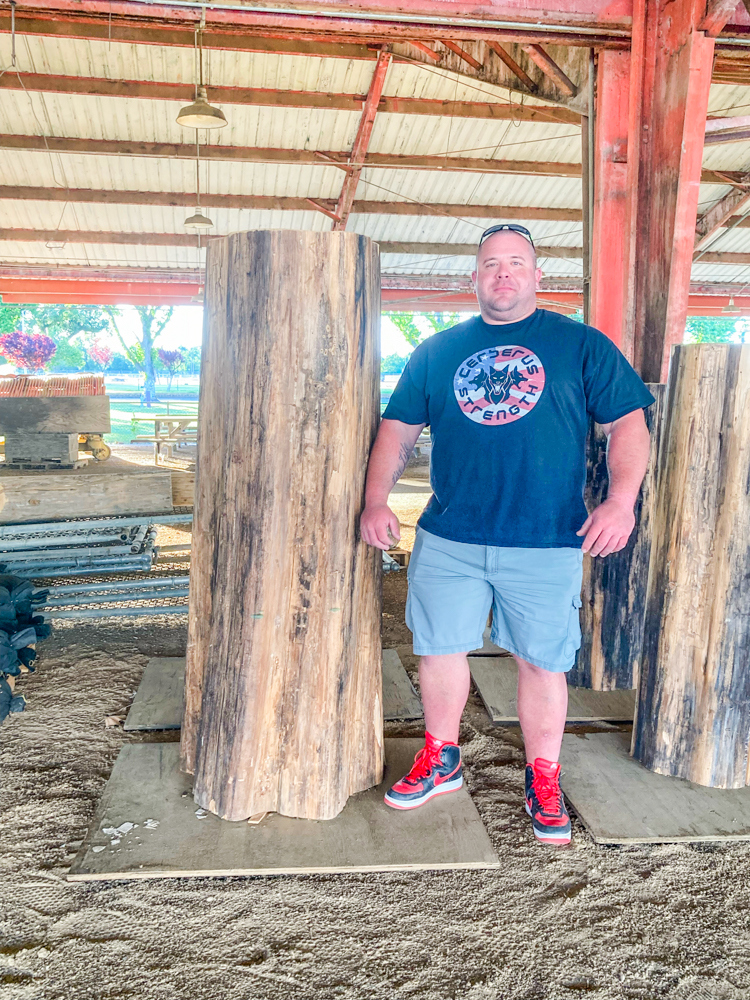 Justin Kealhofer stands next to a platform that he will lift an Atlas stone on to at the World's Strongest Logger Competition.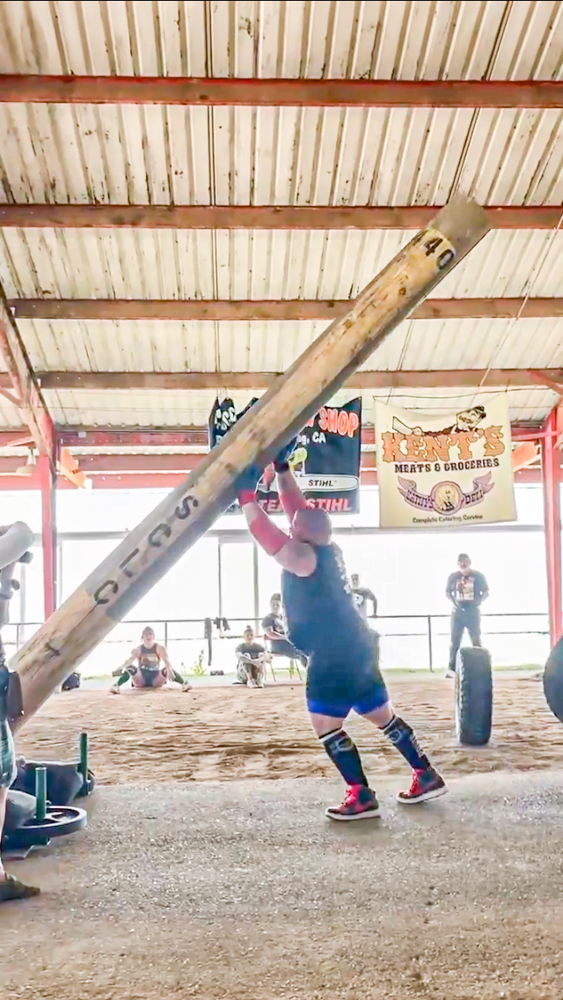 Justin Kealhofer competes in the World's Strongest Logger competition by lifting a 440-pound fingal finger.