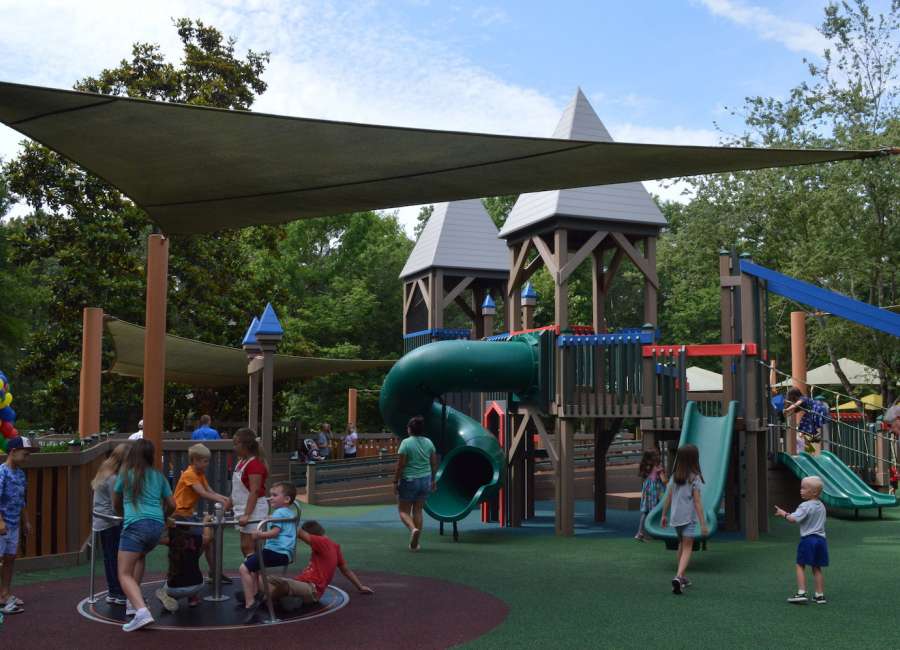 Kids Castle Park has reopened – with a completely new castle inspired by the old one, as well as some new features.
The park, originally built by volunteers in just seven days in the 1990s, has been closed since January for reconstruction.
It's been open for two weeks, but was a soft opening with no announcement, said Joni Scarbrough, director of administrative services.
They wanted to wait to officially reopen Kids Castle until the splash pad opened, said Scarbrough, and to get it up and running so that staff could get used to cleaning it and to make sure no issues arose. The splash pad opened over Memorial Day Weekend.
Kids Castle got its start when a group of parents approached Newnan Utilities about building an additional playground at Carl Miller Park. A "community build" was organized, with support of local businesses and organizations. Over 1,400 volunteers spent a week constructing the playground. "It served us well for the past almost 25 years," said Newnan Utilities General Manager Dennis McEntire at Thursday's ribbon cutting event.
Kids Castle has been incredibly popular over the years, but the park's wooden construction meant significant maintenance – especially as the years went on – and it was showing its age.
Several years ago, a group of volunteers from Lowe's came out and spruced up the park, replacing some boards and putting on fresh paint. but there were still issues with splintering, Scarbrough said.
Two years ago, Newnan Utilities brought in Leathers Associates, a playground design firm, to look at the park and help figure out its future.
Leathers had helped with the original design of the park back in the late 90s, Scarbrough said.
They wanted to see if Kids Castle could be remodeled again, "or if we needed to start over," she said. The maintenance needs were increasing. The playground wasn't ADA compatible, and that's something the assessment noted as a need for the next iteration of Kids Castle. Newnan Utilities also wanted to change the surface, she said. It takes a lot of wood chips each year, and it's difficult to push a stroller or wheelchair through them.
"We realized that we really needed to start over, but it was important that we keep the Kids Castle feel," Scarbrough said. "It still needed to be Kids Castle. The kids love to be able to run through all the tunnels and climb. It's not just slides and swings, it's all the different characteristics of the old Kids Castle."
Several years ago, Newnan Utilities invested in shade structures for the park, and the new park was designed around them.
The new Kids Castle is made of composite lumber, which is very low maintenance and will last at least 30 years. The ground is a smooth and bouncy poured rubber surface.
The castle still has plenty of ways to climb up it and multiple slides. The airplane has returned, and there's still plenty of seating for kids and adults.
The most popular feature so far is the modern merry-go-round – a safer version of the beloved, and mostly retired, playground favorite.
"It's the biggest hit down here, for sure," Scarbrough said.
There are several musical and sensory features, and multiple swings for children with physical limitations. There's a swaying platform that wheelchairs can be pushed onto, and there's even a way to put a wheelchair on the merry-go-round, Scarbrough said.
"Leathers has done a good job of trying to be very inclusive and incorporate things for all children," Scarbrough said. "We tried to include something that everybody can use."
The park closed in January for construction. The original plan was to close it in November so it would be ready by March, but COVID-related issues with building supplies delayed the work. There was no damage to Kids Castle from the March 26 tornado, but fallen trees did damage the fence at the splash pad and led to some delays getting it open.
Newnan Utilities has been in the park business for 85 years, said McEntire. In 1937, Harvey North Park opened at the waterworks, and was a popular playground until it was replaced by Carl Miller Park in 1989.