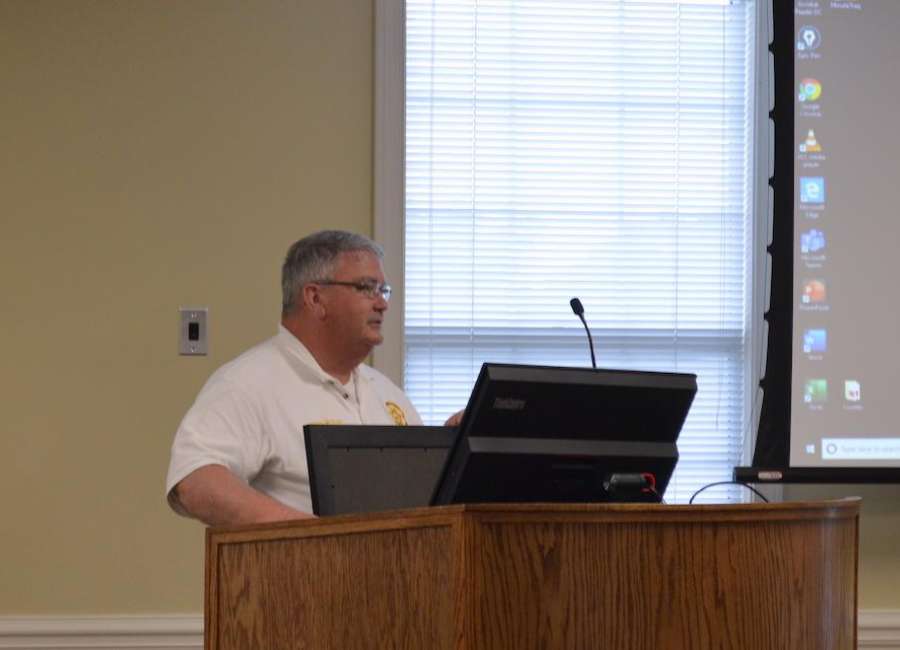 Bill McKenzie is retiring as warden of the Coweta County Prison at the end of June, and he was recognized – and honored with a standing ovation – at the recent meeting of the Coweta County Board of Commissioners.

McKenzie has 32 years of service with the prison, and even more years with the county.
"It's tough," McKenzie said of preparing to retire. "That prison has been my baby for half my life."
When McKenzie came on as warden, the prison had 102 beds. Now it can hold 180 state prisoners.
"We don't have a lot of problems. That is not because of me. It is because of my staff," McKenzie said. "I have the best staff in the state. I'll put my staff up against any facility in this state including the big ones."
The motto at the prison is "make it happen."
"If one of you commissioners called and you had something you needed done, we're going to get it done. We're going to make it happen," he said.
"Be proud of the facility that you have out there gentleman," he said. "I like to think that most of the folks that come through that facility – when they get out, they never come back. We can't say that throughout this state."
Associate County Administrator Eddie Whitlock, whose father, Wendell Whitlock, served many years as warden, spoke about McKenzie. He also recognized McKenzie's wife, Bea.
"Thank you Bea for your sacrifice – you're definitely a part of that," Whitlock said.
Twenty-five years ago, he was at the top of his game, and he's only gotten better, Whitlock said.
"He's well respected, loved and feared at the same time, and that's a good thing."
Prison crews perform a significant amount of work around the county, including public works. "Any time he was asked to help in any situation, he did. Many times these crews were out in the middle of the night. He would come in and make sure they had something warm to eat," Whitlock said. "He did one heck of a job for the citizens of Coweta County in support of every aspect of county government."
"He's always calling, always caring. He believed in what he was doing. He believed in rehabilitation, he believed in education, in teaching trades." McKenzie brought multiple education programs to the prison including welding, which has been great for many of the offenders, and he works with the offenders to get their GEDs.
They've known each other since the 1960s. "Bill is like a brother to me in a lot of ways. He's certainly a friend of mine. So much so my father asked him to sing at his funeral," Whitlock said.
As Warden, "he did a heck of a job. Just an all around, awesome job," Whitlock said. "He's been a blessing to us professionally and personally. He is a tremendous human being, full of honesty and integrity. I've been fortunate to know him."