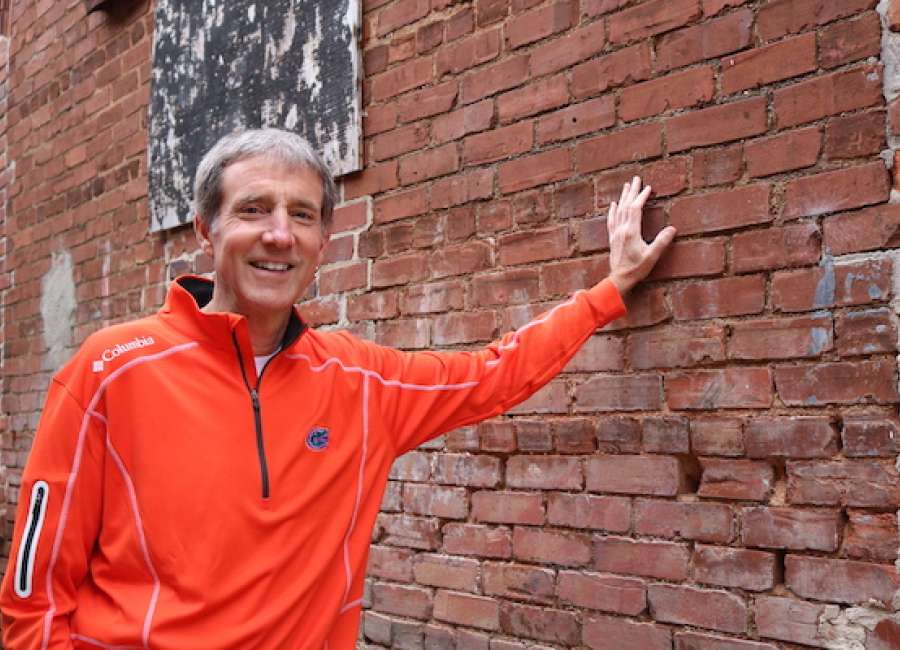 Her name is Jessica. Jessica Leigh. We call her Jessie, and she is an absolute godsend – particularly for my wife. She wanted a little girl to dote over – but what she really meant is spoil rotten – since I've known her. As for me, all I wanted was for our grandchildren to be healthy and grow up to love the Florida Gators – and their G-Pa a little bit more. We were blessed with two boys of our own, and then our oldest was blessed with one of his own: our grandson. Then – finally – along came Jessie.

Jessie is absolutely beautiful, due no doubt to having a father who is boyishly handsome and a mother delicately beautiful, like Audrey Hepburn back in the day. Jessie's complexion is light – just like her dad's, and her hair is long and curly; most certainly she gets that from her mom. Jessie's smile is as bright as the morning sun: it's a tossup as to which parent that came from.
Jessie is learning to bounce a soccer ball on her feet and knees; her dad is showing her how. He told her how he once bounced a ball – just as he was teaching her now – 879 times, and that he never made it to his goal of 1,000. But boy, did he ever try. Jessie shoots free throws with her dad in the driveway, just like he did with me 25 years ago – even if it seems like only yesterday.
Jessie's father – our son – is teaching her how to run, just like I did with him. He's teaching Jessie how to cook, a skill he definitely got from his mom. Jessie's father took some of the best parts of both his mother and I, and it warms my heart seeing him pass them along to Jessie.
I always look forward to tucking Jessie into bed at night because she always asks for a bedtime story – about the time her father and I ran across Death Valley, or the first Peachtree Road Race we ran together as father and son. Even though her father has told her the stories a thousand times before, she never seems to tire of hearing them. If I didn't know better, I'd swear she'd never heard them before.
My wife is anxious to show her some of her mother's favorite recipes, as well as some of the ones belonging to her mother's mother, Jessie's great-great-grandmother. I'm ready to help with the algebra and introduce her to the great authors of the 20th century, and maybe a couple from the 21st as well. One thing is certain: our son will never have any trouble lining up a babysitter – not as long as my wife and I are still around.
Jessie's father – our son – is great with her. If he gets his way, she is going to be a handful to the right man when he comes along. Or rather, if he comes along, because no man alive stands a chance of being the right man without dad's approval. (Or mine.) Jessie's dad spent half his life sorting out the right from the wrong; the good from the bad. Jessie's dad, at one time or another, had experience with both.
In time, her father planned on telling her how his life had taken a bad turn. The long, difficult years he spent trying to make things right. That he would do everything in his power to make sure the same thing never happened to her; he wouldn't allow it, no matter what. He knew the pain it caused, and he couldn't possibly bear to see it happen to Jessie.
There was a time my son and I shared a bond as strong as two pieces of steel welded together. Eventually, it was as if the only thing holding it together was a rubber band. I felt it, and it hurt even more knowing he felt that way as well. He didn't want that to happen with Jessie; in fact, he vowed he would never allow it to happen. He didn't want to experience that kind of pain ever again. He didn't want anyone he loved to experience it either.
***
This year, there isn't anything I want for Father's Day. Anything you can actually hold in your hands, anyway. I haven't worn a necktie in the last generation, and I most certainly won't need one for the next. I don't need anything to read: there are enough books stacked next to the bed to last until this time next year. And I certainly don't need another coffee cup.
For Father's Day this year, all I want is to dream.
Just for one day.
Of how things could have been.
Of how things should have been.
Of how things will never be.
***
Rest in peace, son. I miss you more every day.
Joshua Lee Ludwig
10/21/85 – 3/27/20