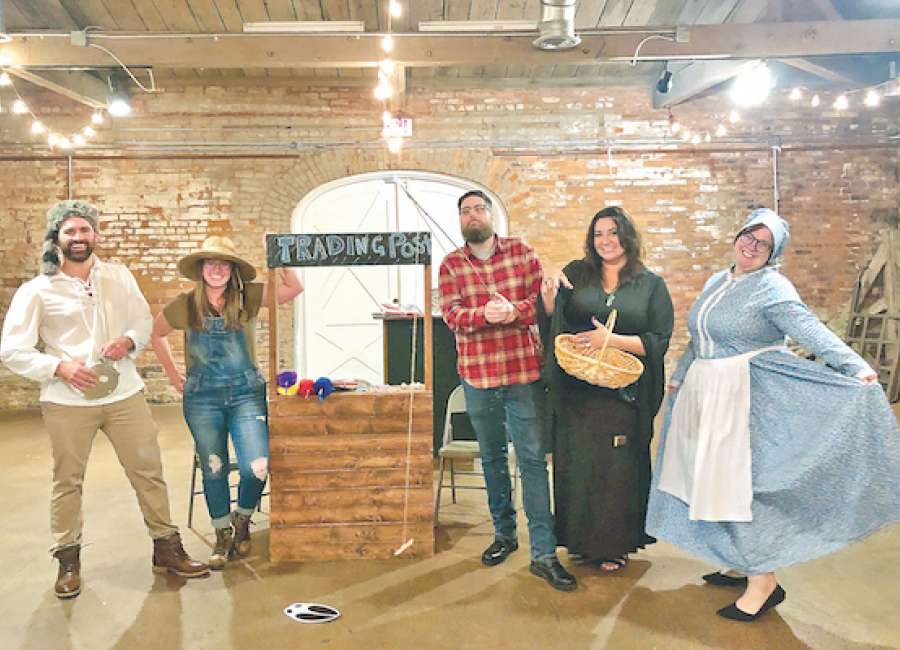 By KATHERINE FUTCH, news@newnan.com
The Newnan-Coweta Historical Society held an event last Tuesday night to teach families about the history of Coweta County.
People of all ages learned about Newnan's Greison Trail by participating in an "Oregon Trail'' experience.
The event took place at The Historic Train Depot in downtown Newnan.
Every month, the NCHS holds a monthly lecture series. But this summer, they wanted to make the lectures family-friendly. "We didn't want to stop our lecture series, so we decided to teach a perspective of history by doing some fun interactive family activities," said Emily Kimbell, the director of the NCHS.
At the beginning of the event, participants learned about the history of Greison Trail which was once part of the Scottish-Native American trading route. The first activity was a brief history of the pioneers who settled and traded on Greison Trail. A Scotsman named Grierson arrived in Coweta County around 1700. He established trading posts along Greison Trail and regularly traded with the Creek Indians.
Then, the fun began. Participants were each given a card with a name, occupation and list of resources. The name on the cards were real pioneers who settled in Coweta County.
After receiving their character, the families moved into the activity room. They collected the resources listed on their cards and built a house made of Lincoln logs. While building, they had to consider protection from the elements. The next station was fishing. The pioneers had to catch as many fish as possible in a certain time frame. Catching fish was not easy for these young pioneers — many caught a boot on their hook.
Their trail was not free of confrontation. Participants encountered a witch on their journey. If she was having a bad day, she might take some of their resources. However, if she was feeling generous, she gifted them with good fortune.
The final stop was the most important: the trading post. Here, the tired pioneers could trade the remainder of their resources for gifts such as candy, bracelets or even furs.
Kimbell said that interactive learning is crucial for young kids. "I find that doing interactive fun learning activities tends to resonate more with people," she said.
Claire Nix, the museum assistant for the Newnan-Coweta Historical Society, said that the goal of this event was to provide a fun way of learning. "Our goal is to provide families with education about the founding of Coweta County," she said. "We wanted kids to have a hands-on opportunity with that, so not only are they learning something, but they are learning by playing through it."
Parents appreciated this interactive learning experience. Carla Gaddy, a teacher at an elementary school in Coweta County, brought her two kids to the event. She said interactive learning is vital. "I feel like interactive learning has an impact and makes it memorable to the kids," said Gaddy. "Whether it's doing things hands-on or someone dressing up, just making learning memorable. I think this is a great thing they are doing for the community."