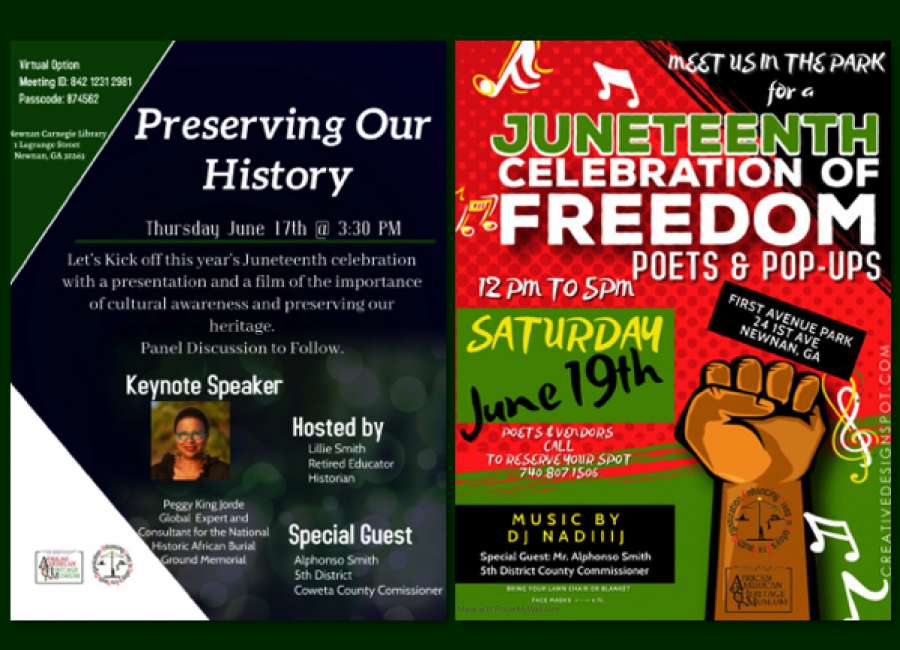 Two events, including a presentation by a renowned preservationist and expert in African American burial grounds, are planned for the local celebration of Juneteenth.

Celebrated each year on June 19, Juneteenth is a commemoration of the end of slavery.
It started in Galveston, Texas, where on June 19, 1865, Union General Gordon Granger issued a general order enforcing the emancipation of enslaved people in Texas. Though Gen. Robert E. Lee had surrendered to Ulysses Grant on April 9, the Confederate Army of the Trans-Mississippi did not surrender until June 2, and in Texas, the most geographically isolated of the Confederate States, many people were still held in slavery until the Union Army arrived. The following year, freedmen in Texas organized a celebration on June 19 .
The Coweta African American Alliance and Elite Youth Organization are partnering to put on the events.
The Preserving Our History Event, with keynote speaker Peggy King Jorde, will be held Thursday, June 17 at 3:30 p.m. at the Newnan Carnegie Library, 1 LaGrange St., Newnan.
Jorde will give a presentation and show a film on the importance of cultural awareness and preserving heritage. Also speaking will be local historian and retired educator Lillie Smith, a board member of the African American Alliance. Smith will talk about the Farmer Street Cemetery and the Coweta African American Heritage Museum.
Following the presentation, there will be a panel discussion, said Alliance President Ayisat Idris-Hosch.
The event will also be available on Zoom and will be streamed live on the Coweta County African American Heritage Museum Facebook Page. The Zoom meeting ID is 842 1231 2981, and the password is 874562.
Saturday's event, Poets and Pop-Ups, will be held in Newnan's First Avenue Park from noon to 5 p.m.
There will be vendors, games, speakers and other events to teach the community about Juneteenth. Local African American poets and other entertainers will be performing throughout the day.
There will also be multiple giveaways.
"It is a big celebration – to celebrate and pay homage to Juneteenth," said Idris-Hosch. "We think it is going to be a great event."
"I think it is an amazing thing to see all the Black organizations working together," she said.
Those wishing to be vendors or perform should call 740-807-1506 by Wednesday to reserve a spot, said Stacey Bristow of Elite Youth Organization.
Those wishing to attend are encouraged to RSVP by reserving free tickets at https://tinyurl.com/3ctxcmu8 .
Tickets aren't required, but organizers are asking people to sign up for them to get a general headcount, said Bristow.
Peggy King Jorde, an Albany, Georgia, native, was working in the New York City mayor's office in 1990 when a 17th Century African Burial Ground was discovered during a construction project. King Jorde became a project director for the preservation of the burial ground, which became the African Burial Ground National Memorial and Interpretive Center. She's since gone on to work on preservation of African burial grounds in multiple countries and has worked as a consultant for the Smithsonian National Museum of African American History and Culture in Washington, D.C.
Idris-Hosch has been speaking with King Jorde about preservation of the Farmer Street Cemetery and the Alliance and museum. "She was interested in what was going on down here," Idris-Hosch said, and is now an adviser for the organization.
"She is amazing. She has taught us so much," she said.