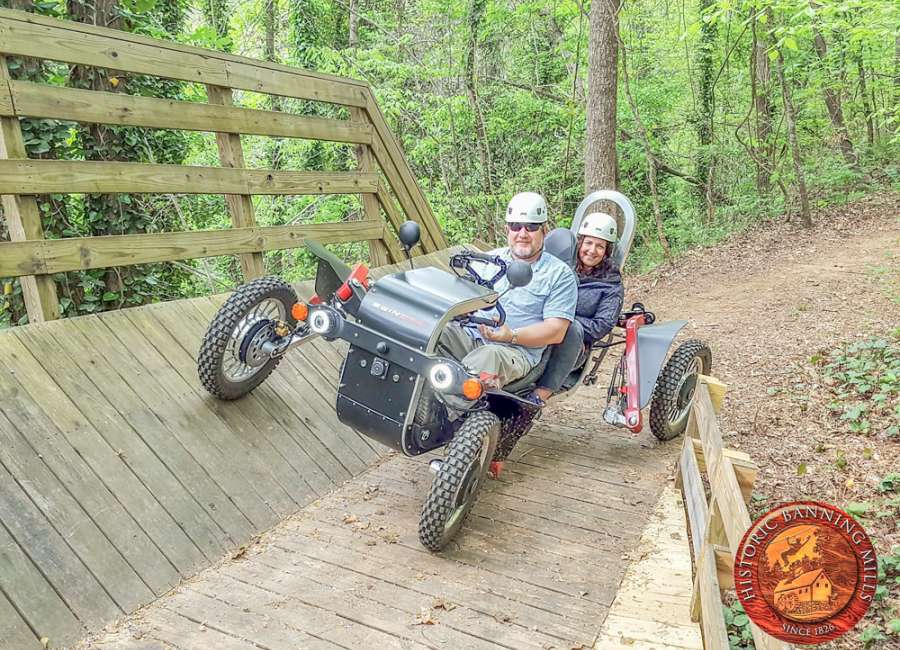 Historic Banning Mills is now offering Eco-Spider ATV Tours.

The cars, brand new to the United States, are manufactured in France. The environmentally and ADA friendly adventures are for all to enjoy, according to a press release from Historic Banning Mills.
Each of the four tires has its own electric motor and independent suspension, allowing these cars to climb over almost any terrain while providing the rider(s) a smooth and level driving experience.
The arms that connect the body of the car to the tires are able to swing outward, allowing guests with limited mobility to easily transfer into the driver's seat. Hand controls on the steering wheel allow guests to operate the vehicle using only one hand.
The all electric design also allows Banning Mills to minimize environmental impacts while providing exciting experiences for their guests.
Eco-Spider Tours at Historic Banning Mills take place in 90-minute time slots and traverse the Snake Creek Gorge on trails and suspension bridges, delivering gorgeous views around every corner and passing historic mill ruins. Eco-Spider Tours at Historic Banning Mills are $139 per person for a single rider car, or $199 for a tandem two-person car.
For more information on the Eco-Spider Adventures at Historic Banning Mills, please visit: https://www.historicbanningmil...