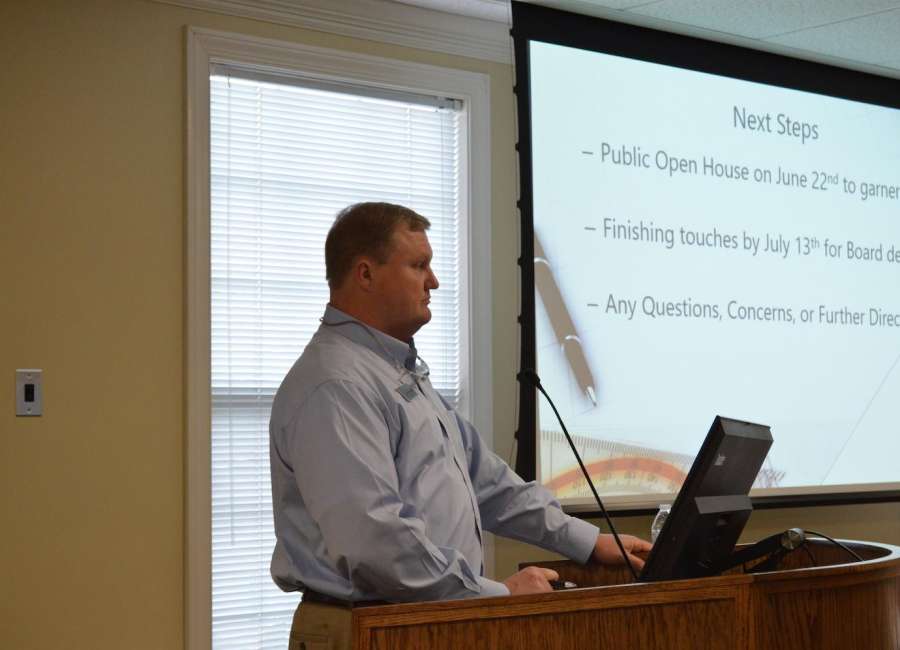 The first draft of an ordinance allowing higher density residential development in the county was introduced at Thursday's night's meeting of the Coweta County Board of Commissioners.
A public hearing was held on the Planned Development Projects ordinance, which will be the second phase of the county's Land Development Guidance System.
Under the proposal, residential PDPs could have a density of up to 3.5 units per acre, with a minimum lot size of 10,000 square feet. Since the mid-1990s, the county has required at least 1.6 acres per house for residential developments, though there have been some special projects that have allowed higher density. Retirement communities are also allowed to have higher density.
A public information open house on the plan will be held June 22, and then the ordinance will go before the commissioners for a vote, likely on July 13. Thursday's public hearing was continued until the July 13 meeting.
Details for the June 22 meeting haven't been released yet.
There will eventually be four types of planned development projects, or PDPs – residential, interstate interchange, mixed use and mill village. The ordinances presented Thursday were for the residential PDPs.
Unlike most residential projects in Coweta, PDPs would require rezoning by the county commissioners. Most residential development forms are allowed "by right" in the county, without the need for a rezoning. Retirement communities require rezoning to the county's RRCC district.
Under the proposal presented Thursday, the projects could be located in areas that have at least six points under the county's LDGS. That's areas that currently allow development at 1.6 acres per home. Or, a property could qualify if it is contiguous with a municipality.
"We want these products close to the cities where we already have infrastructure available," Amason said.
The land would have to have access to sewer service and the proposal would have to score a certain number of points on application criteria. If developers proffer certain design features or projects that would mitigate the impact of the development, those could earn extra points.
Staff would also like to bring the school system into the process and would subtract points from an application if the school system doesn't support it.
The commissioners would need to establish a minimum score to qualify for a PDP.
The county is in the midst of updating its Comprehensive Plan, and that plan is designed around a three-tiered approach to development. The plan would divide the county into the rural conservation, growth maintenance and growth priority areas.
"Growth priority is going to be defined as a place where we can handle the growth, we can mitigate the impacts of the growth," said Coweta Community Development Director Jon Amason. However, because the comprehensive plan isn't complete, the maps showing the three areas haven't been adopted yet.
The Community Development staff feels that the PDP-R areas should be congruent with the growth strategy map, Amazon said, but the problem is that it won't be complete until late summer or early fall.
Earlier versions of the LDGS had a higher-density tier with higher point values. How exactly to employ that points map has been discussed and will likely be developed in the next few weeks, Amazon said.
All developments will have an open space requirement, but the amount of open space will be lower than in other developments, because of the density. In the county's conservation subdivisions, which have one-acre lots, the open space requirement is 35 percent.
But with 10,000 square foot lots and a density of 3.5 units per acre, open space will likely be around 15 percent, Amason said. The commissioners had previously voted to reduce the amount of flood plain that could count as required open space from 100 percent to 25 percent.
The 10,000-square-foot – or 0.23-acre – lot size was chosen by the commissioners out of concerns about lots being too small. For comparison, some of the lots in the Poplar Preserve subdivision currently under construction on Poplar Road are as small as 4,000 square feet. The county's next most dense residential developments are Twelve Parks and Timberbrook, which have lots as small as 8,500 square feet. Twelve Parks was approved under the county's RI-B zoning, which was eliminated. It is the only development that is zoned RI-B. Timberbrook is an RRCC retirement community.
Amason said he expects to hear some challenges to that lot size from the development community.
"That's fine, and we'll go through that process a little bit when the time comes," he said.
The Community Development Department is proposing to give developers flexibility in lot design, without setting specific front, side and rear yard setbacks or minimum lot width requirements. "That will offer some flexibility while keeping the 10,000 square foot minimum," Amason said.
Staff is suggesting a five-acre minimum development size for a PDP, though that could go higher. Developments would also require a traffic study, unless they are small and the county staff don't feel a study is needed. Amason said staff would also like to have at least 90 days to work on an application between submittals and the public hearing.
"It seems like a long time – it is a long time," he said, but it will give staff the time to do the review work they need. "We expect some pushback on that," he said.
Lastly, Amason said they would like to put a reversion clause on all PDPs. If some kind of work doesn't start on a project within 12 months of zoning approval, the commissioners would have a right to revoke the approval.