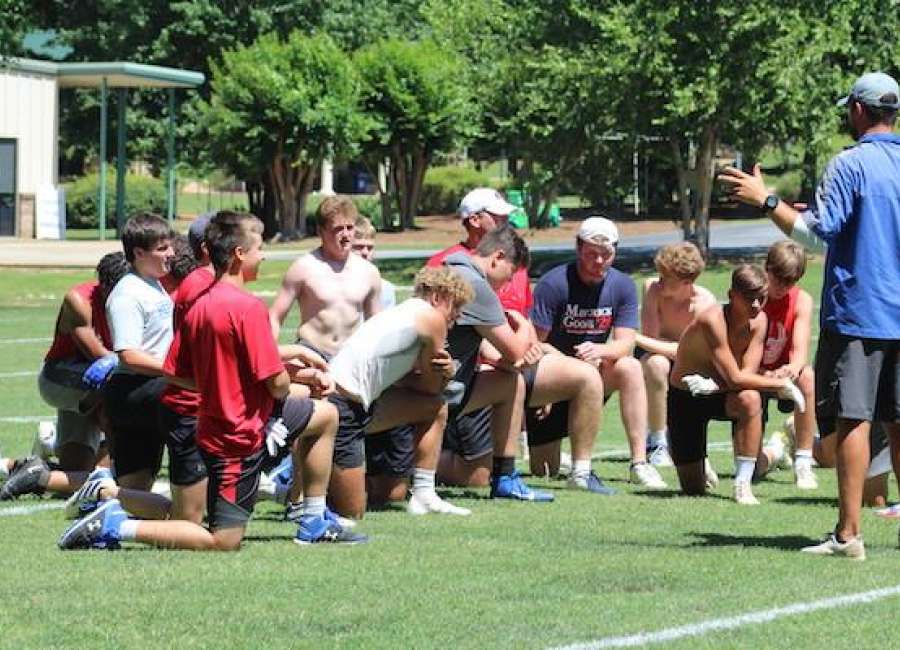 The Heritage Hawks first season as a Georgia High School Association member did not go as planned on the gridiron.
An opening loss to Greenville in which they mishandled several leads late set the tone for a challenging season.

But it is a new era on campus, with a new coaching staff and a new outlook.
The Hawks are in their second week of summer workouts and are already ahead of their preparation going into last season. With COVID-19 protocols in place, last year's team was limited in their preseason practice as they looked to work in a new quarterback and a new, rugged GHSA schedule.
Fast forward a year, and they are working in a new quarterback once again, but this time with the luxury of an entire summer program.
Heritage Hawk Head Coach Jake Copeland, who assumed more leadership as last season went along, enters the season with a new attitude and a new coaching staff. The Newnan native and former Northgate Viking quarterback is upgrading the culture across the board.
Coach Copeland brings a wealth of coaching experience, including college stops at Lenoir-Rhyne and Jacksonville University, before returning to Newnan to take over the Heritage program.
After practice on Thursday, Coach Copeland shared on the progress, "Summer's going well. Last week we started it up after the dead week during the first week of June. And then that first week here, we had a lot of our older guys going to a lot of prospect camps, stuff like that. So it was a lot of setting the culture."
The motto of the 2021 squad is TEAM, "Together Everyone Achieves More." Coach Copeland continued, "Having a small roster, it's going to be very important that everybody pulls their weight and that even these young freshmen and sophomores know that we're depending on them to be able to get out and produce and that sort of stuff."
One position that will be exciting to watch is quarterback. Hugh Barbee will take the reins behind center and brings a skill set perfect for Coach Copeland's offense. He has speed and arm strength to propel the Hawk offense to a new level.
Barbee is not the only big name; multiple Heritage players are getting a lot of recruiting interest, and several have multiple Division-1 offers. Coach Copeland said, "James Thorpe has really blown up. He's picked up to eight or nine big-time offers and I think Wyatt Anderson is up to 12."
They have come a long way from last year's 0-11 season, but Coach Copeland knows there is still a long way to go.
The team will participate in a 7-on-7 tournament at Auburn University next Thursday as they look to raise their competition level.
At some point this season, the Hawks will celebrate their first GHSA win, a little later than they initially hoped, but it will be just another step in the process. It will be a victory for the program and for the TEAM.