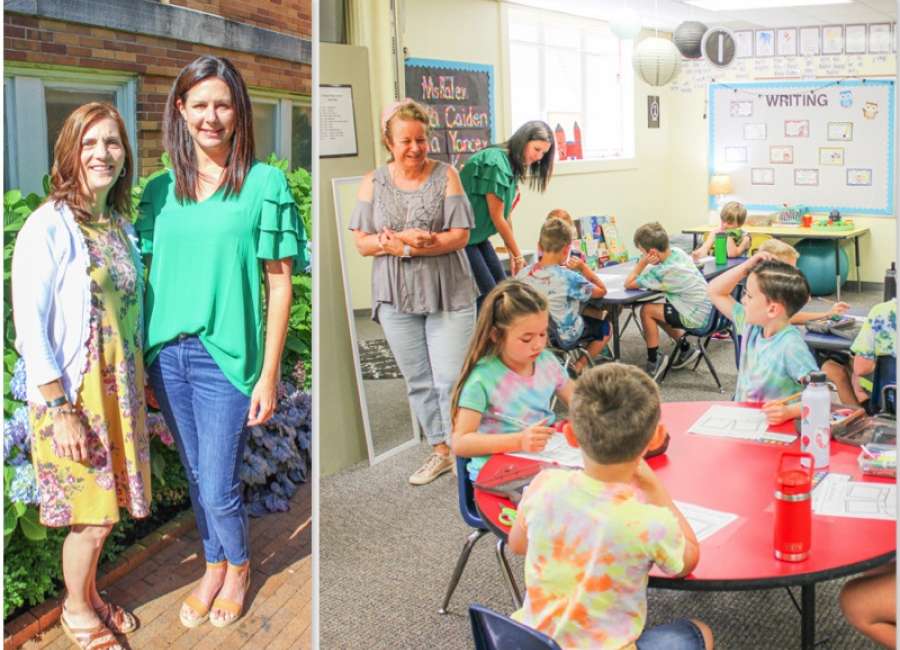 By Jill Whitley

As COVID-19 raged across Georgia like wildfire last spring and summer, leaving cancelled events and shuttered schools in its wake, the parents of Coweta County's youngest students suddenly faced a host of heartbreaking educational choices.
Some were forced to quit their jobs or work from home to accommodate their child's virtual learning schedule, while others struggled to find an available space as local daycare centers pivoted to provide a supervised virtual learning environment.
However, for children at one local private school, in-person learning not only continued, but expanded into an opportunity for growth.
Barbara Kookogey, director of Newnan Presbyterian Preschool and Kindergarten, watched and waited as her students neared the end of the 2019-2020 school year, initially assuring kindergarten parents that their children would be prepared to graduate and move on to whatever public or private school held in store for them.
However, as Chromebooks were handed out and school buildings remained closed, Kookogey realized that the possibility of learning loss and missed opportunities for socialization created an urgent need that her tiny school was well-positioned to fill.
"Our kindergarteners were graduating into much larger schools, and their first experience there would be through a screen, at home, without other kids. The school system is doing an amazing job, but little ones are just not able to learn that way. So we did the research and figured out what we could do to keep them here, together, in-person, as an emergency first-grade class."
Kookogey sent out an email to parents detailing the plan, and was overwhelmed by the response. She quickly had to hire a second teacher and offer an additional class.
Now, with one successful year of first grade under their belt, NPPK is looking to add at least one second-grade class for the 2021-2022 school year, and has plans for continued future growth.
"We discovered during this process that there is no affordable private school option on the west side of Newnan, and we want to be able to meet that need for families."
Kookogey, who is celebrating her 30th year with the newly-renamed Newnan Presbyterian School, explained "The school opened in 1984 with a single, part-time class of three year-olds, and as the community needed it, we added half-day classes for infants and two year-olds, then full-day pre-K and kindergarten."
She continues, "we've grown because our parents wanted us to grow. We are an economical option for primary school on the west side of Newnan. Parents want their children to stay longer in our family-focused atmosphere where the small class sizes allow them to feel comfortable, receive quality time from their teachers, and build strong foundations of confidence and competence for later success."
First grade parent Missy Kidd was extremely grateful for the opportunity to send her daughter, Yancey, to school in person at Newnan Presbyterian this year. "While my 13 year-old could handle virtual learning, there was just no way we could have done it with Yancey. She is incredibly social. Having this option was a godsend."
Kidd went on to explain, "The small class size, and having an additional teacher's aide in the room on top of that, allows the kids to excel academically. I understand that every child is different, but I've heard the same thing from so many other parents that I really believe it's the foundation the school builds."
First grade teacher Ashley Horne explains that the appeal of Newnan Presbyterian School is a combination of structure and autonomy. "Yes, we have state milestones to meet, but each teacher gets to decide how to best meet those standards for her individual students. We have the freedom and flexibility to meet each child where they are, and that shows not only in the success of our students, but also in the enthusiasm of our staff."
At Newnan Presbyterian School, students are offered special instruction in Spanish, science, music, and Letters Alive, an augmented reality-based phonics curriculum, from age two. Other than the latter, Kookogey says there's no computer instruction. "Kids are getting enough of that at home. Our goal is lots of painting, lots of outside play, and lots of socialization."
She continues, "Our primary goal is to make kids feel safe and happy being here. Otherwise, they're just not going to learn."
Kidd agrees. "The staff loves those kids, and they play hard, but it's obvious that they're there to learn. I would go so far as to compare Newnan Presbyterian School to a small, liberal-arts college. Between the specials, like Spanish, and other activities, like Chapel, they produce such well-rounded children."
Kookogey notes, "Yes, we are a church school, but we welcome and have had families of all faiths. We don't adhere to a Bible-based curriculum- we feel that children can better learn that at church or home, but we do let the kids know that God loves them."
Still, a sense of faith is evident in both the school's environment and their plans for the future. Kookogey says, "this was a challenging year with the pandemic-related school closures and our subsequent decision to open for in-person learning, but so many blessings have come out of it. We look forward to the future with optimism, and invite families to come visit us if they're looking for an affordable private school option in the area."
Registration is open at NPS for the 2021-2022 school year for all ages. For more information or to schedule a tour, you can visit the school website at nppk.org, call 770-253-5018, or email school director Barbara Kookogeyat bkookogey@newnanpres.org