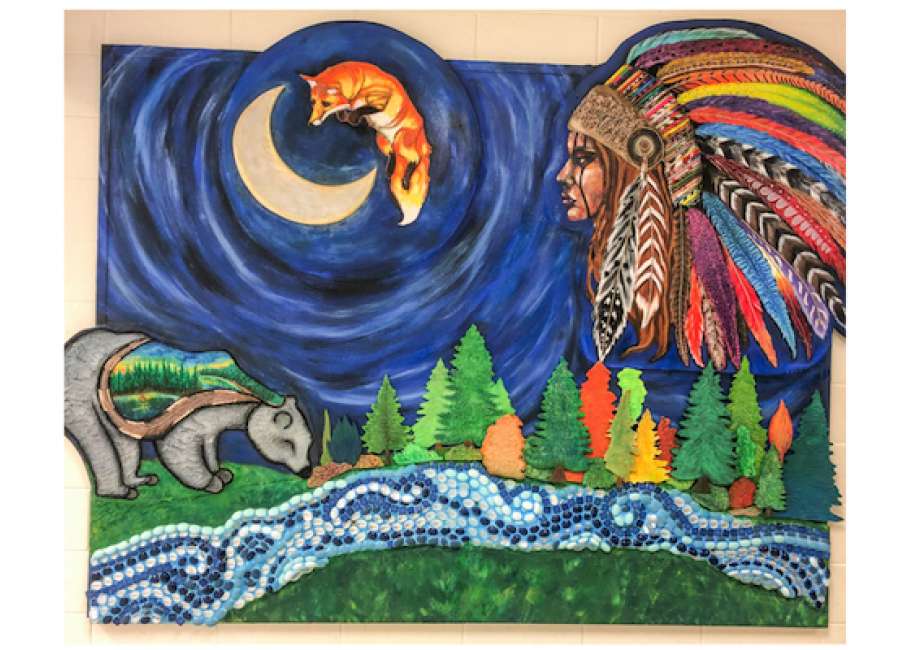 Edited 6/2/21, 1:10 p.m. to correct name.
•••
It spanned two years and involved students of all grades and skill levels to bring "Indian Princess Dream" into existence.

The finished piece, which now graces an East Coweta High School hallway, began as the Class of 2020 senior art project, according to EHCS art teacher Georgie McMillan.
"The group of students really wanted to make something that depicted a 'Lady Indian,' and we kind of brainstormed from there," McMillan said. "We are very proud to honor the Native American as our mascot and wanted to pay tribute by making beautiful imagery."
However, COVID-19 shut down schools across the country – including in Coweta County – in March of 2020, putting the project on hold.
"This year, coming back, I really wanted to complete what we had started," McMillan said.
It became a group project, with students ranging from freshmen to seniors working in mosaic, paint, wood and other media to finish creating the piece. They included Madison Alexander, Parker Arrington, Lillian Davenport, Emma Kerscher, Peyton Epps, Sunyoung Lee, Fritz Jeudy, Erin Duckwall, Taylor Thom and Matthew Martin.
The students created a central figure in the "Indian princess," adding other Native American symbols as well. The piece includes a fox, which represents keenness, intelligence, wisdom and scrutiny, McMillan said. Some Native American tales depict the fox as a god with the power to create, she said.
The Native Bear, which often symbolizes motherhood, is thoughtful and independent, self-contained and strong-willed in nature, according to McMillan. She said it represents strength, family, vitality, courage and health.
McMillan said she is pleased with the finished product and looks forward to the dialogue it will create.
"I hope that people can look at it and see that artwork can create new narratives," she said. "It is up to the viewer to ponder what these symbols may mean."