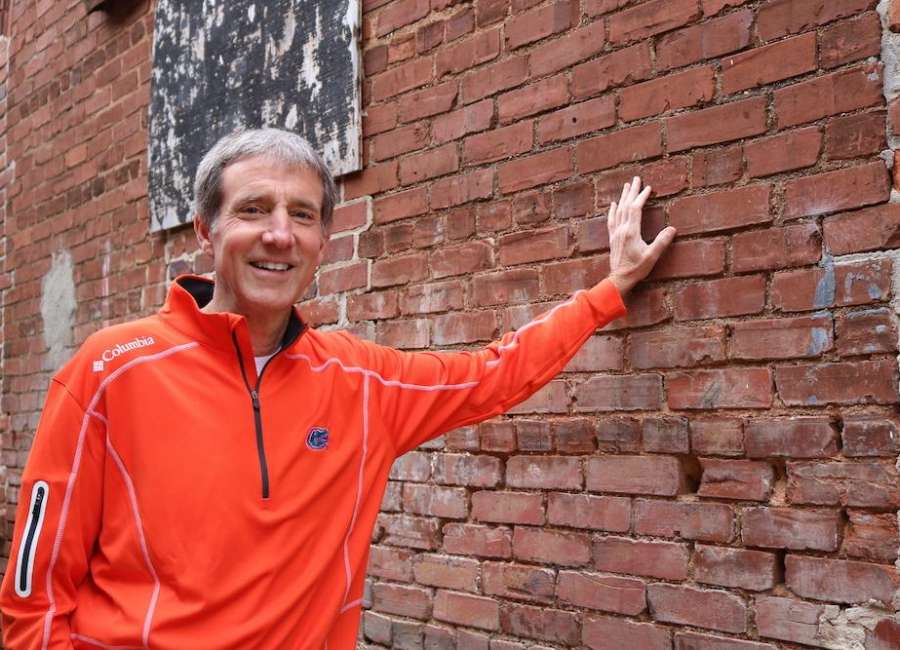 I have a confession to make: I borrowed the name for this column from the name of a ship I saw on our beach vacation to Jekyll Island.
'Devocean' perfectly describes the way my wife feels about – stay with me here – the ocean. She has always found the sound of the waves relaxing and peaceful. A trip to the ocean is Cindy's idea of a dream vacation.
I have another confession: I am not a big fan of the beach. Being a Navy brat and having lived next to various bodies of water for the first 18 years of my life, you wouldn't expect that to be the case. But it is. I prefer the mountains, and when it comes to relaxing, all I really need is a couch and a little Barry White. In fact, I originally considered calling this column 'If this is Jekyll, I must hide.' You're about to find out why.
There are nine orifices (openings) in the human body. There are approximately nine bazillion grains of sand in every square foot of beach, every one of them perfectly capable of entering any one (or all) of those nine orifices at any given time. General Custer had better odds at Little Bighorn.
The horseflies on the island are so named because in relation to a normal sized housefly, they are the size of a horse. And they bite like one, too. To get a perspective on the size of a Jekyll horsefly, a Jekyll-sized version of me would be the size of a Humvee.
Driftwood Beach is so named because it is, in fact, a beach. Not a very practical one, however. There are so many dead trees lying around that there's barely enough room for a picnic table, let alone a volleyball court. You can still eat a picnic lunch on Driftwood Beach, though: just be prepared to share your sandwich with the horseflies.
The campground appeared to be a popular spot, as there were many people there – none of whom will ever be me, because if man was intended to sleep in the great outdoors, Benjamin Franklin – a very wise man – would have never invented the bed.
Jekyll Island is right next to Brunswick. I suspect they are actually the same place: they have the same zip code and, for all intents and purposes, they look identical. Where you are just depends on which bridge you cross to get there. I ran a marathon in Brunswick a long time ago. Even though it was 90 degrees outside, the race organizers didn't think to provide water for the runners. I consider myself very fortunate on that day for two reasons: I didn't suffer any long-term effects from dehydration, and it wasn't widely known that exposure to the sun could cause skin cancer.
If you're brave enough to venture out into the ocean, be aware that should you inadvertently swallow a mouthful of the Atlantic Ocean, you're not just ingesting water and salt. Your 'menu' may also include microscopic particles of sunken ships, whale poop, chum, and whatever Davy Jones left in his locker. And if the water you ingest has an unusually bitter taste, you can thank the Exxon Valdez.
Most women love to walk on the beach, and my wife is no exception. To help pass the time if you tag along – willingly or otherwise – take some dog biscuits with you. You will make many new four-legged friends along the way. But be aware: having dog biscuits will make you a target should a flock of marauding seagulls – a great name for a rock band, by the way – be in the vicinity.
In closing, if you love the beach and the ocean as much as my wife, I doubt any of this has made an impact on you, and that's OK. As for me, the last time I set foot in the ocean was before Roy Scheider said he was going to need a bigger boat. Roy's no longer with us, and he never got his bigger boat.
Since I'd like to be around a little while longer and don't plan on buying a boat myself, I'll continue to play it safe and just stick to the shore. In my opinion, that's a better option than frolicking in the surf with a Great White.
So, in closing, if you plan on a trip to the beach, take my advice: stay someplace with a pool.
Better yet, head for the mountains instead.
***
Scott Ludwig lives, runs and writes in Senoia. His latest book, "Southern Charm" is a collection of his first 101 columns for The Newnan Times-Herald. He can be reached at magicludwig1@gmail.com .