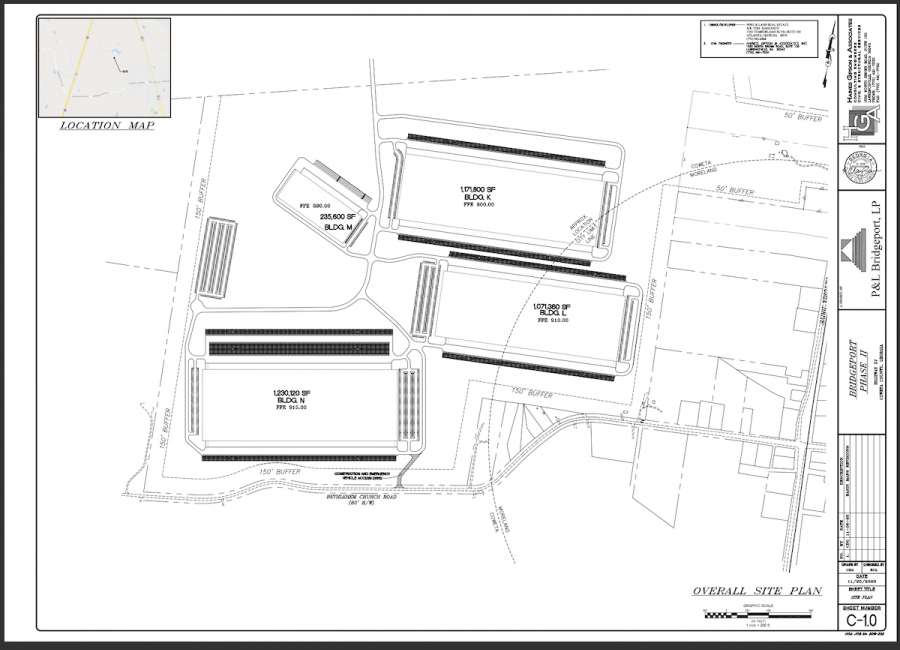 The Bridgeport "megasite" industrial development is now even larger following the rezoning of an additional 328 acres.
According to a conceptual plan, the newly rezoned property would be the site of four buildings. Three of them are proposed to be over 1 million square feet, with the fourth approximately 235,000 square feet. That plan is only a concept and could change.
The original plan for phase II of Bridgeport included an additional 54 acres, which are located inside the town of Moreland. The applicant, P&L (Pope and Land) Bridgeport LP had attempted to have that land de-annexed from Moreland so that the entire development would be in unincorporated Coweta County. The de-annexation request was not successful, however.
The site plan presented with the staff report shows two of the buildings located on some of the property in the town of Moreland. However, according to the staff report, the applicants expect the site plan to be adjusted so that all buildings are within unincorporated Coweta County.
The rezoned property borders Bethlehem Church Road and Victoria Drive. There will be no industrial park access to either road, under conditions imposed by the commissioners. There will be a way that industrial park traffic can get out onto those roads in case of an emergency that blocks the main entrance.
County regulations require a 100-foot buffer between industrial and residential property. The developers, however, have proffered a 150-foot buffer.
County Community Development Staff recommended that the buffer consist of 100 feet of natural buffer, using the currently existing wood line, with the inner 50 feet as a planted buffer. Both the applicant and some nearby residents asked that the entire 150 feet be natural – simply leaving what is there already – and the commissioners agreed.
The commissioners also voted for recommended conditions regarding road improvements. The applicants must build a second turn lane for cars waiting to turn left from the industrial park road – Bridgeport Parkway – onto U.S. 29. That work must be in conjunction with widening of a portion of U.S. 29, which is required by the current development agreement for the existing Bridgeport property.
The main Bridgeport industrial park was originally zoned in 2014, and there were some changes in 2017. There are 745 acres zoned heavy industrial and 217 acres zoned light industrial, not including the newly rezoned property.
The park is the site of the Amazon distribution center.
Attorney George Rosenzweig, speaking for the applicant, said that the property is unique in terms of its size and access to the interstate, railroad, airport and major highways. It was identified as a state industrial "megasite" nearly 20 years ago.
The project has "already had a very substantial economic impact," Rosenzweig said. Amazon alone pays $2.3 million in property tax annually, he said.
Some nearby residents spoke in opposition.
Page Beckwith lives off Bethlehem Church Road. The Beckwiths bought their property with the intent of having a small farm. The industrial development will have a huge impact, partially on traffic, she said. U.S. 29 at Exit 41 is "crazy and messy most of the time," she said. There are trucks that park illegally and leave all kinds of trash, she said.
"If you're only there on an occasional basis, you don't really see the impact that has," she said.
Jerry Williamson was concerned about having an emergency exit on Bethlehem Church Road, but was reassured that it would only be used in true emergencies.
"We have a massive enough project already," Williamson said. He doesn't think it needs to be made bigger.
Jay Smith said that, thanks to all the traffic going through related to Bridgeport, he has to leave for work 45 minutes earlier than he used to just to make it on time. He used to leave at 7:15 a.m. and now has to leave at 6:30, he said.
In trying to get off at Exit 41, he said often he has to sit through five or six cycles of red lights just to make it through. He asked if there was any way possible that there could be an access directly to the property off the interstate. "Then traffic would be kept on 85 and not on 29," Smith said.
The expansion of the industrial park will only increase the impacts on residents, he said. "I can't imagine how many more people they are going to need" for the jobs at the new buildings, he said.
Everyone – including the developer – would love to have a new interstate interchange to serve the industrial park, said Commissioner Tim Lassetter. But chances of something like that happening are very slim, he said.