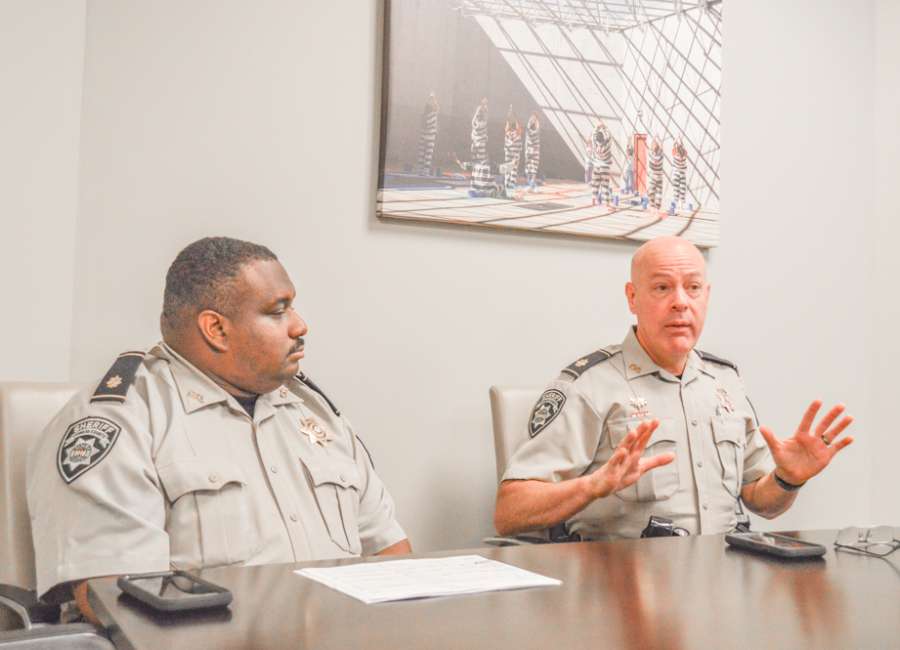 As Coweta's population continues to grow, so do the number of arrests made by local agencies.
Recently, bookings at the Coweta County Jail have jumped significantly, after an initial slowdown early in the COVID-19 pandemic.
Numbers started to increase last August, but have jumped in the past few months, said Major Warren Campbell, former jail division director.
Prior to COVID-19, the jail booked in about 7,000 inmates a year. If current trends continue, Campbell expects they will hit around 10,000 booked this year.
Despite the high numbers, the jail's population is remaining under control, thanks to a partnership among law enforcement, Coweta County Magistrate Court, Coweta County State Court and probation offices.
During the early days of the pandemic, everyone was working to keep as many people out of jail as possible, to reduce the risk of an outbreak. The population was holding at about 210 to 225, Campbell said.
With a lot of empty space in the jail, one dorm was converted to a mental health dorm. Previously, there were only a few spaces for inmates with mental health needs in the infirmary.
Now the mental health dorm stays full.
Around August, the population started to hover in the low 300s. That was concerning, because according to CDC and public health guidelines, there were few changes, Campbell said.
They also saw a spike in mental health issues, likely because of people self-medicating to deal with isolation from the pandemic.
Managing the increase
The county held around 7,000 inmates per year for several years, said Sheriff Lenn Wood. The inmate population typically increases by about 2 to 2 1/2 percent a year, he said. And that's a manageable increase.
"But when you go from a 2 1/2 percent increase to a 25 percent increase, the numbers get really staggering, really quickly," Campbell said.
And they have to be hyper-focused on managing the inmate population, he said.
The need to expand the Coweta County Jail has been discussed for the past several years.
There have been various plans discussed over the years, and one was presented last fall to the Coweta County Board of Commissioners. The commissioners also voted to put forward local legislation that would allow the creation of a Public Facilities Authority.
The authority would be able to issue bonds to pay for major projects, such as the jail expansion.
The commissioners will likely consider the creation of the authority at the June 15 meeting, said Coweta County Administrator Michael Fouts. If the authority is approved, Fouts said that staff, consultants and the authority will begin working on a project schedule for the jail expansion in July.
Several years ago, the jail was facing an overcrowding problem, with triple bunking, and some inmates sleeping on plastic cots on the floor.
"We had to buy a bunch of those, and we were using them regularly," Wood said of the plastic cots.
But things have improved greatly over the past several years.
Inmate management
A big part of the problem then was the state wasn't picking up inmates who had already been sentenced and needed to transfer to state prisons.
"We had inmates sitting here for no reason," Wood said. But that improved – until COVID-19. For a while, the state wasn't accepting any inmates, but now things are back to normal.
Some of the changes put in place during COVID-19 have continued and are helping keep people moving out of the jail.
Those arrested for misdemeanors have more opportunities to post bond.
"Our magistrate judges have really partnered with us," said Campbell. "Judge (Robert) Stokely takes a very personal look into each case and he weighs what works."
"It has really helped us out in the pandemic. They didn't have to do this," Campbell said. "They have really partnered with us on that and helped the inmate population stay as low as it has been."
The COVID-19 pandemic required law enforcement, the judiciary and local governments to be creative in releasing defendants, said Chief Magistrate Jim Stripling.
"It forced me to change how I assessed the risk of release in each case. It was no longer practical to just use the old formula" where there was a set monetary amount for each change, he said. Instead, the judge has to consider the chance that the defendant will drive drunk again, abuse his spouse, or be overwhelmed by a drug addiction. It can be a tough calculation, he said.
Changes brought on by COVID-19 were in addition to a shift over the years in the way bail is handled. Magistrate judges now inquire about an inmate's financial situation to determine their ability to post bail.
A significant number of inmates in the jail are there because they are being held for violating their probation.
Coweta County State Court meets weekly and hears cases for those in the jail on misdemeanors, including misdemeanor VOP.
"The State Court of Coweta County is fortunate to have excellent technological abilities that allow us to hear most jail cases remotely," said Chief Judge John Herbert Cranford. "That, and the cooperation of the many departments involved – the sheriff's department, the Clerk of State Court's office, the Solicitor's Office, Public Defenders, State Court probation, bailiffs and court reporters – has been vital," he said.
Inmates used to stay 35 to 45 days on probation violations before going before a judge.
"We hope they continue to fast track the VOPs. That is a big thing for us," said Wood. Without that, the jail population might be closer to 500, he said. They like to keep it below 400.
Felony probation officers also will see people in the jail weekly, to set up a court date, said Jail Administrator Eric Smith. They are able to set up a release for some offenders, with more intense supervision such as daily reporting, he said.
Many things are interconnected, with judges, probation, and law enforcement, Campbell said.
"They're all putting their parts together so that we can keep the system working," he said.
While changes related to COVID-19 have gotten some inmates out on bond more quickly, and clear VOPs faster, they also mean some inmates are in jail much longer – because they are still awaiting trial.
Jury trials were put on hold for a year and have only recently resumed.
The Coweta District Attorney's Office is working on a pre-trial diversion program, and Campbell thinks that, once that program is up and running, it will really help – especially once trials get rolling at full steam.
Avoiding a 'crisis'
Though jail capacity is not at a crisis level, no one wants to wait until it is. That's what happened 30 years ago – and why we have the jail we have now.
The current jail, which opened in 1991, was built as the result of a federal court order. It was built in a year. And the building has multiple quirks as a result of being built so quickly.
Thirty years ago, "there was a real problem. We learned our lesson that you can't wait for the federal government to tell us what to do with the inmate population," Campbell said. "Everyone agrees we have a problem, and it's not necessarily a crisis. We're not going to wait until it's a crisis."
Even with a new jail, close management of the population will always be needed.
"I think we will always manage the increase as long as the courts and the judges and the participating agencies are cooperating with us. We're always going to find a way to curb the tide," Campbell said. "I don't know if we will ever be out of the woods," he said.
"You can't ever take your eye off the ball."