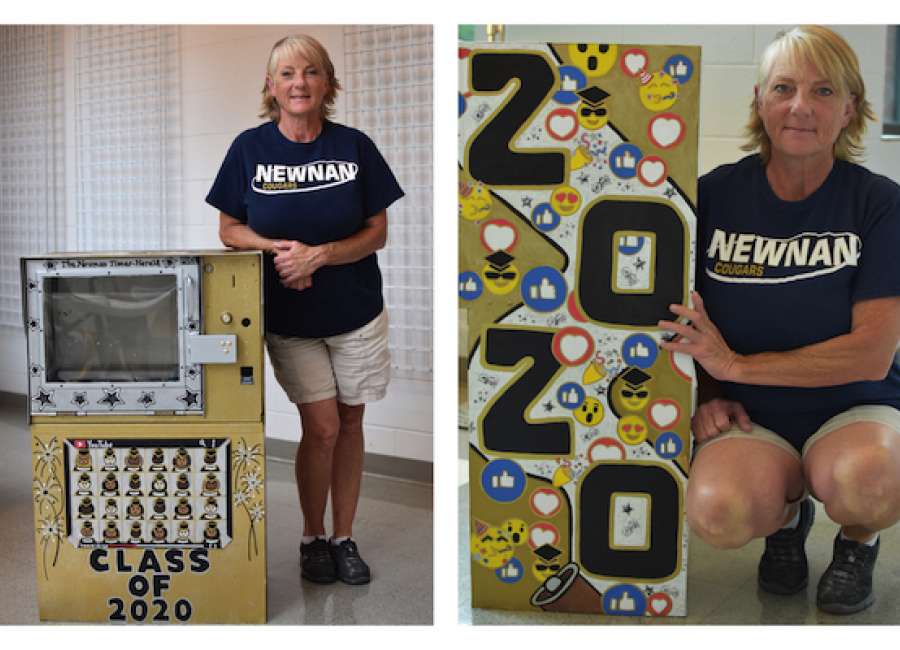 Sydney Troyer graduated in her living room, dialed in to a Zoom call with extended family, sipping on an energy drink while Newnan High School's virtual commencement unfolded on the screen in front of her.

Similar scenes played out throughout the homes of countless other Coweta County homes as the Class of 2020 said goodbye to its high school years in the midst of a global pandemic, and one local artist is making sure their decidedly nontraditional sendoff isn't forgotten.
Tammy Troyer said the memory of her daughter Sydney's graduation was still fresh when she began working on a theme for The Newnan Times-Herald newspaper box she painted as part of an art installation that will be unveiled next month in Newnan.
"When we were given the boxes in 2020 and told they would be a permanent installation, and that was the first thing that came to my mind," Troyer said. "I was thinking about my daughter and the way that all the seniors had to graduate in 2020. I wanted it to be a testament to them and what they'd gone through."
Troyer's Class of 2020-themed NTH box doesn't just honor Newnan High's 2020 graduates. It also features East Coweta High School, Northgate High School, Trinity Christian School, Central Christian School and The Heritage School – and beyond.
"The pandemic affected students worldwide," said Troyer. "I started thinking about that and about how these students are etched in world history."
Students in the Coweta County School System were sent home when the state shut down in mid-March of 2020 over concerns about the rapid spread of COVID-19. The seniors never returned.
"It was really sad," Troyer said. "They missed out on the last day of hearing announcements, Senior Skip Day, graduation, prom … it all just disappeared, and they didn't get to say goodbye."
She said Sydney, like most other seniors, was upset and hurt as the missed milestones piled up.
"She was just lost," Troyer said. "And so I thought I could do something to let these kids know that in world history, they'll never be forgotten after all the sacrifices they made."
Troyer's journey into the art world was a roundabout one. She worked in corporate America during the 80s and 90s, and when her company was bought out, she worked as a temp for awhile until she decided to change things up.
As a child, Troyer had helped in her great aunt's ceramics studio, traveling to Winnebago rallies with her and selling pieces out of the back. She decided to look into classes after Sydney was born.
"I always wanted to do pottery, so I started taking pottery classes in Charlotte, where I was living," Troyer said. "I ended up apprenticing under my instructor, who was a master of ceramic arts."
When her instructor closed his studio, he approached her about helping him launch an art program at the local YMCA.
"That's how I got into instruction," said Troyer, who now teaches classes at the Harriett Alexander Arts Center and is an active member of the Newnan-Coweta Art Association.
Troyer has participated in two previous art installations in Newnan, painting a fiberglass truck that is permanently installed at Georgia Pain and Spine Care and a pig that is permanently installed at Newnan Country Club. She was one of eight artists selected to participate in the newspaper box project, which is a collaborative effort between the NCAA and the Children Connect Museum.
"We decided it was also something for the artists being shut in (during the pandemic)," she said. "Some of us were sitting around kind of twiddling our thumbs because we couldn't get together and meet."
Sydney helped her mom sketch out her design.
"It was based on what was happening on graduation day," Troyer said. "That was … a day."
Sydney wore her white graduation dress and her cap and gown, and her parents dressed up and set out a cake and takeout from Sydney's favorite Mexican restaurant. She had her extended family over Zoom, and she had her best friend Lily to celebrate her graduation, which scrolled across the family's TV as the names of graduates were read.
"We said, 'It's gonna take forever to get to Troyer,' and her grandmother was in the background, yelling that she couldn't get a connection and she was afraid she was going to miss it," Troyer said. "We did the best we could. We had laughter and carrying on with family, and Sydney really appreciated what we were able to do."
She said the experience is reflected in the front of the NTH box, which features a block of YouTube graduates, noted at 7 p.m. on May 22, 2020.
"That's sort of what the front represents," Troyer said. "That's when they were supposed to have commencement, so it was important to have that date."
When the boxes are unveiled next month at Veterans Park, Troyer said she hopes to have members of the Class of 2020 sign the back of her creation.
"I want them to know they won't be forgotten," she said.