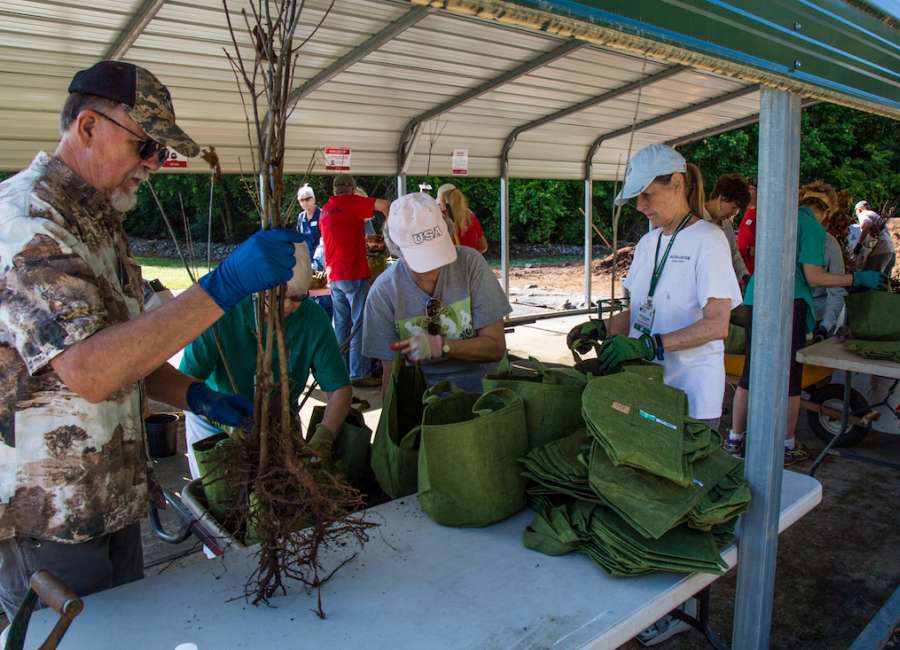 To help restore some of the thousands of trees lost to the March 26 tornado, the Coweta Master Gardener Extension Volunteers have partnered with the Georgia Forestry Commission, Newnan Utilities and Super Sod to pot up 500 oak trees for Coweta residents.
The Rooting for Newnan trees are 1 year old, and will be watered and maintained until winter – the best time to plant them. Plans are to distribute the trees the third Friday in February, Georgia's Arbor Day.
The available trees are cherry bark oak, swamp chestnut oak, northern red oak and white oak. All were carefully chosen for their health and adaptability to living in yards.
The trees were donated by the Georgia Forestry Commission, and master gardener volunteers took the bare root trees and potted them. They are in special root bags from Soil3, which provide drainage and ease in transplanting. Soil3/Super Sod and Newnan Utilities donated a special soil mix for the trees.
To sign up to receive trees, visit https://bit.ly/RootingforNewnan-Coweta .
If people want to plant their trees earlier than February, they can contact Karen Mansour at the Coweta County Extension Office, 770-254-2620. However, trees shouldn't be planted until cooler weather sets in in the fall.
"Everybody has said – what a great idea," said Newnan Mayor Keith Brady. "We need something like this and I think there is going to be more of this," he said. "On behalf of the city of Newnan, thank you to every group who has done anything or who will do anything" to help regrow the lost trees, he said.
Over the next year, the trees can put on a foot or two or height, said Seth Hawkins, a GFC community forester.
"This is awesome," said Hawkins. While there is work to replace publicly owned trees along rights-of-way, "a vast majority of a city's tree canopy is on private property," he said. "These residential tree giveaways are key."
The loss of the city's tree canopy will have to be addressed, said Brady.
"It's a generational thing. It's going to be our children and grandchildren who really enjoy the fruits of what we're doing today."
Newnan has been a Tree City USA for over 30 years, and "we cherish that designation," Brady said.
"The trees that were lost, our grandparents and great-grandparents saw them growing. All we saw was the end result," said Terry Quigley, chief forester at the local GFC office. "It will take at least two generations to have all these shade trees back."
Though trees take a long time to mature, "it's fun to watch them grow," he said. "In 20 years, you can hang a swing in it. In 30 years, maybe you can build a treehouse."
Hawkins and the master gardener volunteers can help homeowners make the best decisions on how – and where – to plant their trees. Putting the right plant in the right place is key.
The cherry bark and swamp chestnut oaks are the fastest growing of the four. White oaks are a "crowd favorite" but are slower growing, Hawkins said. The Northern red oak grows faster than the white oak. All four varieties are adapted to urban landscapes and are hardy. As "good compartmentalizers," they heal well after damage or pruning. Some other types of oaks – particularly the very common water oak – don't handle damage nearly as well.
Swamp chestnut and cherry bark oaks tend to grow in swampier areas, and some people might think they wouldn't be good in yards, said Hawkins. But it's oxygen content – not the wetness of the soil – that makes them thrive in those areas.
"A lot of those swamp species make some of the best urban-tolerant trees," he said.
"I think these four species will be great not only from a survival point of view, but they are good canopy trees," he said.
When planting a tree that will grow as large as an oak, it's important to give it plenty of room, he said. Ideally, an oak needs 960 square feet of open soil area.
"The worst thing you can do is cram an oak tree into about 100 square feet of soil," Hawkins said. Trees shouldn't be placed too close to the house, or where they will grow into power lines.
Roots can go out as far as a tree is tall, Hawkins said. But it's most important to protect the "critical root zone," which runs as far as the tree's drip line – how far out the limbs and leaves go.
And when it comes to planting near a tree, shrubs or ornamentals are fine, if you find gaps in the roots. But grass? Not so much.
"The worst thing you can have is turf grass right up to the roots," Hawkins said. Sod, in particular, is nearly impenetrable, and very little water can get through it to the tree's roots. If you look at a healthy tree in the woods, you'll see leaf litter, sticks and other mulch-like things underneath a tree.
"I tell people to, ideally, mulch to the drip line," Hawkins said. "For a big tree, any mulch is better than none." Hawkins said that when he does yard work, he will blow the leaves around the roots of trees, and that's a great way to take care of them.
The Georgia Forestry Commission website, gatrees.org , has lots of resources on how to properly plant your trees, he said.
The GFC sells small trees every year, of many varieties. The minimum order is 10 of one variety, and orders open up in July. For more information, visit gatrees.org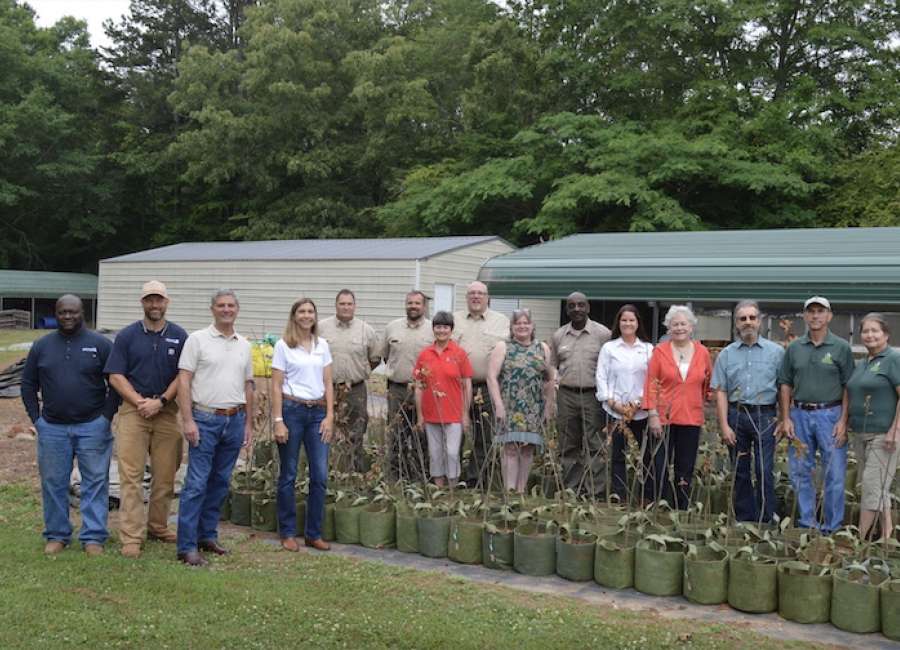 With the more than 500 oak trees being potted up to distribute to local residents are, left to right: Kehon Parham, Newnan Utilities Compost; Billy Ward, Newnan Utilities Compost; Newnan Mayor Keith Brady; Stephanie Butcher, UGA Extension Agent/Coweta County; Jeff Sibley, Georgia Forestry Commission; Seth Hawkins, Georgia Forestry Commission; Donna Dietz, Coweta MGEV president; Terry Quigley, Georgia Forestry Commission; Helen McGregor, Super-Sod & Soil3; Willie Boston, Georgia Forestry Commission; Karen Mansour, Coweta/UGA agriculture and natural resources program assistant; Lynn Smith, MGEV and state representative; Ed Atkinson, "Rooting for Newnan" committee chair; Don Lambeck, Coweta MGEV "Rooting for Newnan" Committee Chair; Sonjia Lambeck, Coweta County MGEV.