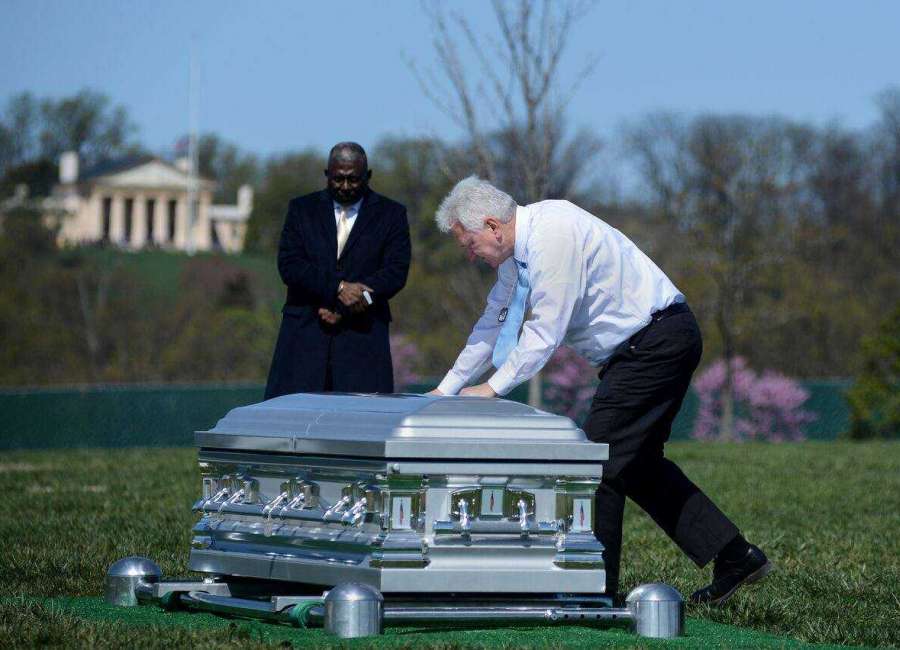 Many years ago, my daughter, Abbey was 3 or 4 years old and pretty organized in everything she did.
I asked her to help me remember something I needed to do at 3 p.m. that day, telling her my memory didn't always remember.
Periodically she would ask if it was 3:00 yet. When answering her query that day at 2:45 that it was almost 3:00 she said "You told me to REMEMORY" you.
I couldn't help but chuckle, but she had it right.
The word "memory" means the mind stores and is able to remember information. Our country has two specific days we honor groups of our military.
Veterans Day is each Nov. 11 and honors those who are serving or served and did not die in harm's way. Memorial Day is an opportunity to remember the million plus who gave their very lives in the many battles and theatres of harm's way to make and keep America free.
Memorial Day wasn't always a personal day for me and I was just like a lot of people. A day off with pay from work (or some nice overtime pay), three-day weekend, great food cooking out, a beach or lake trip or maybe starting a weeklong vacation, and of course the "official" start of summer fun and sun.
But that changed in an instant for me on Aug. 16, 2005, at 7 a.m. I met a major and chaplain in my driveway and before they could say anything, I asked "Is my boy dead?"
Frozen seemingly in time, we just looked at each other. I saw a distinctive hurt in their eyes and then Maj. Michael Hulsey said, "We regret to inform you. …" A chain of events rapidly unfolded. Time sped up but seemingly went very slow.
Memorial Day now brings back memories I wish I didn't have. I shall never forget, and if I allow myself to think about the most mournful sound I have ever heard when I told my wife, Retta, that Mike was dead, my heart aches.
I wish I could not remember the heartbroken sobbing of Mike's 13-year-old sister and the somber and stoic grief of a 17-year-old brother.
Each time I ride along I-285, I avoid looking over at the Air Cargo facility where I went alone to meet Mike's body, and I still tear up as I remember a very busy office and warehouse staff that suddenly froze as they realize two sergeants have uncrated Mike's casket and are draping his flag over him.
I wish I could have given Mike a better salute, but I did my best with tears streaming down my face. I remember hearing others in that cargo office and warehouse begin to sniffle and weep. And I remember calling Retta and struggling through tears to softly say, "Our Boy is Home."
I remember each time the military personnel reminded us in the days leading up to his funeral – more times than I wish – that Mike was a non-viewable body. I remember saying finally, "We get it, we know what happened and what that two inch piece of steel did when it hit him in the face."
I still remember the feel of the heat from a scorching late August sun in Loganville, Georgia. I remember the report of a 21-gun volley, the mournful sound of Taps, and the quiet and somber folding of his flag, which almost broke me, and still does when I have been to the many military funerals since.
I remember not wanting to say goodbye and let him go and asking them to pause just before they closed his vault. I remember grabbing a plain sheet of paper and quickly writing Mike a note, saying a prayer of Thanksgiving thanking God for him being my son and having the privilege to hear him call me Dad.
I remember placing the note on his casket above his heart with some red roses, leaning in just above his cheek, and telling Mike I did not forget the promise I made to him before he deployed and that, "I will be back soon."
I remember the steel casket lid seemed cool even for such a hot day as I kissed his casket and watched his vault close and lower into his grave.
I made sure I remembered to visit him at least monthly and tend his grave, regardless of what hour of day or weather it was. I remember the face of a Walton County Deputy that had eased his patrol car up on me as I knelt washing Mike's grave marker as my car headlights shined on Mike's grave at 3 a.m.
I remember the Deputy said not a word, nodded approval and slowly drove away.
I remember John Davison at McKoon's helping me with arrangements so that, on April 16, 2018, Mike's body could be exhumed.
I remember helping with the digging and placing of the cable around his vault to lift it out of the ground and then following it to the Master Grave Services facility in Bogart, Georgia.
I remember helping open Mike's vault and seeing the tattered remains of my note from nearly 13 years before, still readable for the most part. I remember leaning in close and whispering, "You are soon on your way."
I remember "Bebomb" Smith, dad of a battle buddy of Mike's, housing him at the Smith Funeral Home in Winder, Georgia, for a few days until that morning that Mike's brother, Wes, an uncle and his two sons and I loaded Mike's casket into a van.
I remember the unexpected surprise of Jud Smith, Sheriff of Barrow County, sending two of his deputies to provide us an escort to the State line and the Winder Police and surrounding counties blocking roads at 6 a.m. to allow us to pass unimpeded. It was April 19 – Mike's 36th birthday.
I remember a push to get to Arlington, Virginia, on a tight 10-hour schedule so we could house Mike overnight at a Funeral Home there.
And I remember following the hearse into Arlington National Cemetery the next morning as many of Mike's Battle Buddies from Iraq, friends and family awaited his arrival.
I remember the heartfelt tribute that Newnan Times-Herald writer, Alex McRae, wrote a few days after Mike was killed in Iraq. Alex wrote that we had become accustomed to reports of casualties as another American soldier was killed today, and then saying, "This time it is personal."
When I have been asked over the years what could make it better, I reply, "You can't make it better, but you can make it matter by Remembering with Honor those who gave their lives and a lifetime of love for you and your family."
I wish I had heard and heeded Alex McRae's words sooner and that it didn't have to become so personal to me to understand Memorial Day.
The Stokelys have been blessed greatly by God and his provision for us, including this community and so many friends. I call such blessings Romans 8:28 blessings.
May the blessings of God be upon each one of you and may Memorial Day be a special time for you and your family.
Robert Stokely
Proud Dad SGT Mike Stokely
USA 3rd ID E 108 CAV 48th BDE GAARNG