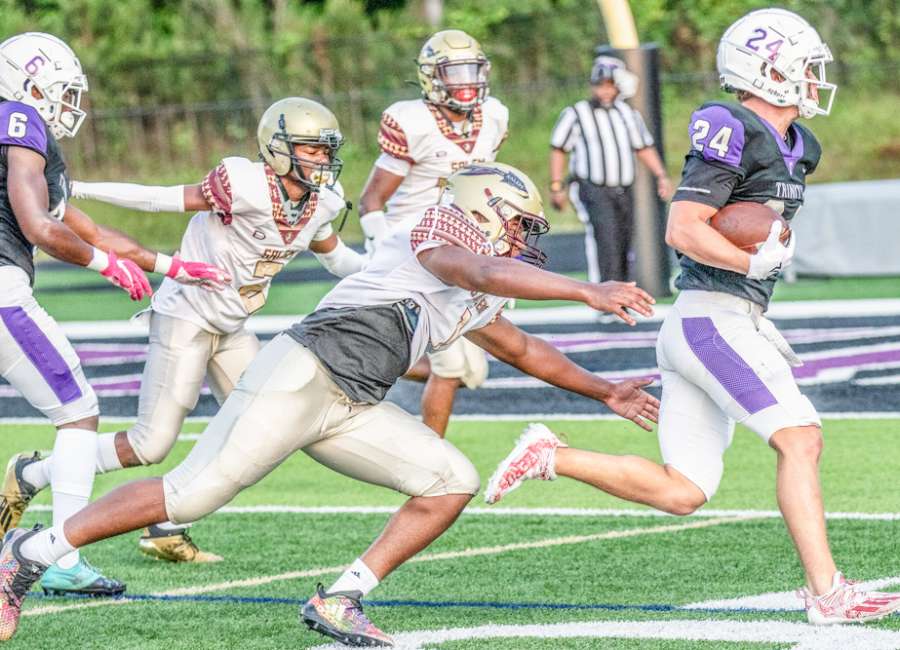 By Rob Grubbs

sports@newnan.com
The Trinity Christian Lions advanced to the 2020 Class A Private State Championship game last season with an explosive offense and a hard-hitting defense. After losing only two starters to graduation, the Lions played their 2021 spring game before a packed house last Friday night.
They put everyone on notice with a 62-18 victory over Salem. The Lions are more dangerous than before.
In their playoff run last year, the Lions averaged 36 points per game over five playoff quality defenses. They scored 56 points in the first half alone against their opponents from Region 5-3A.
They quickly drove the field on their opening possession and scored when quarterback David Dallas found Bryce Wilcox over the middle for a 21-yard touchdown pass. They repeated that process a few moments later when David found his brother, Joshua Dallas, down the left sideline, where he out jumped to Salem defenders for a 49-yard touchdown.
Wilcox returned to the endzone a few moments later when he scored on a 17-yard jet sweep. Wilcox displayed more than just touchdown ability; he also made a jaw-jarring block in the same series that set up his touchdown run.
Running back Tyson Wall got into the scoring action as well. He scored on a 27-yard run and recovered a fumble on defense. He will be joined in the backfield this season by tailback Dominick Cosper who will add a new dimension to the high-powered offense.
Other touchdowns included a Javan Harrison 11-yard reception, and an interception return from the defense late in the game.
David Dallas finished the night 16-of-20 for 281 yards and four touchdowns in limited playing time. Josh Dallas had eight catches for 219 yards and one of the touchdowns.
The scariest part is that Head Coach Kenny Dallas and his coaching staff now have 12 weeks to draw up more plays on offense to get into the hands of their playmakers.
The Lions return to action on Aug. 13, 2021 with a scrimmage against Mundy's Mill at home and then head to Athens for their season opener against Athens Academy on Aug. 20, 2021.