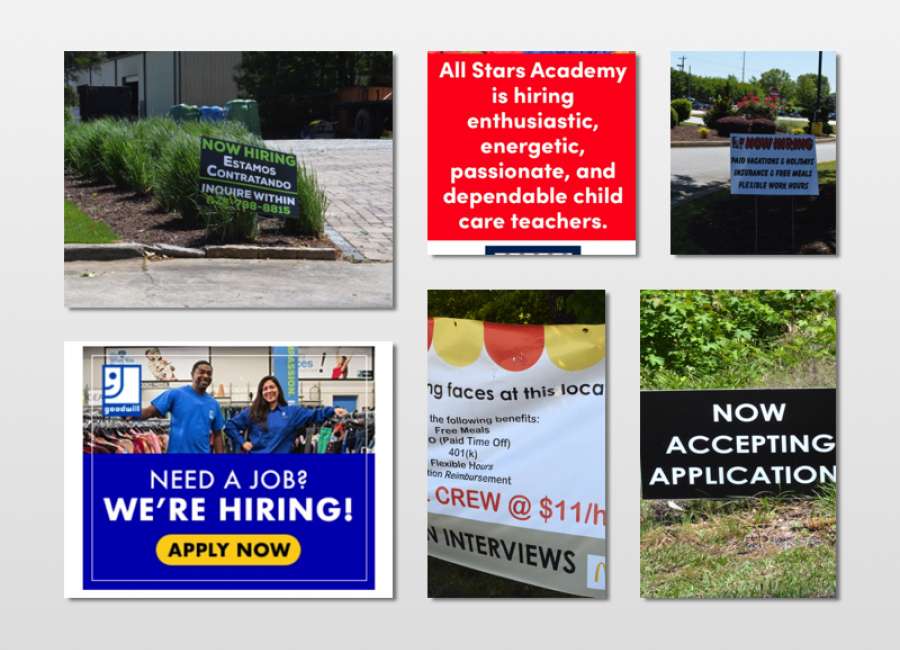 As Georgia's economy continues to recover, there is an all-time high number of jobs posted on the Georgia Department of Labor's EmployGeorgia.com , and local companies are heavily promoting their open positions.
However, a high number of Georgians continue to receive unemployment, and thousands of initial unemployment claims continue to be filed weekly.
The initial unemployment claims can be confusing, because they're not all necessarily from people who just lost their jobs.
"These are not people who are suddenly unemployed," said Kersha Cartwright, spokeswoman for the Georgia Department of Labor.
Many of the initial claims are from people who have been unemployed since this time last year, and they are reapplying because their benefit year has ended.
A benefit year ends 52 weeks from the time someone filed their unemployment claim. Once that benefit year ends, they have to refile.
Changes to programs likely – and soon
In normal times, those on unemployment are required to actively look for jobs and to accept suitable work.
But during the COVID-19 pandemic, that work search requirement was waived. During COVID-19, unemployment has also been expanded, with more eligibility, the ability to receive benefits for much longer and additional funding.
Early in the pandemic, everyone on unemployment got an extra $600 a week from the federal government, on top of their state unemployment. After that expired in late summer, there was a temporary increase for a few weeks. Currently, there is a $300 weekly supplement, which has been extended through September.
Georgia's requirement hasn't been reinstated, but that will change in the next few months, according to GDOL.
Under the work search requirement, those receiving unemployment are required to register for employment services at employgerogia.com , to actively search for work and to submit weekly work search reports.
According to a press release sent Thursday by GDOL, unemployment recipients will be sent information about the upcoming reinstatement of work requirements and urging them to take action to register for Employ Georgia.
Other states are reinstating their work requirements, and some have decided that their residents will stop getting the extra $300 a month.
It's something that Georgia might consider, as well.
Monday, Alabama announced that it would stop participating in all pandemic-related unemployment programs on June 19, according to Al.com . The state's labor department has also reinstated the work search requirement.
Other states withdrawing from the federal programs include Mississippi, South Carolina, Arkansas and Montana.
The Georgia Chamber of Commerce and other groups have called for suspending the more generous benefits, according to The Associated Press, and Georgia Commissioner of Labor Mark Butler and Gov. Brian Kemp met Monday to discuss the issue.
"I think the governor's office and the commissioner have agreed that a major reduction in some programs, if not all programs, is needed," Cartwright told The Associated Press Monday. "Everything's on the table for discussion."
Mallory Blount, a spokesperson for Kemp, said Georgians can "expect final decisions on timing and other specifics in the coming days," according to AP.
Highest initial claims in food service and hotels
Last week's initial unemployment claims were 25,429, down 3,335 over the week before.
The sectors with the most weekly regular UI claims processed last week were accommodation and food services, with 6,224, administrative and support services with 2,083, manufacturing with 1,755, retail trade with 1,317 and health care with 1,200.
Currently, there are about 430,000 Georgians receiving unemployment. And that's down significantly from the highs last spring.
"A lot of people have gone back to work," said Cartwright. Many of the people who initially filed for unemployment were only laid off for a few months.
While restaurants are the most obvious industry looking for employees right now in Coweta, with prominent signs outside of stores and some restaurants having to limit hours because of staffing shortages, some retail stores and local manufacturing and distribution companies are also looking hard for workers – and significantly increasing starting salaries.
On EmployGeorgia.com , there were nearly 239,000 job listings as of Thursday, according to GDOL.
Typically, only those who lose jobs through no fault of their own are eligible for unemployment. With COVID-19, some workers were unable to go back to work because they couldn't get childcare for children or because of severe underlying health conditions.
Last year, whether someone was deemed eligible for unemployment depended on how their separation notice was worded, Cartwright said. There was a lot of gray area in those requirements.
Earlier this year, President Biden's administration clarified eligibility rules, so that people who left an unsafe work environment would be eligible for unemployment under the Pandemic Unemployment Assistance program.
PUA, which was created last year, is most commonly used to provide benefits for the self-employed, independent contractors and gig workers, who weren't eligible for traditional unemployment. To qualify under that exemption, the company must be out of compliance with COVID-19 health and safety standards.
The expanded eligibility requirements also include those who had their hours reduced as a direct result of the pandemic or school employees who don't have contracts or reasonable assurance of continued employment who face reduced paychecks and no assurance of continued pay when schools are closed due to coronavirus.
Under emergency COVID-19 rules, those receiving unemployment can continue to work part time or off and on and still receive their benefits. Recipients can earn up to $300 a week without impacting their unemployment benefits at all. Anything over $300 a week is subtracted from their state benefit.
That's a number that was set by Butler and can be changed by him, according to AP.
As long as a recipient is eligible for at least $1 in state benefits, they can receive the $300 weekly federal supplement. And those who make significant money one week and less money the next can request payments for the weeks they don't make enough money to prevent them from receiving unemployment.
Unemployment recipients who made at least $30,000 a year before losing their jobs can receive the maximum state benefit of $365 a month. With the federal supplement, that's equal to $34,580, an hourly wage of $16.63 at 40 hours a week.
The average unemployment recipient is receiving about $254 in state benefits which, with the federal supplement, is equal to $13.85 an hour, or $28,808 a year. To receive that amount of state unemployment, a worker had to have earned $10,500 a year before becoming eligible for unemployment.
Eighty-five percent of the people receiving unemployment in Georgia were making less than $30,000 a year before losing their jobs, Cartwright said.
The supplement and extended benefits are set to end in September.
With a tight labor market, employers are offering higher salaries and even signing bonuses, and it's a great time to be looking for a job, according to Cartwright.
That may not be the case when benefits end in September, when the market could be flooded with job seekers.
The jobs on EmployGeorgia are in various fields, and all across the state. "Many are offering the opportunity to train you, to pay for your certification, just to get people in the doors," Cartwright said. "Now is the time to go and look for a job if you want to better your career and look for a new opportunity."