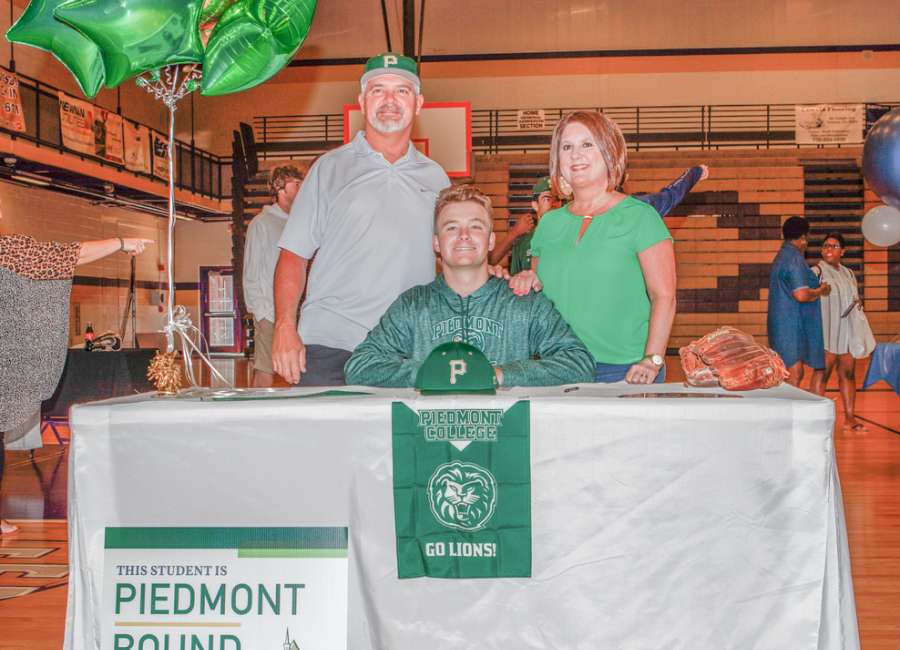 It was college signing day for East Coweta Baseball Head Coach Franklin DeLoach and six of his graduating Indians.

On Wednesday morning at the John Thrower Gymnasium, a core from the 2021 team that finished 24-9 signed to play at the next level.
Chaz Crawford will play at Piedmont College in Demorest, Georgia. The Lions compete in the USA South Conference. There were two former Indians on the Lions roster this past season, outfielder Ethan Darrow and catcher Cameron Jackson.
Zach Carlton signed to play for the Salem Community College Mighty Oaks in Carneys Point, New Jersey. Salem plays in the Garden State Athletic Conference and is under the leadership of Head Coach John Holt.
Second baseman Mason Pearcy will continue his athletic and academic career at Oglethorpe University in Atlanta. Nicknamed the Stormy Petrels for a seabird common to the Eastern Seaboard, they play in the Southern Collegiate Athletic Conference.
Region 2-7A player of the year Landon Underhill signed with the Mercer Bears in Macon, Georgia. The Bears play in OrthoGeorgia Park at Claude Smith Field and compete in the Southern Conference.
Quinlan Wiley will take his baseball talents to Swainsboro, Georgia, to play for the East Georgia State Bobcats. They compete in the Georgia Collegiate Athletic Association and currently have another East Coweta alumni, Logan Frady, on their roster.
Dekel Williams signed to play with the Andrew College Fighting Tigers next season. Andrew College is in Cuthbert, Georgia and plays in the Georgia Collegiate Athletic Association. They are under the leadership of Head Coach Blake Williams.