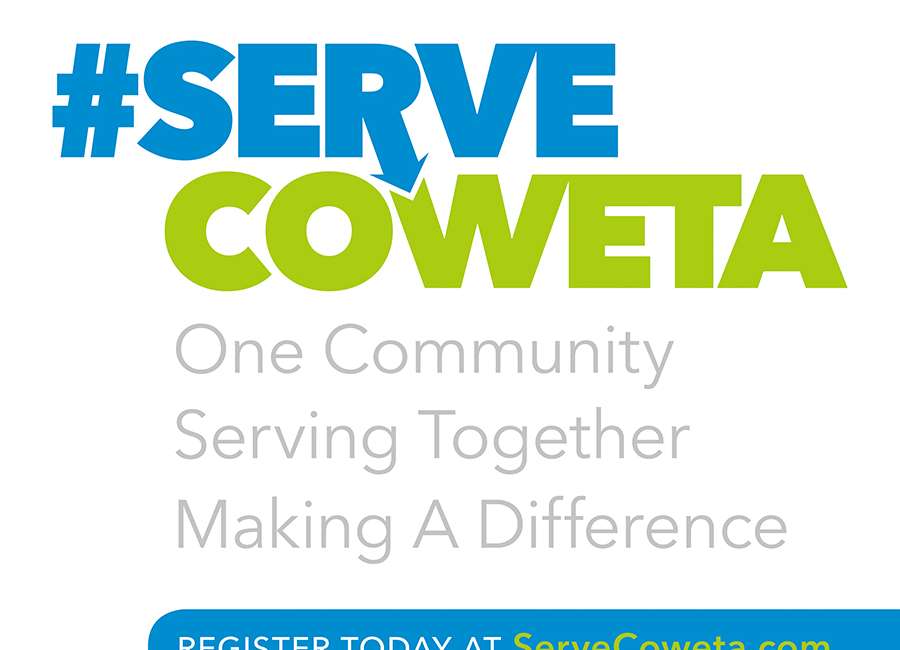 #ServeCoweta is held every year in the spring (and in the fall), but this year, it is different – and needed more than ever.
The twice-yearly volunteer event coordinated by RiverLife will begin Saturday – and run for the foreseeable future – as volunteers continue to help those impacted by the March 26 tornado.
The first big push will be May 15, when volunteers will gather at Smokey Road Middle School to be given assignments and fan out through the impacted areas. Then, work will continue every Saturday for the foreseeable future, and during the week, if that's what works better for volunteers.
Those wishing to volunteer should pre-register at ServeCoweta.com and can check in at Smokey Road any time from 9 a.m. to 1 p.m. on May 15 to get their assignments.
Those needing help can also fill out a form at ServeCoweta.com . People needing help who don't have internet access or who need help filling out the form can call RiverLife at 678-796-8840 or visit local nonprofits to get help filling out the form.
May 15 is going to be a big push for heavy equipment to come out and help clear out yards. Hopes are also to do some roof tarping.
"Some of the tarps have come loose," said Melanie Reeves of RiverLife. "We are trying to make sure everybody really is covered and dry. Eventually, that will turn into a construction and rebuild opportunity."
Reeves said she's hoping that people will show up next Saturday with skid steers, tractors, loaders and other equipment that can help move large trees and limbs. Trailers and trucks will also be needed, and large chippers would be useful.
"We're hoping for big machinery," Reeves said. "We need to move this debris to the curbs."
After May 15, the volunteer opportunity will shift a bit, with teams being sent out directly instead of meeting up at a coordinating center.
RiverLife works to connect volunteers with those in need, traditionally for home repair and projects like building handicapped ramps.
After the tornado, Reeves showed up at the Coweta Emergency Operations Center to see how she could help, and ended up running the tornado relief line for about four weeks.
She's recently transitioned back to RiverLife, as calls to the relief line have slowed and there is enough staff at the Coweta 911 Center and Emergency Management Agency to handle those calls.
"I was really blessed to be able to be at the call center and have conversations with the people who were impacted, hear their stories and know the resources that were being offered," Reeves said. "And also to watch emergency management take place, because they did a phenomenal job."
During that time, Reeves said she learned a lot about disaster response.
"Everything that I experienced in the call center is applicable to what we do on a daily basis in our operations. I feel like I've learned so much just from being in there," she said.
During that experience, she also saw that people would call for needs, and when a team went out to help, they would sometimes find that need had already been fulfilled.
"That was because the community response was so incredible," she said. However, it was hard to keep up with, and some people could have been falling through the cracks.
"That is why we decided to have a centralized database," she said. "We kept finding a need for a centralized way to coordinate our volunteer efforts."
Since what RiverLife does is coordinate volunteer efforts, and it was around the right time for ServeCoweta, "we decided that this was the best place for us to serve."
#ServeCoweta will be a collaborative effort. "While RiverLife is coordinating it, this is not our event. It is the community's event," Reeves said. "It is really exciting."
There is a place on the website to donate to the Coweta Community Foundation and when people sign up to request assistance, they can also ask to be referred to agencies that can help with other needs.
In addition to having people sign up for help on the website, Reeves said they are checking back in on people who have called the call center looking for help, and seeing if they still have needs. And they're partnering with other organizations who will refer people to #ServeCoweta if they have needs volunteers can help with.
For more information, visit ServeCoweta.com or contact RiverLife at 678-796-8840.