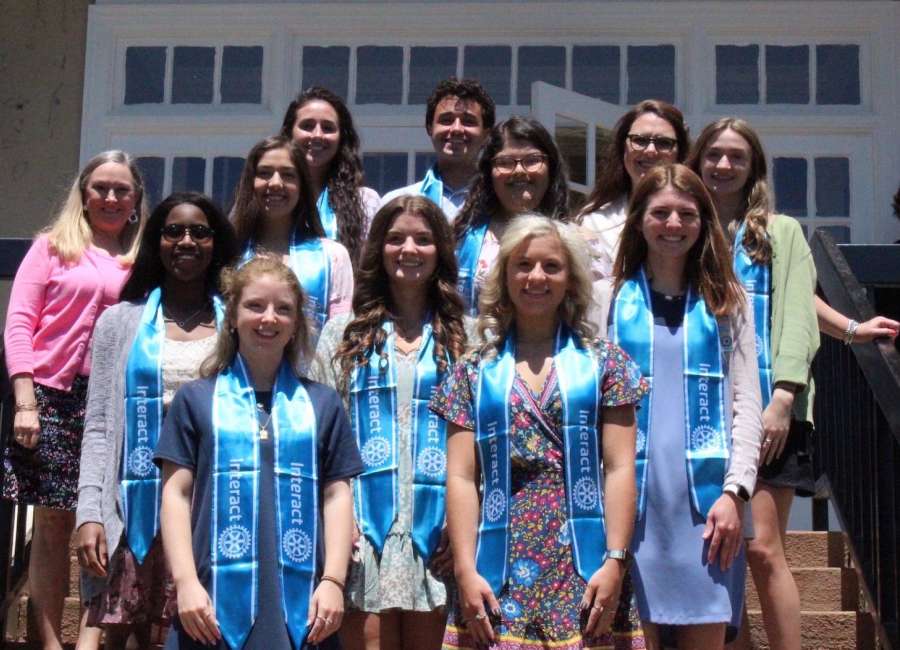 The graduating seniors of Newnan High School's Interact Club were honored by the Rotary Club of Newnan at a luncheon on Friday.

A total of 17 members of the club are graduating from Newnan High School, including the entire executive office team.
The students, Angela Ayala, Davis Fabre, Megan Jackson, Elizabeth Neely, Taylor Kate Murphy, Drew McLendon, Anna Lee Hand, Ida Lee Lunsford, Marissa Gleeson, Emma Sayre and Jatera Walters, were honored at the luncheon.
Their faculty sponsors, Michelle Freeman and Amber Steele, were incredibly proud of them.
"I don't know how we're going to do it next year without them," Freeman said. "That's the truth. These kids have run the program. We sit back and let them do all the work. That's not an overstatement."
"They've grown into their roles as leaders," Steele said. "We've just guided them and showed them what we expected of them, and they went above and beyond that. This year brought some very big challenges with COVID, and they stepped outside of the box and came up with multiple different things to still play a role, not only in the community, not only at Newnan High School but the community around us."
Some of those things included letters to firefighters, trick-or-treating at Bridging the Gap, and writing cards to counselors.
"It just completely changed what we had to do and what we were used to doing," Steele said. "They would come to us with ideas, they'd work together as a team, and we'd fill in the gaps where they needed to. But like what Michelle said, they went above and beyond our expectations as student leaders."
"It began when they were freshmen," Freeman said. "Davis Fabre said he wanted to be in the Christmas parade. We met in my classroom after school, and made posters. That was the year of the ice storm in Newnan, and the parade, from a high school standpoint, was canceled. The parade went on, but the school system wouldn't let us participate."
Freeman said that, in spite of not being able to participate, Fabre had proven himself to be someone special and someone that could lead. Fabre has been the president of the Interact Club for three years.
"This club has everything to do with the power the students have," Steele said. "That's the purpose of high school when it comes to clubs — for us to sponsor them and stand behind them and show them the ropes, so when they become citizens, they know how to lead and know what to fall back on. It is not a reflection on us at all. It is a total reflection on them as students and what they've been able to do this year."
In addition, Fabre received a scholarship award from State Rep. Lynn Smith, R-Newnan.
"I want to observe that those of you have served in the club have realized something early on in your life that you give back tenfold whatever you're given," Smith said. "That's the blessing to a wonderful life. Congratulations on the route you're following."