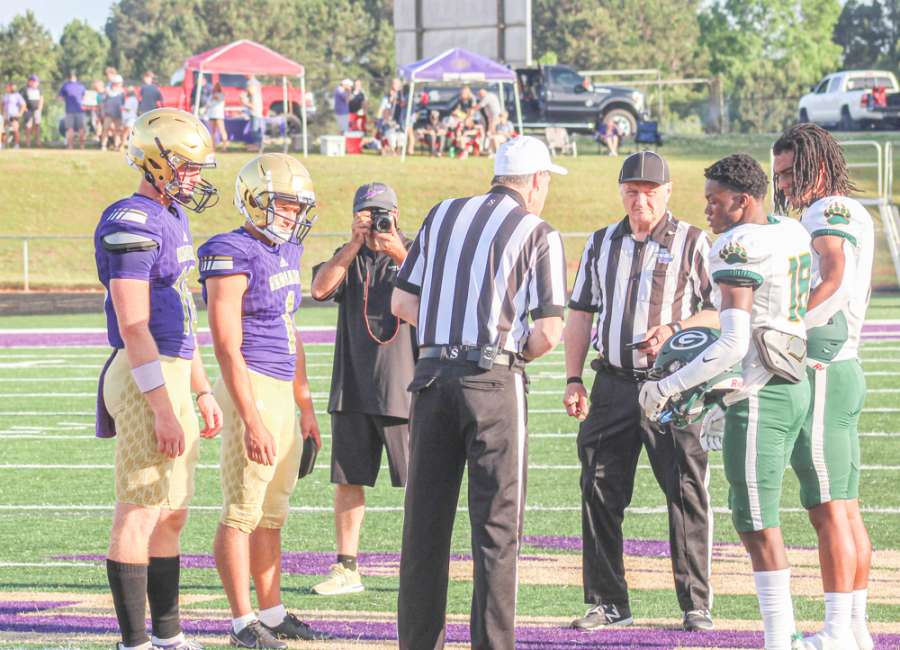 By Rob Grubbs
The 2020 Region 2-7A Champion East Coweta Indians were back at work in Garland Shoemake Stadium Thursday night for the 2021 Spring Game against the Griffin Bears.
With both defenses dominant at first, the Indians scored two touchdowns through the air and got a field goal from Lucca Labattaglio for a 17-14 victory.
While graduation was not kind to the Indians, there were many similarities between this team and last year's region championship team. Many players on defense are new, but the numbers are not. Keelan Kornegay, Malakai Dudek and Brandon Johnson switched numbers to the stars who held those positions last year.
Christian Richardson is back and in his same number and will be a leader in the back end of the Indians secondary. Overall, the defense swarmed to the ball and got constant pressure on the Griffin quarter.
The offensive line looks to be on solid footing, with Aaron Fenimore and Prince Seymour providing leadership and protection.
The skill positions are the Indians' strength. Last year's starting quarterback Daniel Shoch has a full season under his belt and looks poised to take his play to the next level. He will be heavily recruited through the coming months.
He has weapons at his disposal. Trey Bowles was one of the top backs in the region last year, while Amariyon Moss was one of the leading Indian playmakers from his receiver position. Add in split end Zander Simmons, and the offense has potential for big numbers.
Moss caught a touchdown pass in the scrimmage from Shoch. Indians fans should expect to see a lot of that in the fall. The other touchdown came from a backup quarterback Caleb Mize pass to Gianni Dalman.
Special teams are in good hands with senior Labattaglio, who punted and kicked against Griffin. There was also the addition of kicker Grace McGill who had a couple of successful extra-point attempts. McGill also plays for the Lady Indians basketball team and soccer team.
With spring practice behind them, the focus turns to summer workouts. Fall practice can start on Aug. 2, and the Indians' first game will be in the Coweta-Fayette Classic on Aug. 21, 2021, against the Whitewater Wildcats.