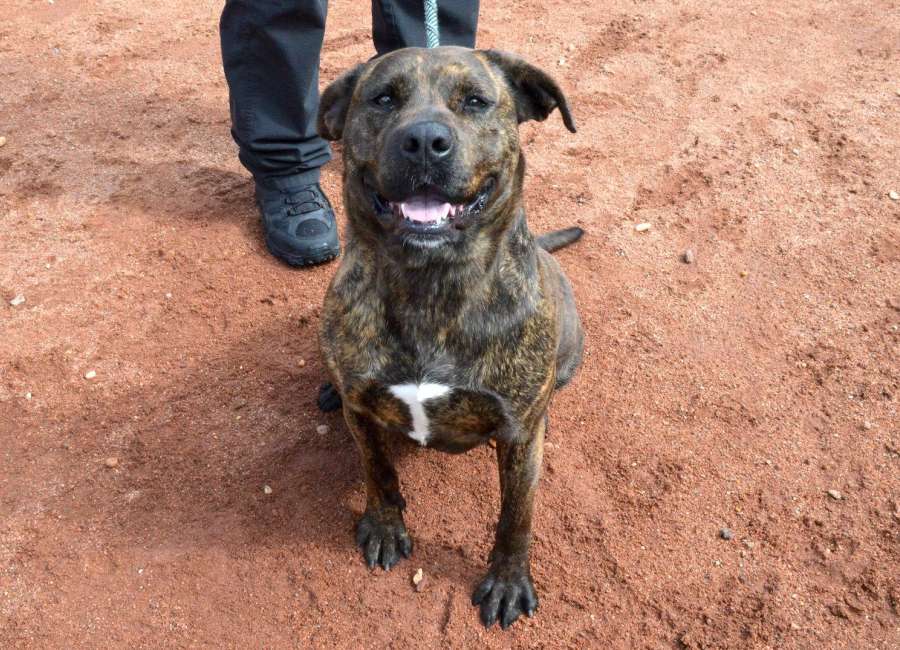 Noble is a 4-year-old female brindle Staffordshire mix who has been at the Coweta Animal Services shelter since Nov. 19.

Noble was picked up as a stray from Ray Street, and weighs about 73 pounds.
She is a sweet and playful dog with a good personality, said shelter workers.
Noble is heartworm positive. Typically, the Newnan Coweta Humane Society is able to help adopters of heartworm positive dogs by covering almost all of the cost of heartworm treatment.
However, the society is no longer receiving the grant and other funding that made that program possible, and has had to put it on hold, said Katie Whittington, Dog Team director.
Whittington said the program was very popular, and they hope to bring it back in the next few months.
While expensive injections, followed by weeks of confinement, is the traditional treatment for heartworms, it's not the only option. The "slow kill" method uses Advantage Multi, a flea preventive that can also kill circulating heartworms. Depending on how severe a heartworm case is, the treatment can take six months to two years, said Whittington. It's less expensive than the traditional method, is not as physically hard on the dog, and doesn't come with the requirement for crate rest. The slow kill method is often used for older dogs who may have a hard time with the injections, she said.
Whittington said that, as the program comes back on line, they hope to switch to the slow kill method, and have animals already start on the Advantage Multi at the shelter, and the adopters can continue the treatment. "It's a lot cheaper and we could do a lot more dogs that way," she said.
Appointments no longer needed at animal shelter

The Coweta County Animal Services Shelter has significantly reduced its COVID-19 precautions, and appointments are no longer necessary for those wishing to come and look at animals up for adoption.
All visitors must still wear masks, have temperatures taken and sign an attestation that they don't have any symptoms of COVID-19.
For the first time since the pandemic began, those under 18 will be allowed into the shelter, and there is no limit on the size of a family group coming to look at pets for adoption.
Animals up for adoption can be viewed on petharbor.com.
Before going to their new homes, adopted pets are spayed or neutered, and receive a microchip and their first round of vaccinations.
For more information call 770-254-3735.