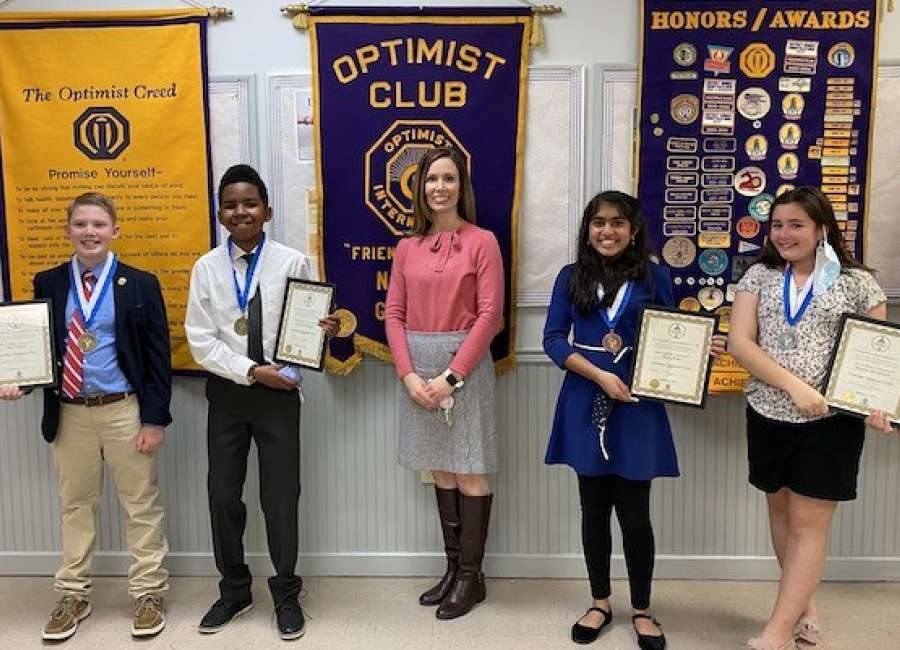 Some students spend too much time talking in school, but at Madras Middle, they are encouraged to talk more.

Several Madras students honed their speaking and presentation skills to winning heights recently, earning medals at the Newnan Optimist Club's annual Oratorical Contest. Two spoke so well they even advanced to further competitions.
The Optimist Oratorical Contest got its start in 1928 and is designed for youth to gain experience in public speaking, perfect self-expression, gain self-assurance, improve communication skills and provide them with the opportunity to compete for a college scholarship, according to the club's website.
It's a cause dear to the hearts of Madras sponsor Laura Farmer – an English/language arts teacher at the school – and to gifted class teachers Peggy Davenport and Sheila Chaves.
"As teachers, we are eternally committed to student achievement in our classrooms, but we are also dedicated to helping our students to prepare effectively for the future," Davenport said. "In the fast-paced and competitive world we live in, the ability to speak in public is one of the most important skills a person can possess as they move through their academic career and into adult life."
Davenport said the Optimist Oratorical Contest allows students to practice public speaking skills in a real-life situation using a real-life topic.
"That is precisely why Madras Middle School has remained so committed to this effort each year," she said. "The lessons learned are priceless and will ultimately have a profound effect on the future success of those who participate."
Madras seventh grader Rhea Patel and sixth graders Drake Strickland, Ben Farmer and Shayna Henderson won awards for Madras in the contest. Each student prepared a four to five-minute speech on this year's topic, "Healing the World with Optimism" and presented it during competition at the local event.
Patel won a medal for the second year in a row, taking home a bronze, and Henderson was a silver medal winner.
Strickland and Farmer both earned gold medals and advanced to the zone-level contest, where they competed against other local winners in grades 6-8 from as far south as Macon and Savannah.
Strickland won first place overall and moved on to the district-level event in Tucker, which featured contestants from grades 6-12.
He said the district competition was "amazing."
"I got to meet people from all around Georgia and a bit of Tennessee," Strickland said. "I'm proud I made it so far, especially because I was going up against people a lot older than me. It was really cool to hear all the amazing stories and speeches. I'm glad I got to experience it, and I can't wait to go back next year and outdo myself."
Davenport said watching the students progress through each stage of preparation and competition was rewarding.
"Very few students begin this process feeling comfortable with public speaking, but by the end of the process, they have overcome so much of what held them back and have mastered the skills required to be an effective public speaker," she said. "(These are) skills that will undoubtedly help them in every aspect of their academic and professional lives."