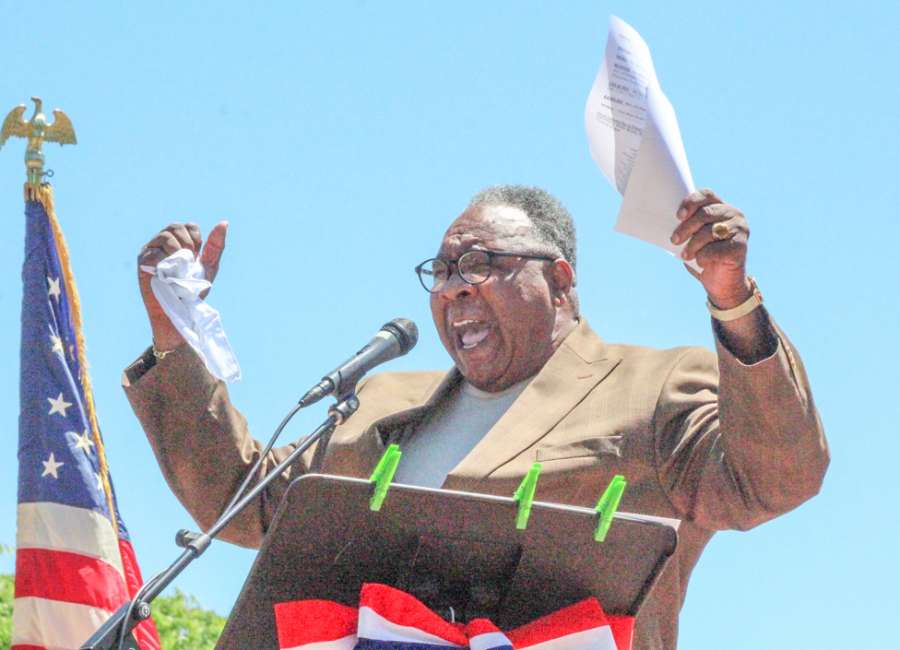 Faith leaders from across Coweta County came together to pray for the community on Thursday.
Thursday was the annual National Day of Prayer, and the event in Newnan was one of many from across America. Newnan's event was held at Greenville Street Park in downtown Newnan.
Faith leaders prayed for the victims of the March 26 tornado, as well as for the city of Newnan, Coweta County and their governments; teachers, national leaders, the judicial system, the military, the media, businesses, churches and families.
In addition, Robert and Kate Lowrie performed, playing "How Great Thou Art" and "God Bless America."
"Many of you are familiar with the saying that prayer is just a conversation with God," said moderator Pete Mullins. "Before we start that conversation, we need to thank God. We thank you, Lord, for everything you've done, everything you are, everything you're doing now and everything you'll ever do."
Mullins called it "miracle upon miracle" that the number of casualties from the March 26 tornado was so low. The official death toll from that tornado is one, an individual who suffered a heart attack.
The Rev. Joel Dover of Calvary Chapel prayed for the city of Newnan, its mayor Keith Brady and its city council.
"This past year has been a challenging year for our community," Dover said. "We all know that. We've been facing a global pandemic. Many of us here, Lord, have watched those online meetings that have been led by our mayor and listened to the decisions that had to be made, and we've also seen many of the comments that are posted. We know theirs are a job that brings great responsibility, great reward, and at times, great criticism."
In that prayer, Dover expressed gratitude that the city council meetings still start with prayer.
"We're thankful that they invoke the name of the Lord Jesus Christ," Dover said. "We're thankful there is a legacy in our community of seeking the face of God."
The Rev. Robert Chapman of Greater Mount Calvary Baptist Church prayed for the county, its commissioners and for first responders.
"Truly, you have had your hand on Coweta County," Chapman said in his prayer. "And Lord, we thank you for the families represented here right now. We pray that you let your love shower down from heaven, let them know you're still in control."
Paul Schneider Jr. of PrayCoweta.com said a prayer for the schools and teachers.
"If there's any place we need your holy spirit, it's in our education department," Schneider said in his prayer.
The Rev. Frank Powers, praying for the nation's executives and legislators, prayed for their safety and for their wisdom.
The Rev. Kenneth Bailey of White Oak Grove Baptist Church prayed for the judicial system.
Sharon Mullins, a veteran of the U.S. Army, prayed an enthusiastic prayer for the military and for peace.
"Our military needs our prayers," Mullins said. "We are representing the military to you. This is the day you have made. Will you come and work out peace on behalf of our military. We are praying for those people that have signed their name on a blank check, all the way to their life."
Dr. Tim Riordan of Sonrise Baptist Church prayed for an increased presence of God in the nation's media.
"The word of God says we live every day on a battlefield, spiritual warfare for the soul of America," Riordan said. "There's a lot of places where that battlefield takes place, but one of them is through our media. Our media influences our thinking and our minds. Our minds are a battlefield."
The Rev. Rhodes Skinner of the Real Life Discipleship Church, meanwhile prayed for the businesses of Newnan, impacted by the March 26 tornado and by last year's COVID-19 pandemic.
While Skinner prayed for the businesses of Newnan, most of those on hand at Greenville Street Park stood and faced towards downtown Newnan.
"Their lives have been turned upside down," Skinner said of businesses directly impacted by the tornado. "They're trying to learn to speak the language of insurance."
The Rev. Debra Harris of Kingdom Connected Ministries International, meanwhile, prayed for the churches of the community, saying they will live on.
"We don't have to be in the building," Harris said. "But, we can gather together in Christ's name and we can be the church. We are the church. When everything else goes down, the church of Jesus Christ will continue to stand, because He will be returning for the church."
The Rev. Abi Porat of Shekinah Glory Ministry prayed for families and for mothers, saying the only thing a person can bring into Heaven are their relationships.
"You are my brothers and sisters," Porat said. "You may not want me, but I want you."
Porat spoke of the importance of mothers in humanity.
"The whole of mankind is predicated on mothers. Think about it. We can do some artificial stuff, but we have to have mothers. They are the basic element in our families. We need to honor them. And I wish that somehow we could communicate to young people all over who think seducing girls is fun and masculine. It's foolishness. It's moving in a realm you have not earned by commitment, preparation to support and to be a good example."