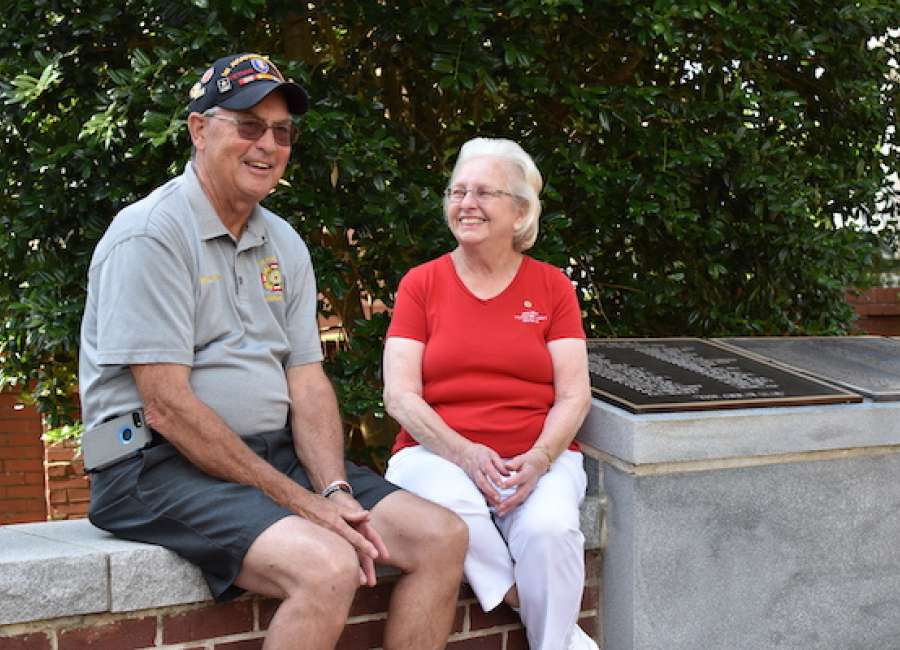 The woman who stopped by the VFW Post 2667 poppy drive had a story to share with Billy and Janet Alford, one about soldiers returning home from Vietnam.

"She had been an airline stewardess," Billy said. "She said one of the most enjoyable things she ever did in her job was to announce to Vietnam soldiers, 'You are now entering U.S. territory.'"
The woman recalled how the plane would erupt with cheers following the announcement.
"She said the plane would just be rocking," Janet said.
It's one of hundreds of stories the Alfords have heard since relocating to Newnan nine years ago and joining Veterans of Foreign Wars Post 2667.
Before that, the couple – married 47 years – led a fairly traditional life in Newport News, Virginia. He worked in the post office for 27 years, she was a secretary at a high school for 25, and together they raised a son and a daughter.
Theirs was a different kind of traditionalism, forged from the turbulent Vietnam War era. Their marriage was the second one for both Janet and Billy, who lived down the street from each other as children but didn't actually meet until they were older.
Janet's first husband, an acquaintance of Billy's, was killed in Vietnam. Billy had served at Pleiku in the central highlands of Vietnam, working in aviation supply.
As the young couple settled into their life in Newport News, which is surrounded by bases housing every branch of the military, it only took walking out the front door to see other veterans.
"I never heard a lot about veteran activities because there were so many veterans around," Janet said.
That changed when the Alfords moved to Newnan to be closer to their daughter and her family.
"We were down on the square, walking around, and it seemed like everybody had a (veterans) hat on," Janet said. "People were just stopping and thanking them for their service, shaking their hands – veterans just seemed to be appreciated so much here. Billy said, 'I think I'll have to get me one of those hats.'"
The hat helped the Alfords connect with other local veterans, and Billy was invited to set up a display of his military memorabilia at a Korean War anniversary commemoration at the Coweta County Fairgrounds. There, Warren Parks convinced them to join VFW Post 2667.
"We went to their meetings, and we really enjoyed the camaraderie," Billy said.
About five years ago, the post's auxiliary was formed, and Janet joined up. For the past several years, the couple has been involved in everything from Newnan High School's Student-Vet Connect Program and local military ceremonies to food drives and goodwill visits to elderly veterans in care homes.
"It's just a fun thing, and it gives us a chance to do things together," Billy said.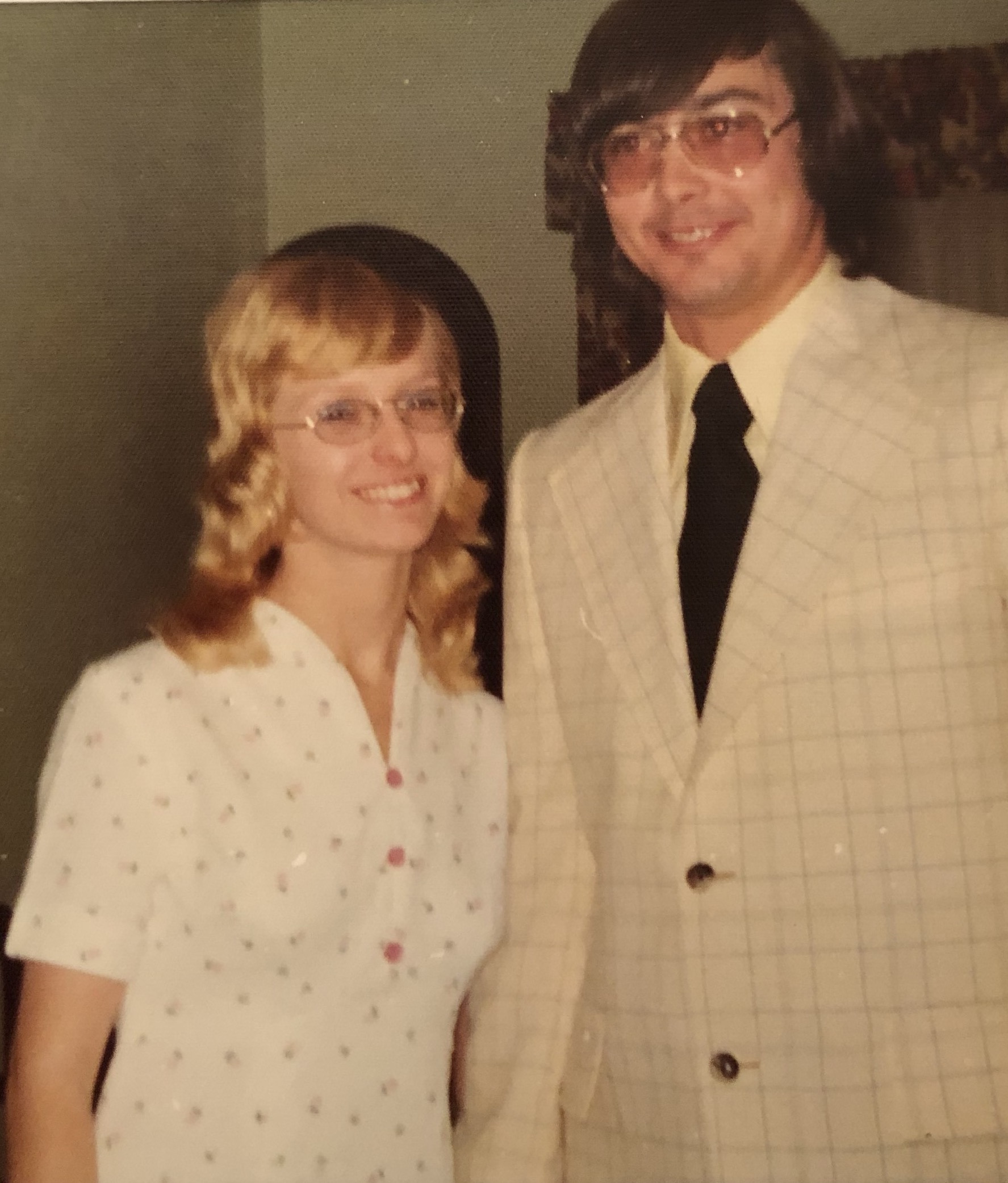 Janet and Billy Alford's wedding picture, March 2, 1974. (Photo courtesy Janet Alford)
Giving back to the community
Janet serves as secretary and historian for the auxiliary, and her level of community involvement and service has made her the point person for connecting veterans with resources.
Like that time the grill at Trinka Davis Veterans Village conked out the day before a planned Veterans Day barbecue, for instance. Within hours after learning about the situation, Janet had secured funds from the VFW and arranged to replace the grill.
"I got a call, and by that time all she needed me for was to go pick up the grill at (the store) and take it to them," Billy said.
Janet says it is the work of the VFW, not her, that is responsible for giving back to the community. Through the Veterans Relief Fund the volunteers of Post 2667 are able to help individual veterans who may have fallen on hard times, as well as occasionally utilize funds to help a group of veterans or a veteran-based organization.
"Sometimes they get laid off from their jobs, or they fall behind on their car or rent payments," Janet said. "We have a service officer that vets them, and then we as members vote on donating money to them. We have a system of checks and balances, and every bit of money that goes out in relief is audited."
Even during COVID-19 shutdowns that prevented in-person meetings, Post 2667 has given back through projects like the purchase of a lawnmower for an adult day care that serves many veterans; supporting local food pantries; helping Fort McPherson's homeless veterans with backpacks and purses filled with food and supplies; and helping provide snacks during the Newnan VA Hospital's vaccine clinics.
Janet also managed to help keep one of her pet projects, the peanut butter drive, alive. After she began volunteering at several local community outreaches, Janet approached club members about bringing a jar of peanut butter to each meeting, then donating the collection on a rotating basis to the outreaches' food pantries.
"It started off slow," Janet said. "We had maybe 15 jars when it first started, but each month the donation grew and grew."
When in-person meetings were suspended, Janet convinced the VFW members to set aside some funds so she could continue to purchase and donate peanut butter.
"It could mean the difference between a family missing a meal," she said. "It is just a feeling of accomplishment for us when we can see the things that we're doing are making a difference."
Not your grandfather's VFW
Far from the stereotype of a meeting place for old men to drink and tell tall tales, Post 2667 is an active, vibrant organization with nearly 400 members. Its auxiliary has a membership of about 70. Between them, they still only reach a fraction of Coweta County's approximately 11,000 veterans.
But when they do reach out, it's not always just about the service aspect. It's about the connections, too. The Alfords say they get as much out of meeting and interacting with veterans, and helping them bond with each other, as they do out of helping the VFW provide for their physical needs.
"Sometimes they don't need help; they just need another veteran to talk to," Billy said.
He said he once invited a friend to set up at the Student-Vet Connect – a program whose purpose is to bring in veterans to speak about their military experiences to high school students – and the event was eye-opening for his fellow Vietnam veteran.
"He'd never even been there to see what they do," he said.
The friend had never talked about the war with his wife or children, despite their attempts and questions to draw him out. After participating in the event and speaking to the students for a while, he was able to open up to his family.
"He had never, ever discussed his military career with them," Billy said. "Just being around other veterans helped."
The same is true for veterans who live out their days in nursing homes. The Alfords are among visitors who regularly play bingo and musical bingo with elderly veterans.
"Those are some of the most rewarding things, because those guys are in there for life, and you don't see any smiles," Janet said. "When we walk out, they're laughing and smiling. Sometimes we don't get through two games of musical bingo because they all start singing songs together."
"We go there to perk them up, and we go away feeling better than they do," Billy said.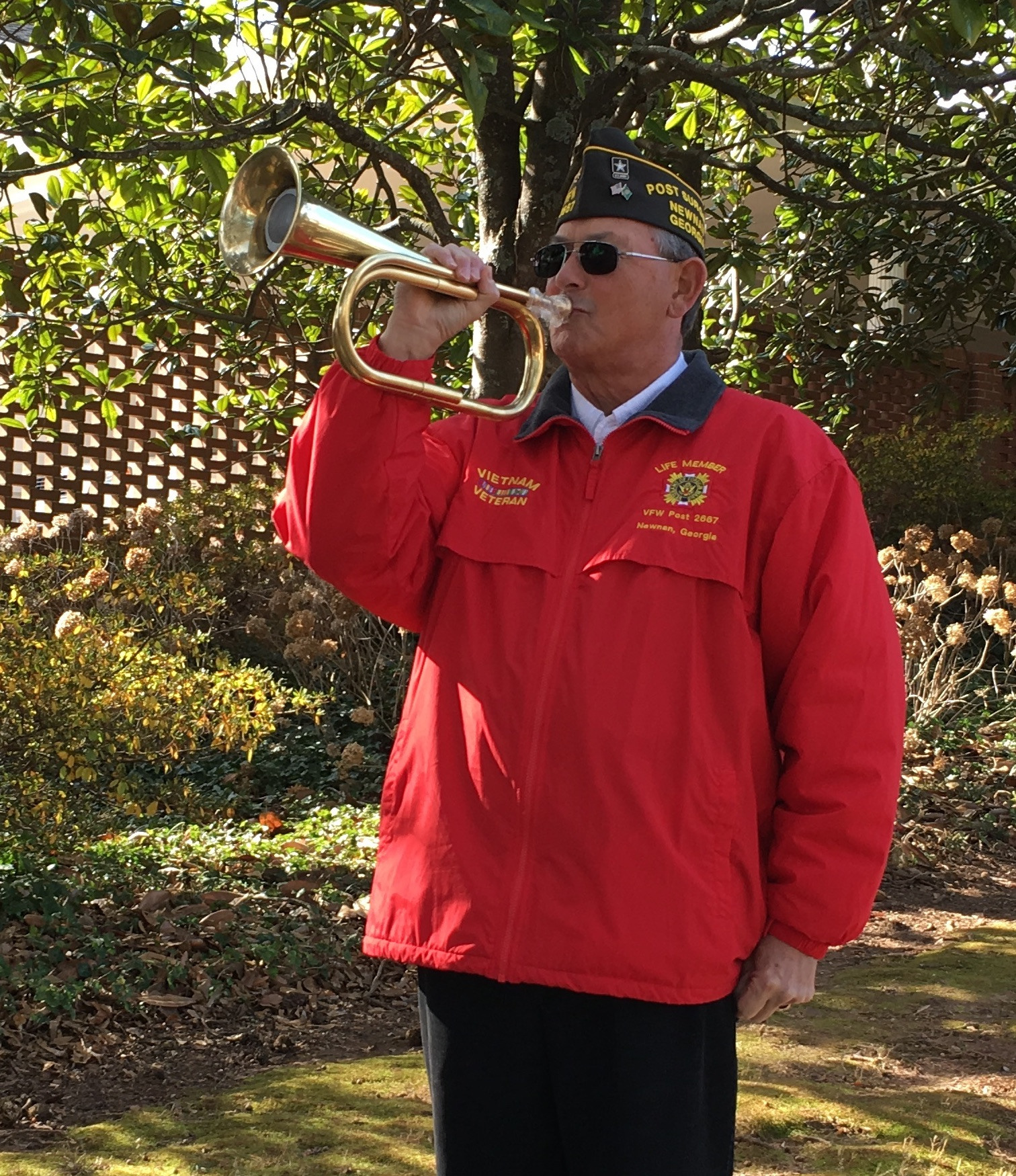 Billy Alford plays TAPS during a ceremony at Veterans Memorial Park. (Photo courtesy Janet Alford)
Every veteran's service matters
The Alfords said one of the most difficult barriers to break through is when veterans downplay their service because they didn't serve in wartime, or in a war zone, or weren't deployed. They tend to think they haven't earned that certificate, or that patch, or any other recognition because they didn't do anything "important."
One "unimportant" veteran told Billy he'd spent his military career in the finance department at Fort Lewis, Washington.
"I told him, 'Thank you for your service,'" said Billy, who came back to the U.S. from Vietnam through Fort Lewis. "I told him he was very important, because he's the one who made sure I got paid so I could buy my plane ticket home.
"Everybody's service matters, and everybody is important," he said.
•••
For more information about the activities, purpose and outreach of VFW Post 2667 and its auxiliary or to join, visit their Facebook pages at vfwpost2667-Newnan, GA and vfwauxiliary2667-Newnan.