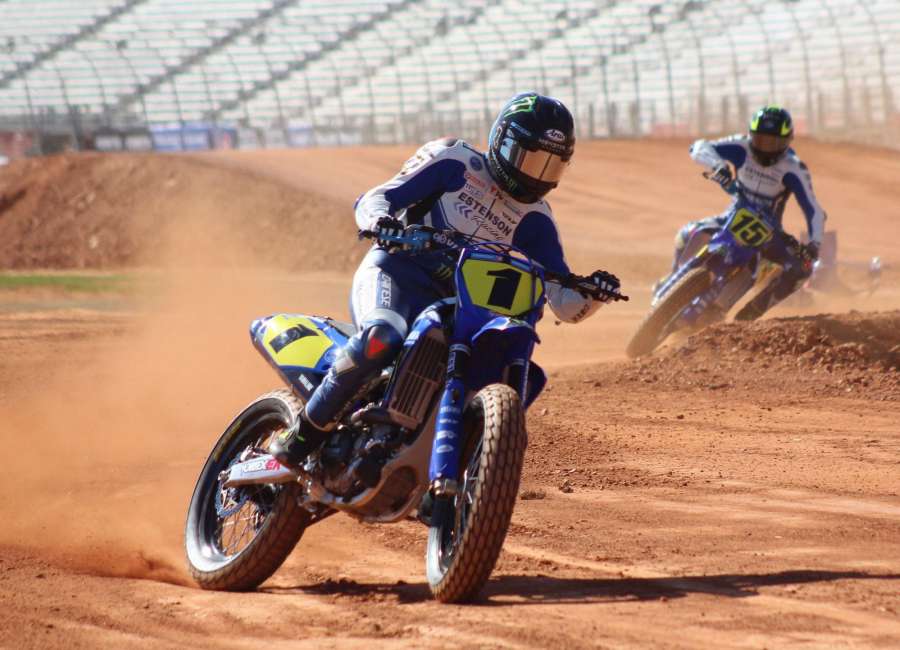 Saturday was a good day for Estenson Racing as they swept all three classes of racing in the American Flat Track Series at the Atlanta Motor Speedway in Hampton.

The team won all three classes – Production Twins, Singles and SuperTwins, in this weekend's Atlanta Super TT, with rider Dallas Daniels winning the Production Twins and Singles class.
J.D. Beach, meanwhile, rode his Estenson Yamaha to victory in the SuperTwins class, defeating Jarod Vanderkooi by 4.846 seconds to the line at the end of the 20-lap race, which was scheduled for 10 minutes plus two laps.
Third went to Briar Bauman, fourth was Davis Fisher, Kolby Carlile finished fifth, sixth was Sammy Halbert, seventh went to Bronson Bauman, eighth went to Tyler O'Hara, ninth was Larry Pegram and Robert Pearson finished 10th.
In Production Twins, Daniels completed 16 laps in a race scheduled for eight minutes plus two laps, beating Dalton Gauthier and his Harley-Davidson to the checkered flag by 5.104 seconds.
Third went to Dan Bromley, fourth place was Kayl Kolkman, fifth was Johnny Lewis, sixth was Cory Texter, seventh went to Ben Lowe, eighth went to Ryan Varnes, ninth went to Shelby Miller and 10th went to Chad Cose.
In Singles, Daniels completed 16 laps in the eight-minute-plus-two-lap race, beating fellow Estenson Yamaha rider Michael Rush to the finish by 0.869 seconds.
Third place was Ferran Cardus, fourth went to Max Whale, fifth was Henry Wiles, sixth was Kody Kopp, seventh went to Trevor Brunner, eighth went to Ryan Sipes, ninth place was Travis Pastrana, while Andrew Luker finished 10th.
Pastrana, one of the more well-known names in the world of extreme sports, joined the AFT series in the Singles class for the weekend. Pastrana drove for the KTM Factory Team during the race, using his familiar number 199 that he has used in just about anything and everything he has raced in.
Pastrana, leader of the "Nitro Circus," has competed in the X-Games, NASCAR, motocross and in rallying over the years.
Prior to the main event, Pastrana rushed his number 199 KTM towards the hill in the middle of the circuit and did a backflip, to the cheers of the crowd on hand.
The Atlanta Super TT circuit was much different from most circuits run by the AMA's American Flat Track Series. Most tracks run by the series runs on all-dirt courses, either dirt ovals, such as the half-mile dirt ovals like Volusia Speedway or the mile dirt ovals like the DuQuoin Fairgrounds and the Springfield Mile in Illinois.
However, the Atlanta Super TT circuit was a mixture of both the Atlanta Motor Speedway's paved course and a dirt course specially designed for the race, which included a paved hairpin turn between the entry to the Speedway's infield road course and pit road. That paved corner is unique among circuits in the American Flat Track Series.