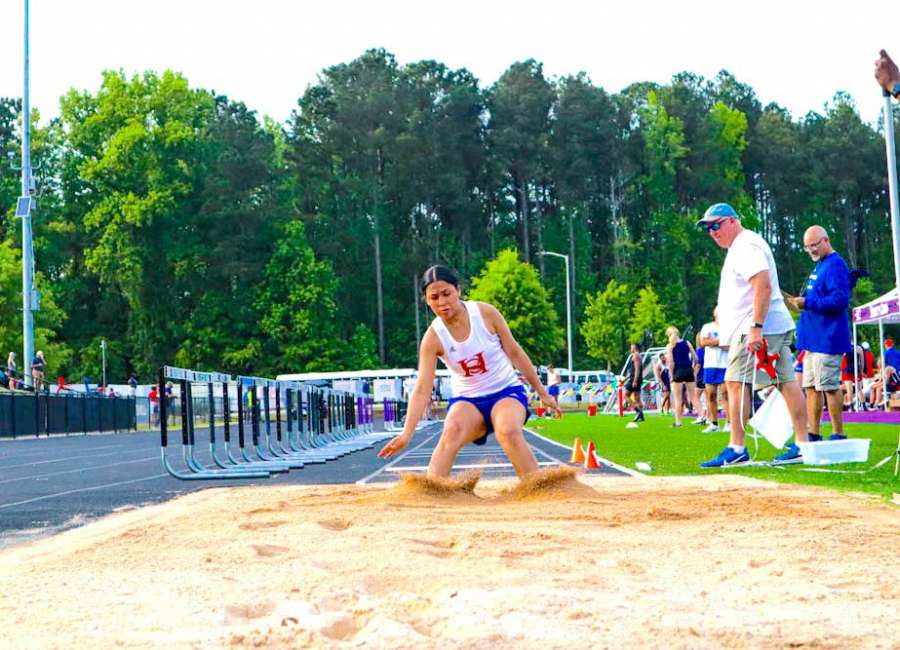 By Arvon Bacon
On day one of the Georgia High School Association A-Private Region 4-A Championship, local and surrounding track and field athletes gathered at host school Trinity Christian for the opportunity to compete for the GHSA region gold Tuesday night.
Tuesday evenings meet consisted of long distance running and a bevy of field events. Both local schools Trinity Christian and The Heritage represented themselves well at Tuesday's meet shining among some of the top athletes in the state of Georgia. Lady Lions Avery Ballard and Annemarie Rosebrock both recorded state qualifying times (15:09.50 and 15:25.50 respectively) in the 3,200-meter heat.
The Lady Lions and the boys 4x800 meter relay team also qualified for state recording the second and third fastest times in their heat: 11:29.70 and 9:24.10. The Lady Lions finished first overall, scoring 78 points on the evening.
During the field events, the Lady Lions again showed dominance completing Tuesday's meet with nine girls eligible to qualify for the upcoming state meet.
Bryce Hackworth and Pria Pullin are some of the many standouts in the girls' field events. Hackworth finished first in the women's high-jump clearing 9 feet; fellow Lions Pullin had success in the triple jump event, leaping the second furthest distance: 31-3 ½.
The Trinity boys who took second place overall on day one produced six young men who are eligible to qualify for the state. Sam Grande, Ethan Mcdowell and Thomas Yeager IV all placed within the top three of their events, receiving region medals for pole vault, high jump and shot put.
In his first year competing in GHSA athletics, Heritage Hawk, Wyatt Anderson qualified for state in the shot put event recording a toss of 39-10.
Day two of the GHSA A-Private Region 4-A Championship meet will reconvene Friday. Friday's meet will consist of all track events.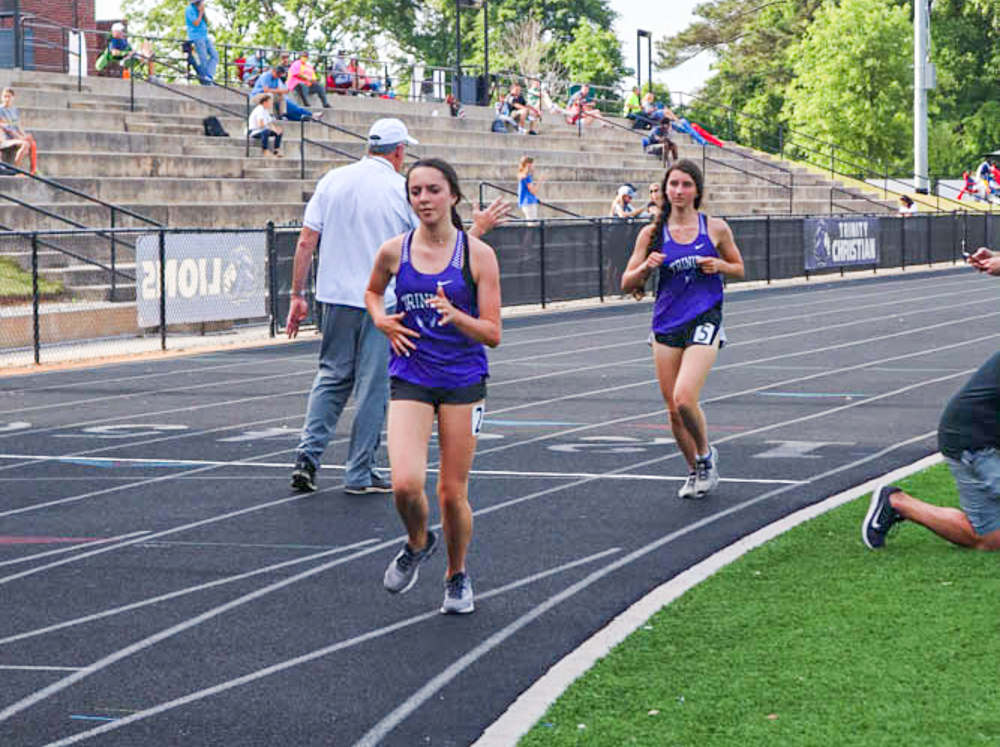 Avery Ballard and Lily Kate Burdekin receive some support from a bystander on their run.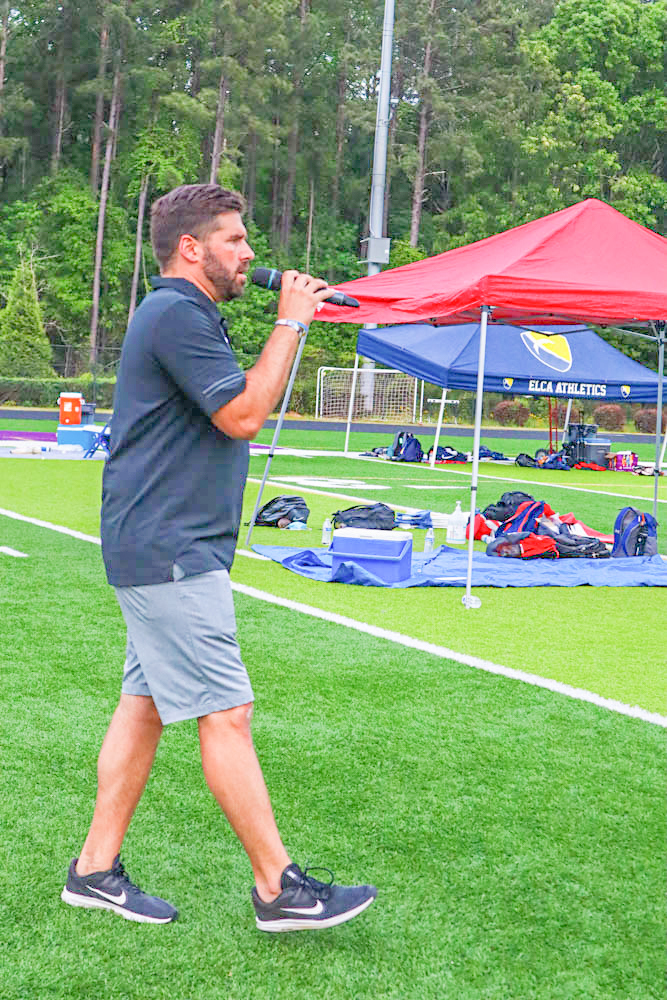 Trinity Lions Head Coach J.P. Weaver emceeing during Tuesday's track meet.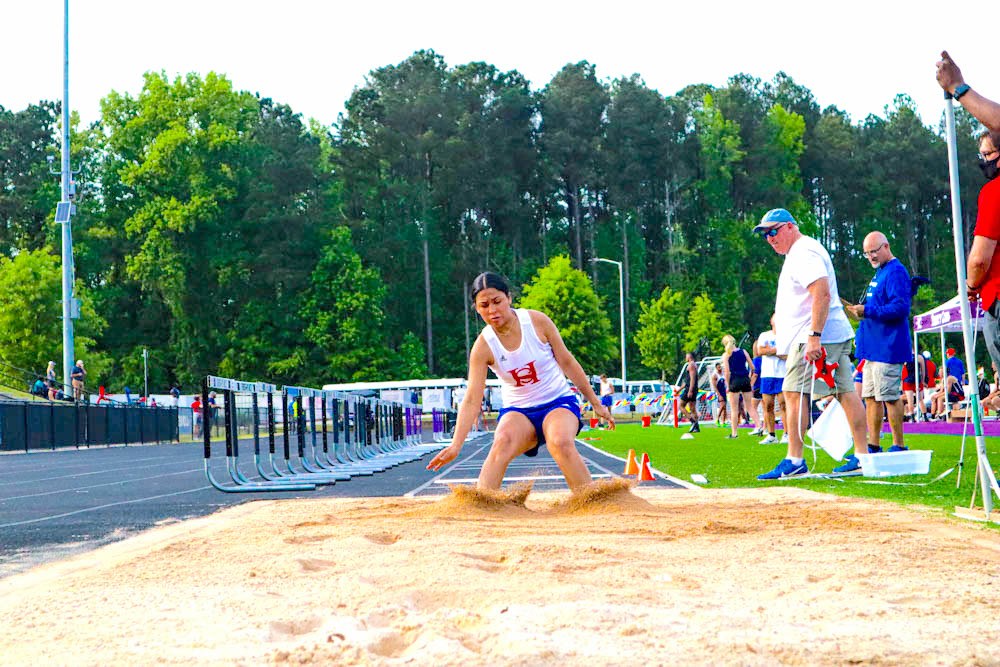 Heritage Hawk Jazlyn Mena bracing for the sand as she lands.