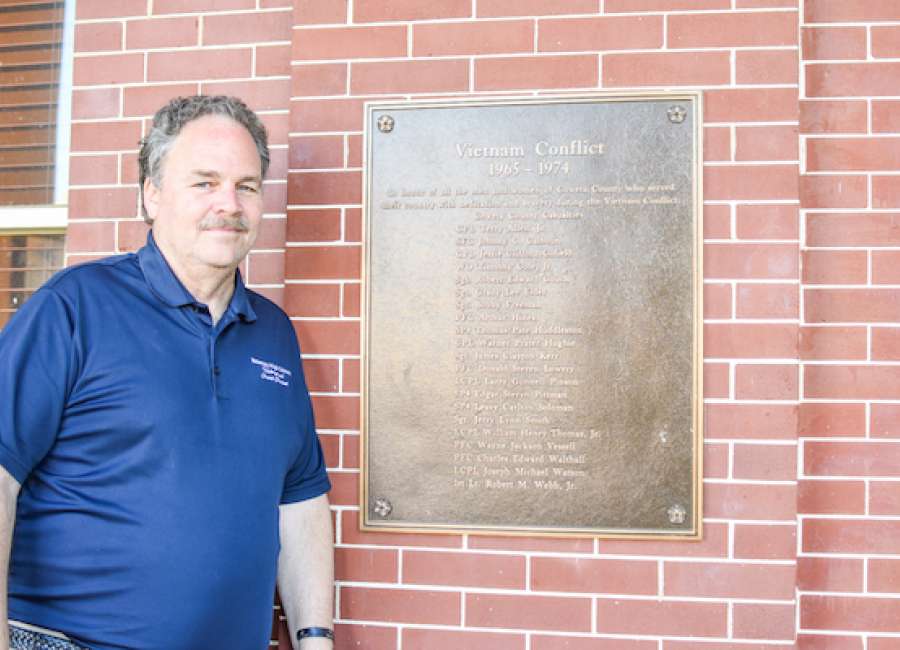 Teaching was less about what Steve Quesinberry wanted to do than what he didn't want to do.

"I realized at the end of my freshman year that if I went into education, I didn't have to take any more foreign languages," said Quesinberry, a Virginia native who was a student at Asbury College at the time. "I didn't know what I wanted to do, and I really kind of fell into education."
Quesinberry is retiring after spending his entire 36-year career at Newnan High School, where he will leave a legacy of connecting students – and the community – with military veterans to bring history to life. But it wasn't always his plan to become a teacher.
He left Asbury College with a double major in history and physical education, a double minor in health and coaching, and a wife. He arrived at Newnan High School in 1985 with a plan: he'd teach for five years and then head to Mississippi to work with a college buddy. As it turned out, he had a knack for teaching.
"You can go to education classes all day long and not have a clue, but I had some really good people that helped me my first year," Quesinberry said. "And I found out that I liked teaching. I wasn't great at it, but I enjoyed it."
He was an assistant and then head coach of the Cougars soccer team and continued his own education, completing a masters in exercise science in 1992. And he still wasn't finished.
"By the time I got to the early 90s, I'd already been moved full time into the history department," Quesinberry said. "I decided I liked it, so in 1993 I got my masters in history from West Georgia."
He also was a new father at the time. The first of his three children was born in 1990 to Quesinberry and his wife, Susan – a math and French teacher at Newnan High School. The pair met in college.
"We were in the same freshman English class," he said. "She was doing well, and I was not."
Susan spent her entire career at NHS as well, teaching on the same hall, and the couple's children – now grown – are all Newnan High alumni. Susan retired pre-pandemic to spend more time with family, Quesinberry said, especially now that grandchildren are in the picture. And Quesinberry continued to build the school's history department, which he has chaired since 1995.
"The more knowledge that you have – the more stories, the more things you've heard or read or know – the better off you are," said Quesinberry, under whose leadership the NHS history department now sponsors programs like Student-Vet Connect and the History Speaker Series, as well as the Veterans Relief Fund 5K.
All are aimed at building relationships within the community, with a focus on the military community.
Making connections
To reinforce history lessons – particularly about war – Quesinberry has brought in not only local veterans and nurses, but also fighter pilots, generals, war correspondents, Medal of Honor recipients and Department of Defense dignitaries to meet and speak with students.
He has arranged for military helicopters to land on the football field, and he once convinced administrators to time a fire drill so that students could gather on the front lawn to watch the traveling Vietnam Veterans Memorial Wall – The Wall That Heals – being transported down LaGrange Street.
"If you're dependent on a textbook to teach history, you're in deep trouble," Quesinberry said.
It began in 1995 with the 50th anniversary of the end of World War II, when Dr. Bob Heaberlin – then an administrator at Newnan High – wanted Quesinberry to help him organize a commemorative program in the NHS Auditorium to honor veterans. Local veterans brought memorabilia to display.
"Bob came up to my classroom and said, 'Hey, I've got some vets with their memorabilia in the A/V room. Want to have your students come down and talk to them?'" Quesinberry said.
The veterans showed their military items and talked about their experiences, and the students asked some questions.
"Student-Vet Connect started there," Quesinberry said. "That really launched it."
From 1996 to the early 2000s, before block scheduling, the event was held near the end of each school year. History was taught year-round in 45-minute classes, and wars were taught last. In 1999, Quesinberry said so many World War II veterans participated that he had to cut everyone else out.
"There were 45 of them, and we had to rotate kids out of the A/V room every 25 minutes," he said. "I knew even then it was going to be extraordinary."
Quesinberry was able to secure the Jackson-Pless Armory across the street from the high school to house the event, and at first, Student-Vet Connect only took up half the space.
"We added back vets from Korea and Vietnam and averaged around 50 or so normally," he said.
Word got around, and more and more vets wanted to participate. Crowd size, block scheduling and the addition of Frank Henderson to the history department in the mid-2000s prompted Quesinberry to hold the event twice a year and branch out into the community with a History Speaker Series, which brought in war-related speakers in the spring and the fall for public presentations in the school auditorium.
"It jumped up when Frank came and started helping me," Quesinberry said. "It was wearing me out, and I wasn't sure I could do it any more – I'd been arranging and organizing it by myself, but once Frank started and there were two of us, it got a lot bigger. He gave it a big boost."
Next year, Henderson will take over the school's Vietnam War class, which Quesinberry started in 2003.
"The school was looking for elective classes, and I thought with some work, I could do something I would really enjoy," Quesinberry said. "In two semesters, I got 20 kids to sign up. Looking back, it was not very good, but you have to start somewhere."
The class garnered some attention for Quesinberry after he began bringing in groups of veterans to speak in the class.
"Ninety minutes is a long time for a teenage kid, so I tried to vary it," he said. "But I really wanted them to hear from the guys who were (in Vietnam) before it was too late, while they are still in their 60s and 70s. That led to a ton of other opportunities."
Quesinberry was selected by the Rotary Club for a six-week friendship exchange to Vietnam.
"It was eye-opening," he said. "I'd been to Europe but never to an Asian country, and I visited some of the places I was teaching about."
He began visiting the Georgia State Capitol to attend veterans affairs events, and Newnan High became a commemorative partner with the U.S. Department of Defense for the 50th anniversary of the Vietnam War.
The history department partnered with VFW Post 2667 to hold a Certificate of Honor program for Vietnam veterans that included representatives from the Department of Defense and the Department of Veterans Affairs.
"It was big, and we had a lot of people there," Quesinberry said. "It was great, and I'm pretty proud when I look back on that."
Collecting stories of the fallen
Helping students make connections didn't just mean connecting with the nation in crisis in Vietnam during the 60s, but also with what was happening with the local community at the time.
That led to a particular interest in the lives of the 23 young Coweta County men who died in the Vietnam War – whose names are listed on a memorial plaque on the west side of the 1904 Historic Newnan Courthouse – as The Wall That Heals prepared to visit Newnan.
"It was my job to track down the guys on the plaque, to track down their family members," Quesinberry said. "It was challenging but rewarding to find and talk to them about the wall, about the ceremony, and to ask them to tell me something about the young man. It got more and more interesting. I loved the stories about them."
Quesinberry said he hopes retirement will allow him to finish the book he's started about the men.
"These stories are going to get lost," he said. "Family members are getting older, and a lot of them have passed in the last 10 years. Somebody needs to tell their stories, and I guess that somebody is going to be me."
But he also will continue working at the University of West Georgia's Newnan campus, where he has taught classes for the past few years. And his teaching goal remains the same.
"I tell people that if the only thing they take away from my class is that they love history, I'm perfectly fine with that," Quesinberry said. "That would be enough."