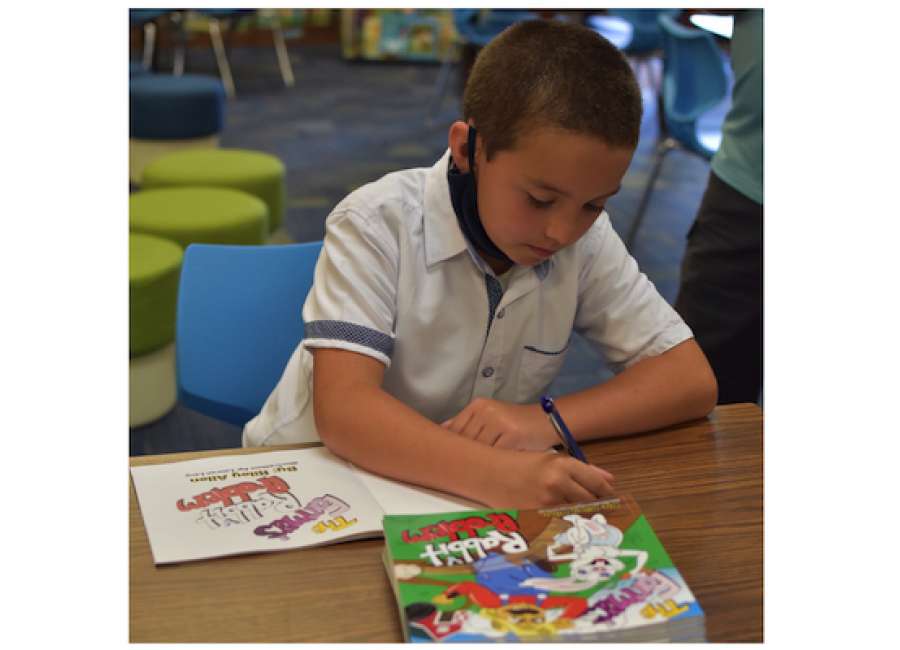 Two Coweta County elementary school libraries now contain books authored by their students.

Students at Ruth Hill Elementary can now enjoy fourth grader Riley Allen's "The Farmer's Rabbit Problem," and Western Elementary students can check out second grader Ja'Kiah Chester's "Unicorns."
Allen and Chester were selected as winners in Leap for Literacy's Share your Story contest, which provides materials and encourages elementary students to try their hands at writing their own stories. Leap for Literacy then selects winners from area schools and has their stories professionally published and illustrated.
Western Elementary participated in Share Your Story last year, and Chester's fascination with unicorns resulted in the second-grader's winning story.
"I really love unicorns – that's my favorite thing in my whole life," Chester said. "The best thing I want to do is just ride on one."
Chester said her sister helped her draw pictures for her story, which is about the adventures of an unnamed unicorn.
"The best picture is where I'm dancing with the unicorn," the 7-year-old said.
Chester said she was excited to learn early last year that her story would be published and that she'd like to write more books.
"I want to write about unicorns, but also horses and ponies," said Chester, who added that she is thinking about giving her unicorn a name for the next book.
Allen, 9, was the contest's very first winner. Leap for Literacy founder Stan Tucker visited Ruth Hill early in the 2019 school year to debut his own children's book, "Stan and the Man," and to announce to the student that one of their books would be the first one published by the nonprofit organization.
Tucker donated two hardback copies of Allen's book, "The Farmer's Rabbit Problem," to the Ruth Hill library, and paperback versions are available on amazon.com. Chester's book will follow, along with future winners.
All proceeds from the sale of the books will fund scholarship accounts for the authors. Tucker has set a 10-year goal of publishing 1,000 books by young authors.
Allen has been busy autographing copies of his book, and the fourth grader had the opportunity to see his name in Ruth Hill's card catalog. He stamped the library copies and added barcodes to get them ready for circulation.
As he performed his author duties, Allen recalled the day his name was announced as the winner.
"I was nervous," he said. "Out of (hundreds) of kids in the school, what are the chances it was going to be me? Now every single person in school knows my name."
Writing a book is a long process from creating a story to holding a book in your hands, and Allen had a message for other young writers.
"Don't give up," he said. "It's cool."
Leap for Literacy's goal is to address the lack of access to printed materials in at-risk communities. Among the organization's literacy-based initiatives is the Read 'N Roll Truck, a bookmobile that allows children the opportunity to choose a free book to take home and add to their personal libraries.
Leap for Literacy is reaching out virtually to young authors this year with a Summer Share Your Story Program. Aspiring writers ages 6-14 can participate in an eight-week, step-by-step program to create their own books.
At the beginning of each week during the summer program, participants will receive an instructional email about one step of the writing process. Later in the week, they will have the opportunity to take part in a Zoom call with a guest author.
Registration is $25 and includes eight weeks of programming, a scented pencil, crayons, writing resources and a blank book for publishing a story. For more information or to register, visit www.leapforliteracy.org/ssys .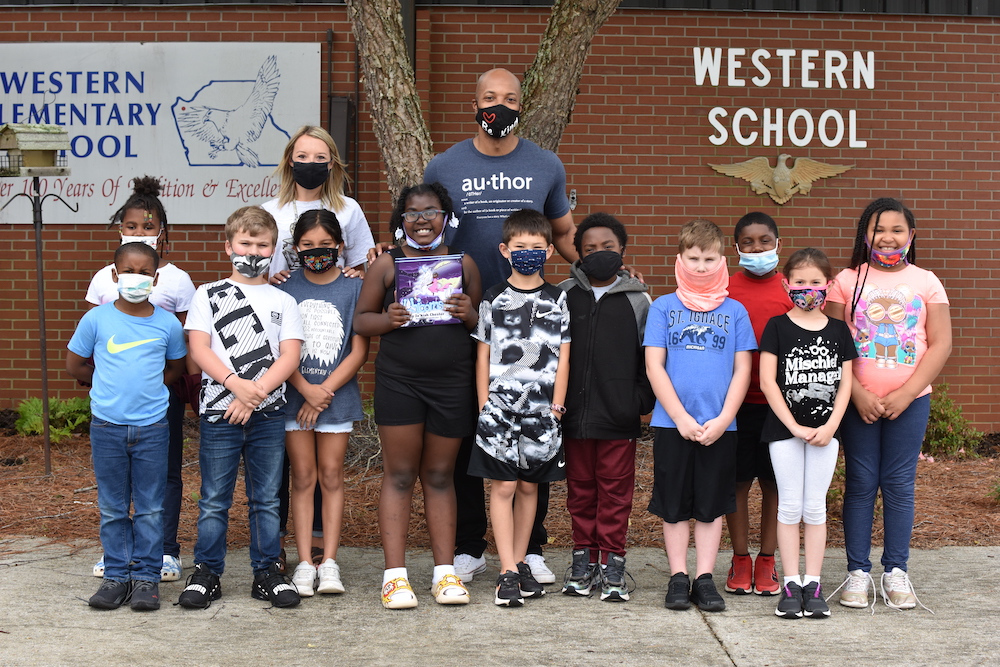 Students in Taylor Vaughn's second grade class at Western Elementary School gather to congratulate their classmate, Ja'Kiah Chester, on the publication of her book, "Unicorns." Pictured are front, from left, Antonyah Henry, Braylen Neely, Ethan Herring, Jessica Villanueva-Cruz, Chester, Beau Stapleton, Landon Cheaves, Aidan Roussell, K'marion Pritchett, Gabby Becker and Eri'Onna Clark; back, Vaughn and Stan Tucker, founder of Leap for Literacy.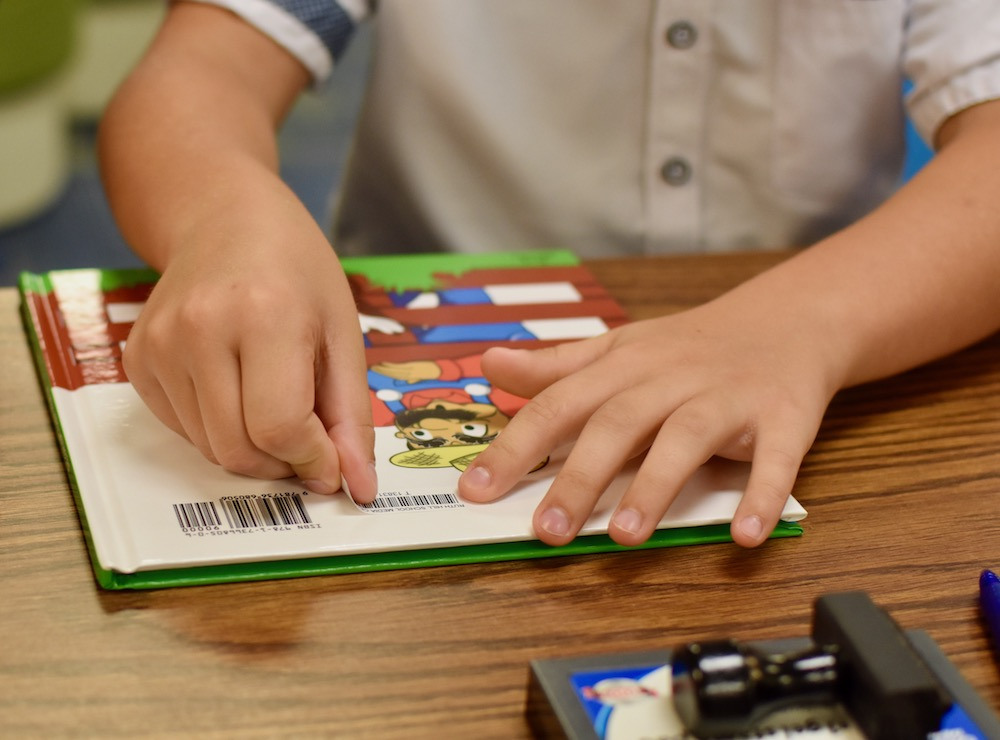 Riley Allen places barcodes in copies of "The Farmer's Rabbit Problem."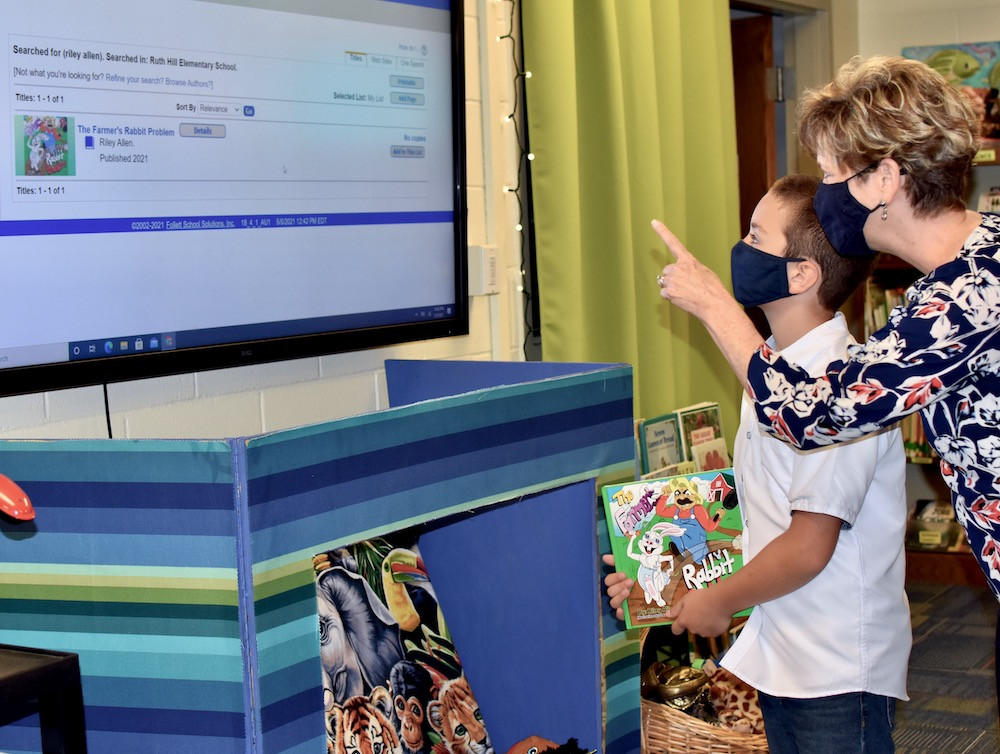 Anne Graner, Ruth Hill Elementary School's media specialist, shows Riley Allen his book, "The Farmer's Rabbit Problem," in the school's card catalog.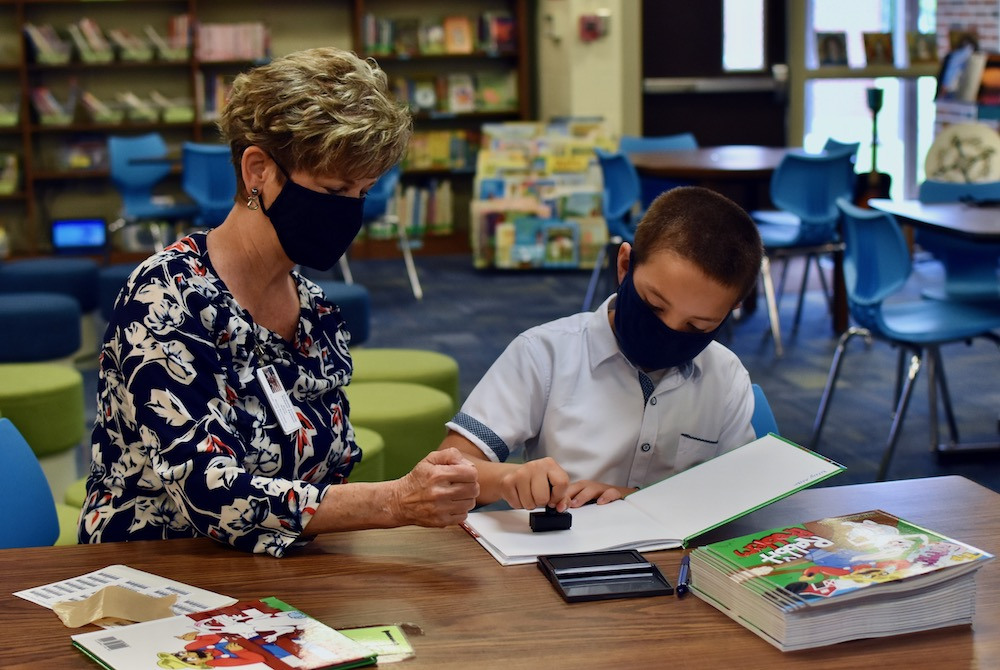 Media Specialist Anne Graner helps young author Riley Allen stamp copies of his book that were donated to Ruth Hill Elementary School's library.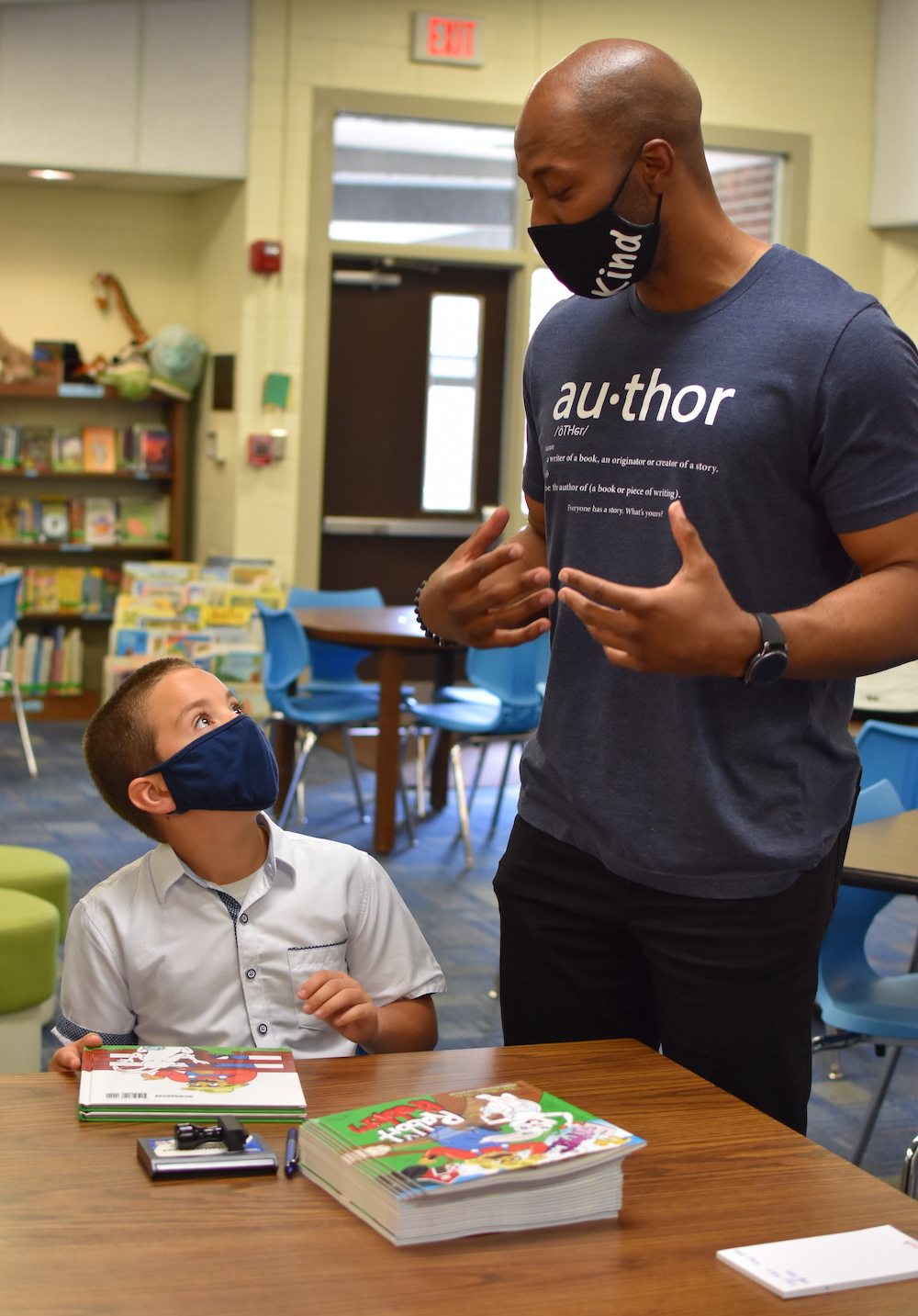 Stan Tucker speaks with Ruth Hill Elementary School student Riley Allen, who was the first winner of Leap for Literacy's Share Your Story contest. (All photos by Rebecca Leftwich)