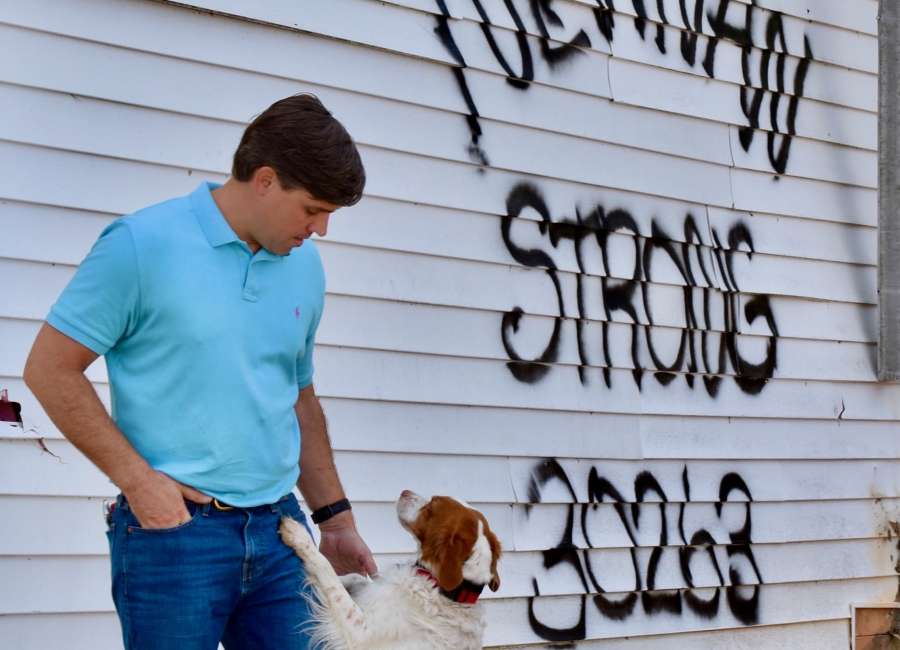 It takes a village to raise a village garden.

And Plant Newnan organizer Scott Berta wants everyone in that village – especially those in areas of the city facing a long recovery after the March 26 tornado – to get a say.
"What we're looking to do is to gather opinions, suggestions and information from tornado-affected stakeholders," Berta said. "We want to provide a vision to replant Newnan."
The city's landscape changed drastically after the EF4 tornado, which destroyed not only long-standing homes but trees as well. Repairing and rebuilding homes is, of course, the main priority, Berta said, but planning ahead for replanting the lost landscape could open up new avenues for Newnan.
For instance, Berta said he imagines a festival-worthy sea of cherry trees that would allow the city a future opportunity to welcome back everyone who helped in Newnan's time of need.
"My personal vision was to get as many people as would participate to replant flowering cherry trees," he said. "We'll like to mimic a lot of the cherry species that are up in Washington, D.C. In the spring, they're beautiful and people come from all over the world to see it. This would be an opportunity for us to create a whole new festival area, and in however many years we'd get to welcome back everyone who helped us to say thank you. It would just create a connectivity."
But there's more to an ecosystem than just trees.
"There's ground cover, shrubs, flowers – Plant Newnan is on all levels, and we have an opportunity to have a say in how that is replanted," Berta said. "Whether it's on a community level or on a personal level on your own property, we just would like to have the community input into how we could change this area from a vegetative standpoint."
Plant Newnan will utilize technology to compile information.
"We're creating a web map that has the area of tornado impact overlaid with the parcel information and tax information," Berta said. "We're going to use that to help communicate with people in the tornado-impacted areas."
Plant Newnan has created an initial survey accessible by QR code or at https://survey123.arcgis.com/share/9f99af89b3b64aeba2a22c88b42abb40 .
"We're just going to try to create a resource and some conversations, set up a knowledge base for everyone and a loose plan," Berta said. "We're not going to tell you what to plant. This is your own personal property – people can opt in, or they can do their own thing. We're just hoping to give people some ideas and a path for it."
It's not something that fills an immediate need, Berta said.
"This is not anything we're trying to accomplish in the next month," he said. "We have so much recovery left to do, and this is not the time to be putting trees back in the ground. We want to plan, discuss, coordinate with the city and coordinate with communities on what they need."
As fallen trees are cleared and homes are repaired or rebuilt, knowledge about where, what and how to plant is crucial, Berta said.
"What we're trying to do is just create a conversation, to create a planning and educational phase," he said. "We want people to know that if you want to replant a tree, don't plant it two feet from your house. Don't plant it right next to your sidewalk. Don't plant it next to your driveway. As everyone knows, they get big and they'll start tearing things up, and you'll have to take it down. So it's an opportunity to educate people about better places to put these trees."
Focusing on the positive is key.
"I personally hate when people call it a disaster, because I think it's just an opportunity," Berta said. "With a little bit of planning, we can reinvent ourselves with a healthier ecosystem. This place was beautiful enough before the storm, but I think we have the opportunity to make it even prettier.
"Mother Nature told us what we were going to do for several months," he added. "Hopefully, we're going to turn around and let Mother Nature know what we're going to do."
For more information, email plantnewnan@gmail.com .