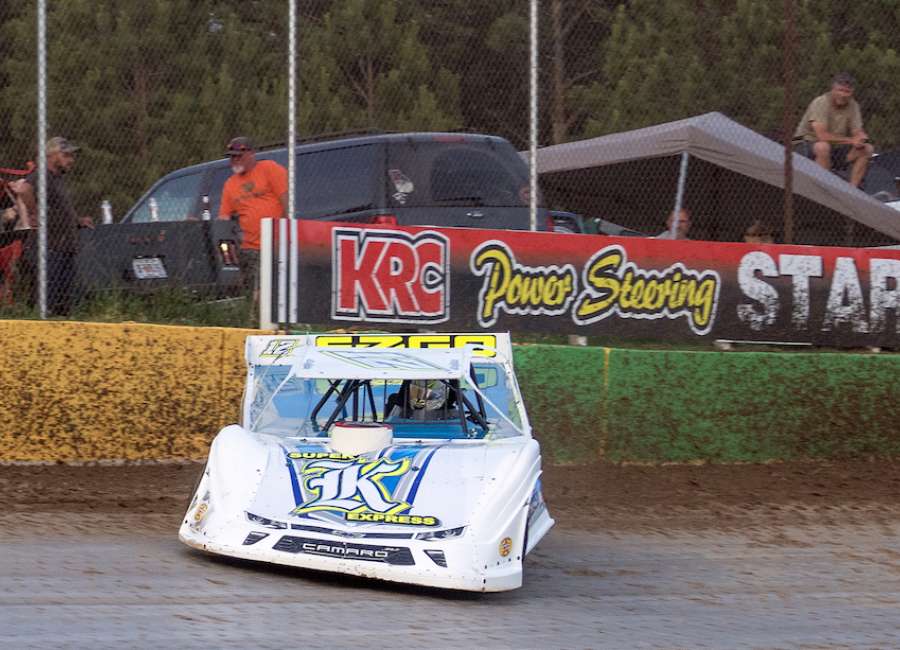 There's no place like home. Just ask Ashton Winger.
Winger, originally from Senoia but now residing in Hampton, won Saturday night's Roscoe Smith Classic, a 44-lapper, for the Southern All-Star Racing Series. The win marks Winger's fourth career win with the Southern All-Stars, which includes a win at Senoia in the 2019 running of the Mike Head Jr. Memorial.
Joseph Joiner of Milton, Florida finished second while third went to Austin Horton of Grantville.
The win was a special one for Winger, who excitedly pounded the roof of his car in celebration when climbing out after the race.
Winger said he was relieved to get the checkered flag.
"We've been fast all year, but we can't seem to have anything go our way," he said. "We've been all over the country, and anything that could go wrong could have, but to come home and win feels good. I get to sleep in my own bed tonight, and that's going to feel better."
Winger was thankful for those that helped him out, including sponsors Johnny Doan Plumbing, VP Racing Fuels, Boswell Oil, CSR Aluminum Fabrication, FK Rod Ends, Super K Express, DeKalb, M&M Painting and Construction, Kaiser Manufacturing, Integra Shocks and Farmer Tree Services.
"I've worked a lot the last couple weeks at Clint Smith's, we've been working on this thing, trying to get it better, so we'll try it again next week somewhere."
At one point during the race, it appeared that Douglasville's Michael Page was going to run away with it. Page started fourth and worked his way to the front, pulling off some impressive moves in the process on both Winger and Horton.
However, around lap 25, Page ran into trouble with a lapped car bringing out one of a handful of cautions during the race. Page pulled off a couple of laps later due to problems with his car related to the accident.
"He got out there and he just surprised us all," Winger said. "He found the race track before everyone did. I felt like I could stay with him out in the open, and then when we got to lapped traffic, I could feel like I could close on him and thought we were going to have a really good race. He just got together with a lapped car, I couldn't see who it was, and if it was my guess, it just knocked the wheel out of his hand."
Lapped traffic wasn't quite as much of an issue for Winger, which he said was largely due to his race car being "maneuverable."
"The race track had enough character in it, that most of the guys just got out of my way and got out of my line," Winger said. "By the end of the race, I was really maneuverable and really could move where I wanted. Luckily, it didn't play too big of a factor, but our race car was really good."
Saturday's race at Senoia was the first of three times the Southern All-Stars will do battle at the 3/8th mile dirt oval. On June 19, the series returns for the Mike Head Jr. Memorial, a 54-lap race that will pay $5,054 to the winner.
In October, the series will come back to Senoia for one of the richest races on the Southern All-Star championship trail, the Hence and Reba Pollard Memorial. That race will pay $10,000 to the winner and $500 for those that start the race.
The next race for the Southern All-Star Racing Series is May 29 at Thunderhill Raceway in Summertown, Tennessee, for a $4,000-to-win race.
FINAL RESULTS:
1) #12 - Ashton Winger (Hampton) 44 laps
2) #10 - Joseph Joiner (Milton, Florida) 44 laps
3) #16 - Austin Horton (Grantville) 44 laps
4) #J27 - Jay Scott (Taft, Tennessee) 44 laps
5) #3 - Mike Collins (Council Bluffs, Iowa) 44 laps
6) #44D, Dalton Cook (Columbus) 44 laps
7) #91, Heath Hindman (Signal Mountain, Tennessee) 44 laps
8) #F1, Payton Freeman (Commerce) 44 laps
9) #9, Jason Croft (Woodstock) 43 laps
10) #888, Dennis Hale (LaGrange) 43 laps
11) #08, Justin Shipley (Douglasville) 43 laps
12) #21, Joey Armistead (Senoia) 43 laps
13) #27M, Glenn Morris (Fayetteville) 42 laps
14) #10T, Tommy Taylor (Lascassas, Tennessee) 42 laps
15) #18X, Michael Page (Douglasville) 27 laps
16) #14, John Baker (Norman Park) 26 laps
17) #17K, Kyler Haygood (Atlanta) 25 laps
18) #16W, Cameron Weaver (Crossville, Tennessee) 25 laps
19) #26, Bubba Pollard (Senoia) 19 laps
20) #00, Dalton Polston (Lithia Springs) 19 laps
21) #00T, Jason Turner (McDonough) 17 laps
22) #17, Billy Franklin (Calera, Alabama) 14 laps
23) #27, Larry Harrod (Plains) 14 laps
24) #17H, Lamar Haygood (Douglasville) 11 laps
25) #121, Blake Craft (Lavonia) 11 laps
26) #17W, Ricky Williams (Fayetteville) 9 laps
27) #212, Josh Putnam (Florence, Alabama) 4 laps