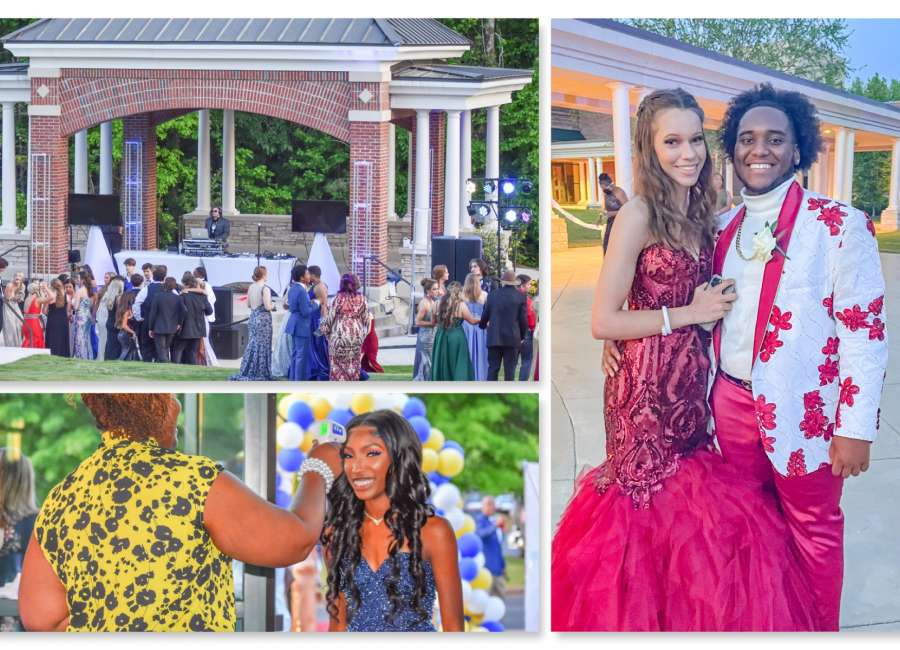 By Megan Hunnicutt
Only weeks after a devastating tornado forced the closure of their high school, Newnan High School students enjoyed a warm, Georgia evening under the stars as their prom got underway.
The sky over Newnan Centre was clear and pink, and a massive balloon arch swayed in the breeze. Colorful lights flashed in rhythm with the music. Chick-fil-A and The Creperie had food trucks for everyone to enjoy. The red carpet was out for the Newnan High School seniors.
Students and teachers were eager to relax and have fun after a year of endless struggle. The students stepped out in their finest. Jateriaz Robertson and Dalina Garcia waited on the red carpet with their friends Santia Tigner and Jayln Clayton.
Dalina's eyelashes flashed with red gems that matched her long-fitted red gown. She had recently moved to New York but was happy to be back in Newnan and have a moment to celebrate with her friends.
Emily Anaya, who was wearing a silver sequin gown, watched her friends dancing on the grass. "The tornado really hit everyone hard. But Puckett's really pulling everything together for everybody," she said.
Chase Puckett's name was everywhere at the Newnan prom. The principal was in the middle of the action all night long.
"Everything he does is for these kids," said Lisa Colomb, "I have worked with him for 11 years now, and this is all about the kids. He works tirelessly for the kids. He has missed them this year. We had just gotten everyone back on campus. It had been maybe two weeks, and then the tornado hit. All we can do is be thankful that no one was hurt."
Nyterius Petty and Melody Malone were matching in red. Her dress came from The Perfect Dress Atlanta and his suit, embroidered with roses, came from South Lake Mall. They had plans for dinner at Texas Roadhouse after prom and then planned to move on to the after-parties.
Vice Principal Randy Robbins stood in the middle of a large group of excited students.
"We found ourselves in a very difficult situation," he explained, "We were supposed to be at the Delta Flight Museum, and due to COVID constraints, they had to cancel," Randy said, "And so our community came together. The Newnan Centre is a beautiful venue that we use for a lot of events, but we have never done anything like prom here. This keeps everybody close to home. Kyle Kahn, he's a local designer, he helped put everything together for us."
Randy paused and said hello to several students before continuing. Many of those same students had their homes destroyed and were left with nothing, much less a prom dress or a tuxedo.
Students could go to The Blue Fern and get vouchers and then redeem them at stores for dresses and tuxedos. One football player redeemed his coupon and got fitted for a tux.
"He's never worn a tux before. He came from another school a couple of years ago and said 'Newnan is always gonna be my place. Y'all have always treated me so well,'" Randy recalled. "Just so many people have just been taken care of through this whole tragedy. I think it makes everybody realize, 'There are people out there who love me.'"
Groups of students danced on the lawn or sat chatting with friends as the sun set and the stars came out over a much-needed night of joy.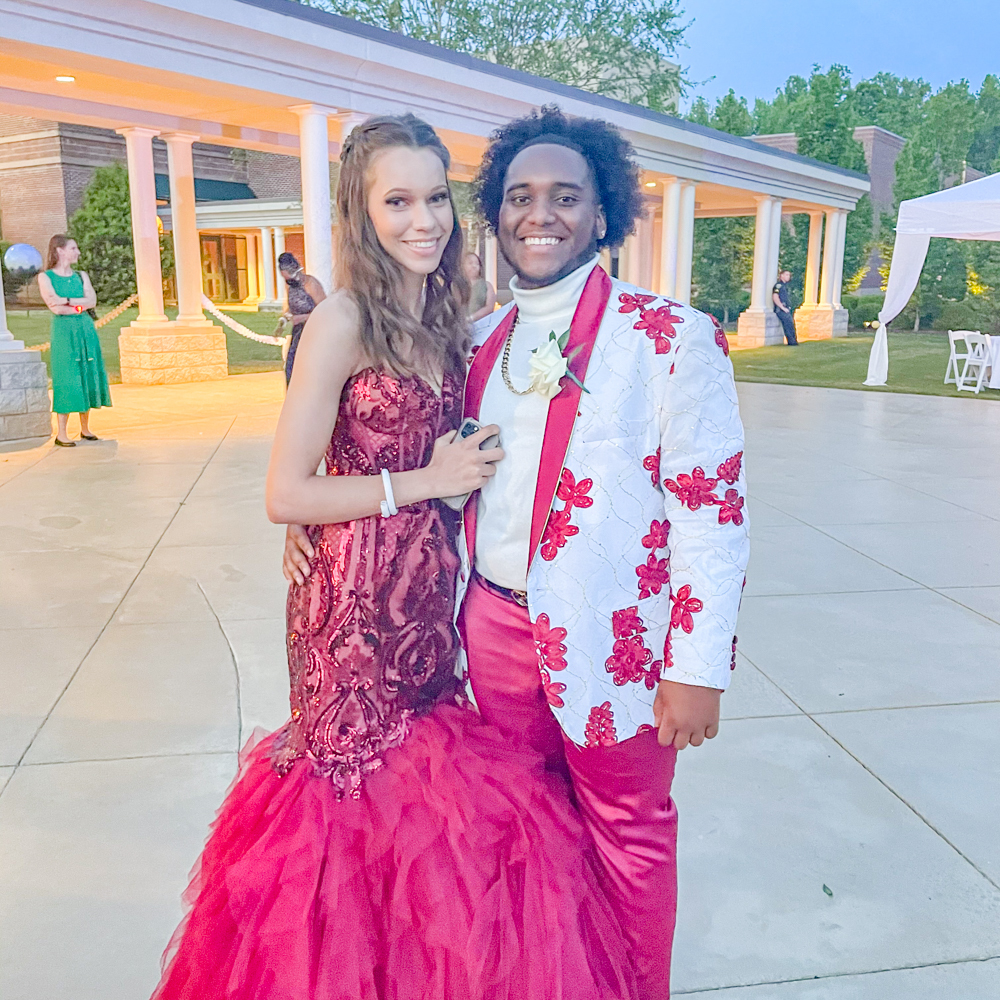 Nyterius Petty and Melody Malone at Newnan prom.(Photo by Megan Hunnicutt)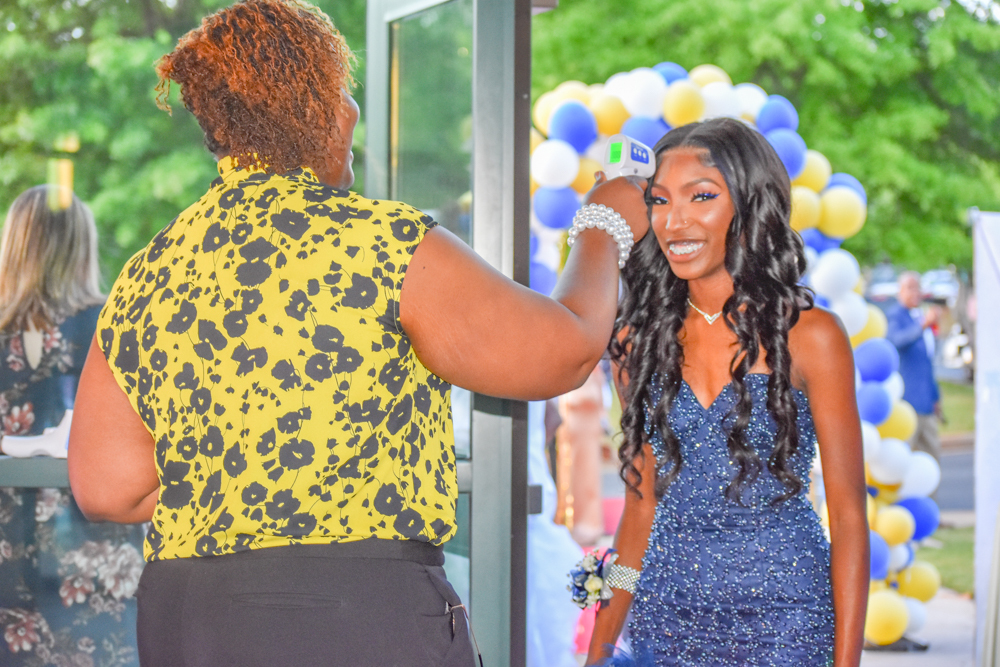 Newnan High prom-goers walked the red carpet to a temperature check before joining the party. (Photo by Rebecca Leftwich)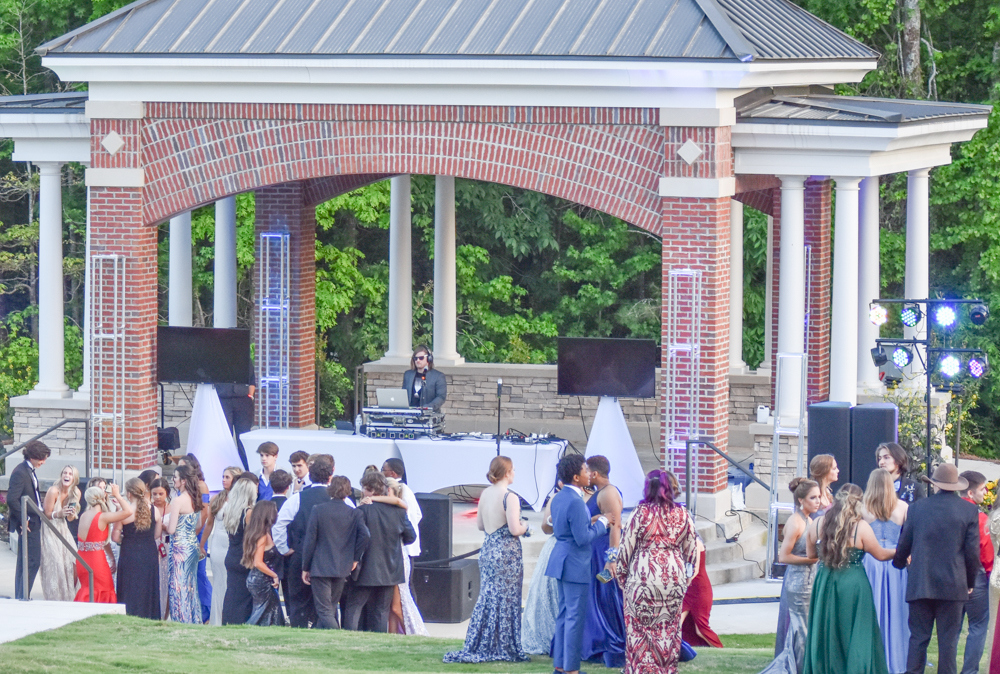 Students dance the night away on the amphitheater lawn to music provided by a DJ. (Photo by Rebecca Leftwich)