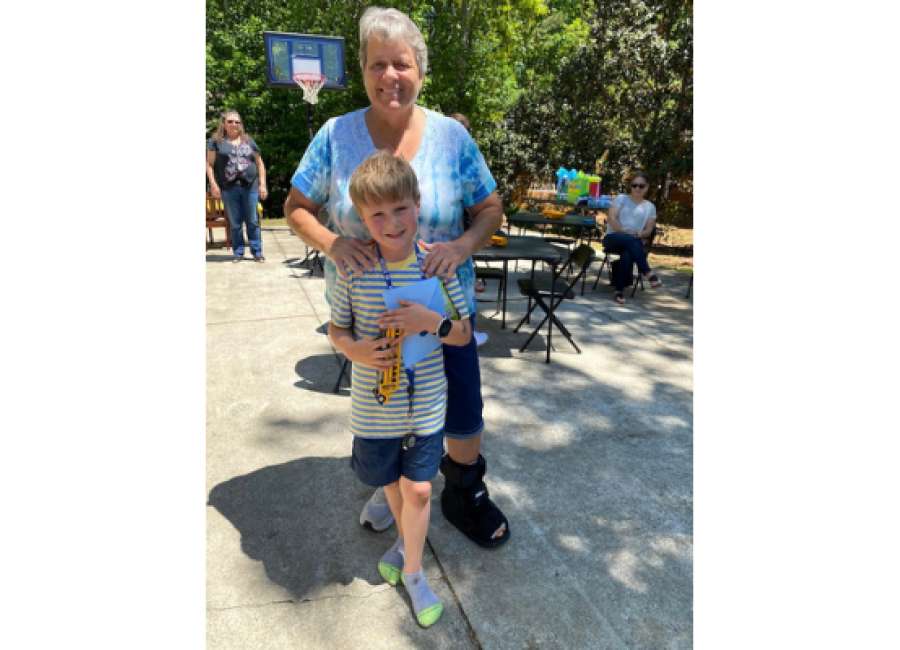 A Brooks Elementary School student loves his school bus driver so much that he wanted to have a school bus themed birthday party with her there.
John Thompson, who just turned six, is in kindergarten at Brooks. His mom, Laura Thompson, said he started out the school year virtually, and then went back in person full time.
Laura said he wanted to try out riding the bus, but was pretty nervous about it. However, he ended up liking riding the bus because he loves his bus driver, Vicki Cochran.
"For his birthday, he wanted to have a bus-themed birthday party with her there," Laura said.
His party was April 25, and Cochran was invited, but she told John she wasn't sure if she would make it because she had surgery on her foot just a few days before.
"I thought it was great; it made me feel good," Cochran said. "I've been driving 31 years, and I've never been invited to a birthday party, and not one that was themed after me."
Cochran said John brought her an invitation to the party, in case she wanted to cancel her surgery so she could come.
"I had no idea that he cared that much about me, and that he wanted to be a bus driver," Cochran said.
Cochran said John wanted her to bring the school bus to his party.
Laura said another bus driver who comes to their neighborhood, Ann Cobb, found out about the party and that Cochran couldn't go, and set up a tour for John of the school system's transportation facility on his birthday.
Judy Gresham, transportation manager, and Luke Spicher gave him a tour of the facility, showed him dispatch with all the buses on the screen and showed him where Cochran's bus was parked.
Gresham said she thought John would want to ride on a bus, but he wouldn't get on if Cochran wasn't driving.
"We had a good time," Gresham said.
On the day of John's birthday party, Cochran was feeling good enough for Cobb and another bus driver, Donna Vogt, to bring her. Cochran said they surprised John.
"It was the sweetest thing," Laura said. "He was so excited."
Laura said John and Cochran each had gifts for each other that they exchanged at the party. Cochran gave him a toy school bus and a card, and he gave her a framed picture that said, "Anyone can drive a car. It takes someone special to drive a school bus."
Cochran said the back of the photo said "I love you – John."
"They went above and beyond," Laura said. "I don't have words to express my gratitude."
"They made his birthday extraordinary. I cried when they walked up, he had the best birthday ever," Laura added.