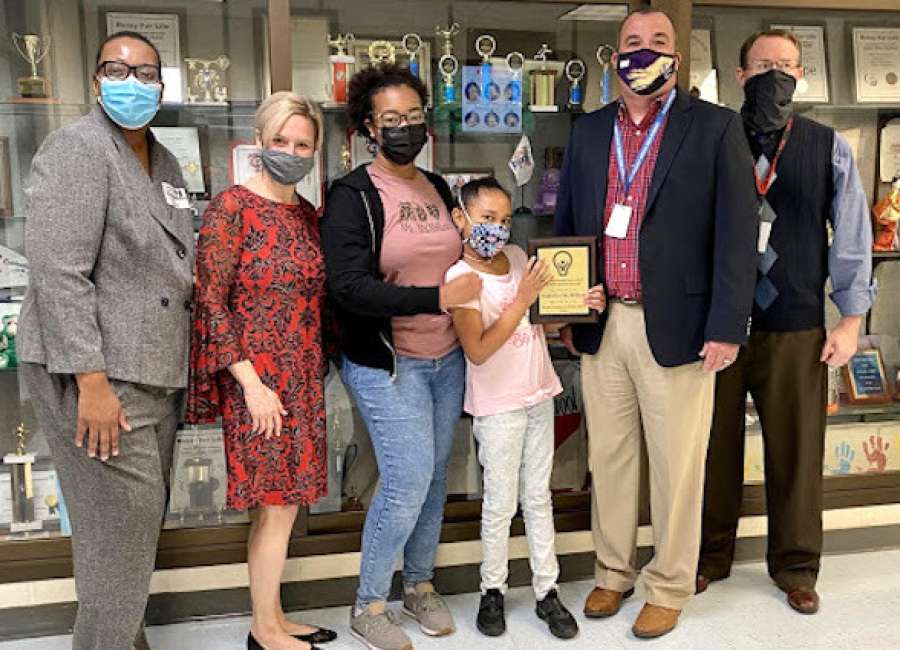 Izzy McMillan, a third grade student at Ruth Hill Elementary School, was recently awarded Distinguished Elementary Gifted Student of 2021 from the Georgia Association for Gifted Children.
McMillan was the only elementary student to receive the award this year in Georgia. She was nominated by her gifted teacher, Mary Thompson. The nomination packet included a nomination letter by Thompson, a reference letter by former Coweta County Fire and Rescue Fire Chief Pat Wilson and a composition by McMillan.
The annual Georgia Association for Gifted Children Conference was held virtually this year, so they sent the plaque to Thompson to coordinate a presentation celebration.
Thompson invited Coweta County Schools Superintendent Dr. Evan Horton, Coweta County Schools Director of Gifted Education Dr. Schwanda Jackson, Ruth Hill Elementary School Principal Dr. Aaron Corley, and McMillan's mother, Lindsey McMillan. In addition to the plaque, McMillan was also awarded $500 towards a scholarship for Camp Invention.
"When it came to a chance I could get chosen as a gifted student out of who knows how many … I felt very special because it was very weird that they would choose me out of everyone else in the whole state! It made me so happy!" McMillan said.
McMillan said her favorite thing about being a gifted student is seeing other students and that they are a part of her family.
"You know family always helps others," McMillan said. "My favorite thing about being in REACH is going on adventures and being able to learn new things. You don't only learn about regular classwork."