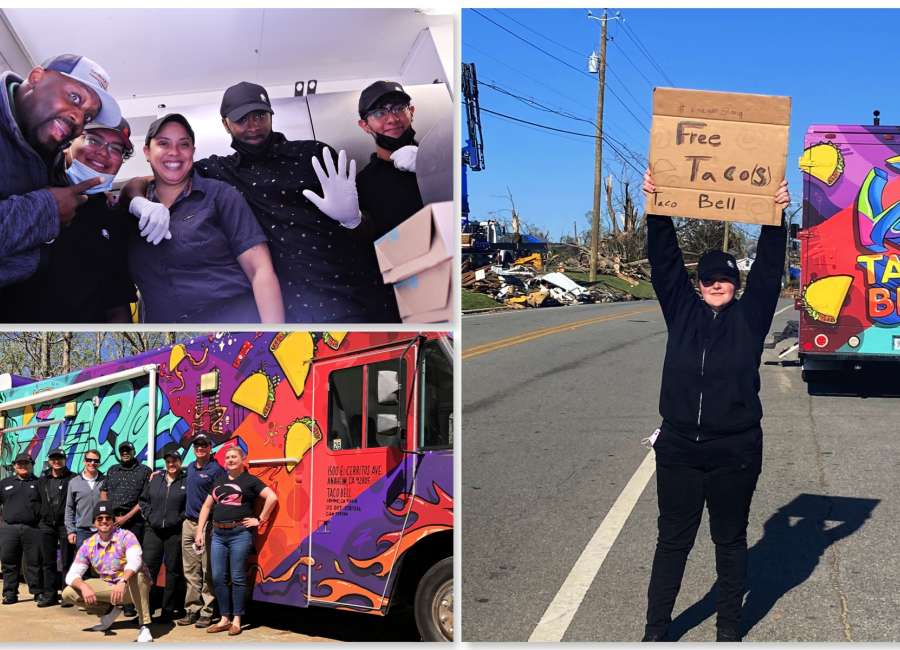 Newnan Taco Bell provided free food Friday to sites across Coweta County where volunteers, first responders, and displaced residents continued to clean up debris and devastation caused by an EF4 tornado March 25.
Hot food and cold water were distributed from a truck provided by Taco Bell Corporation at the request of Newnan-based Taco Bell franchisee Georgia-Texas Enterprises, Doug Augustine, President, and Mike Bender, Chief Operating Officer. The truck was dispatched from St. Louis, Mo., and rolled into town Friday morning.
Taco Bell operates two trucks that travel around the country feeding fans and helping support communities during disaster relief efforts. The self-contained taco-making machines are equipped with their own kitchen, refrigeration system, cleaning facility, and passionate Taco Bell crew. The trucks are leveraged for large brand activations and community relief efforts. During the COVID-19 pandemic, the trucks have fed thousands of first responders and front-line workers throughout Los Angeles, CA, and St. Louis, MO.
Local Taco Bell team members, managers, and the owners of Georgia-Texas Enterprises, Inc., fed hundreds of workers from noon until 7 p.m.
"It's gut-wrenching to see the devastation the storm caused," Augustine said Friday. "But it's inspiring to be a part of a community that stands together and never gives up. Our company has served hungry families in Coweta for more than 30 years. We've never been prouder to call this place home. #newnanstrong!"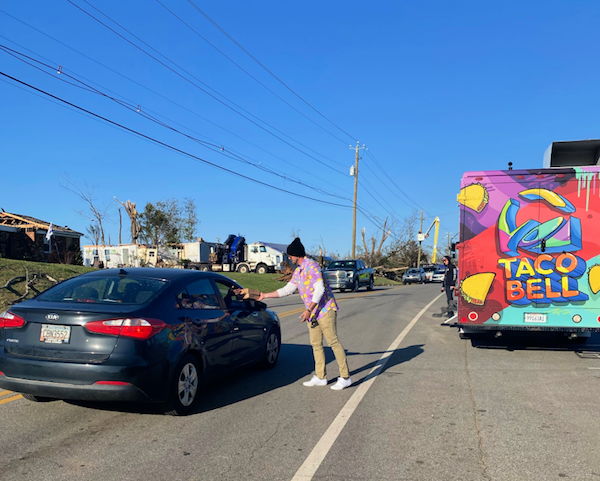 Colin Hilley goes the extra step to get tacos to hungry workers.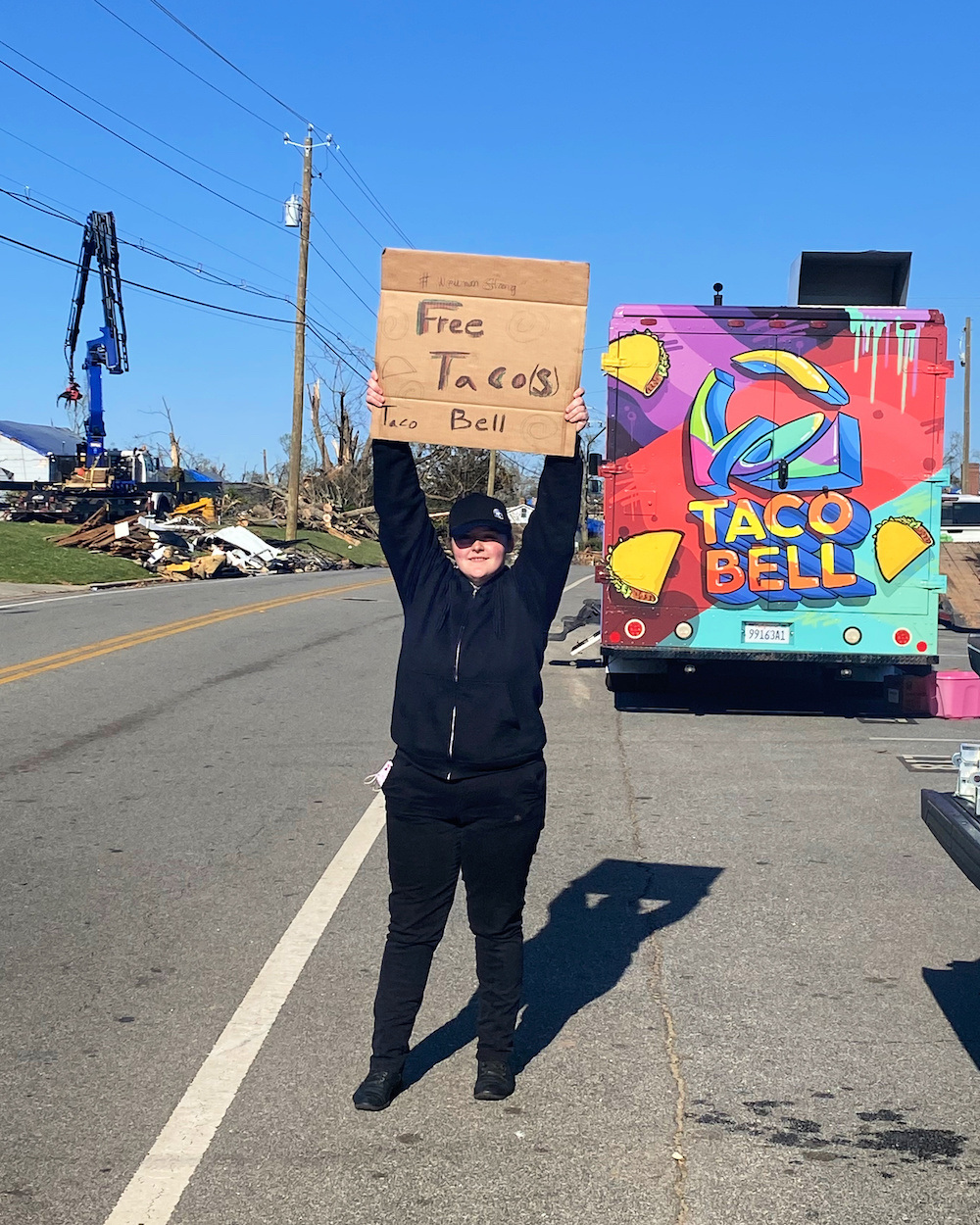 Brittney Sheppard invites workers and residents to a meal from Taco Bell.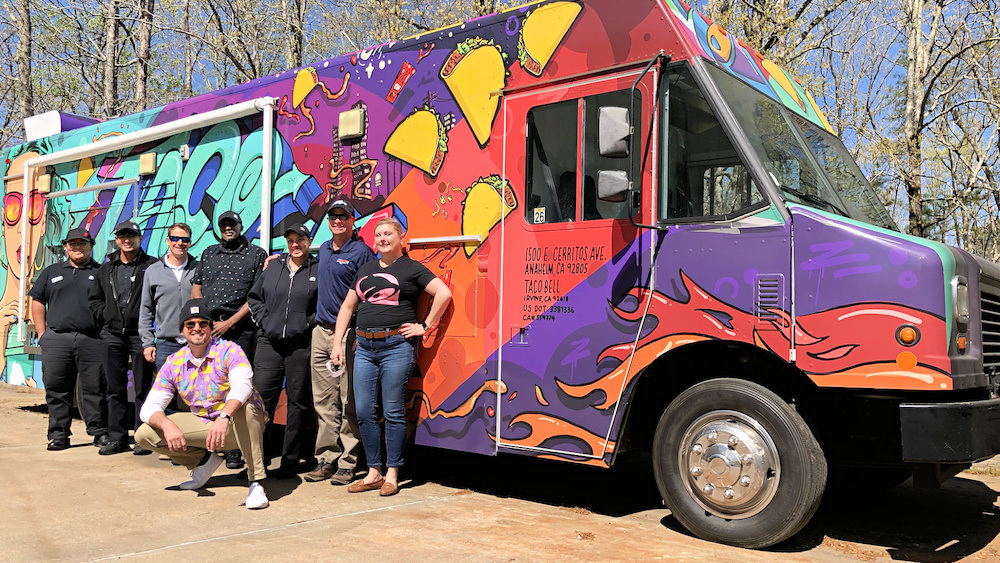 Newnan Taco Bell franchisees Doug Augustine and Mike Bender join team members preparing to serve hungry workers at Coweta Fairgrounds on Friday.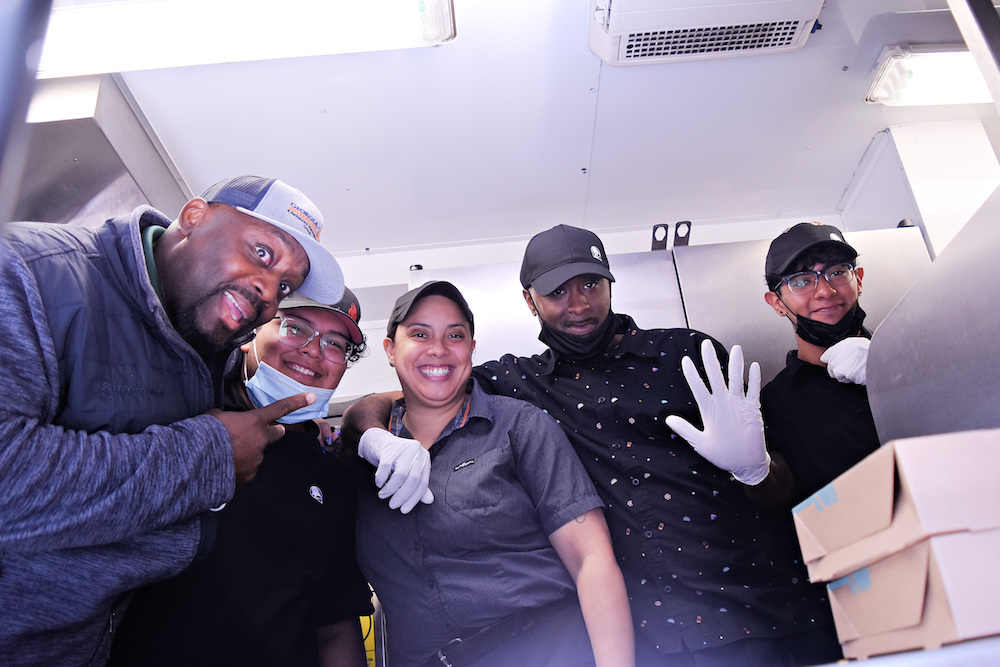 Team members from the Newnan Taco Bell on Bullsboro Drive prepare hot food from Taco Bell's corporate food truck for hungry workers and residents cleaning up from the March 25 tornado in Coweta County. Team members include Demetris Bonner, Jafette Baruch, Indea Mitzalli, Juan Carlos Luna, Chris Lay, Daniel Davis, Lindsi Cook, Colin Hilley, and Maria Leon.