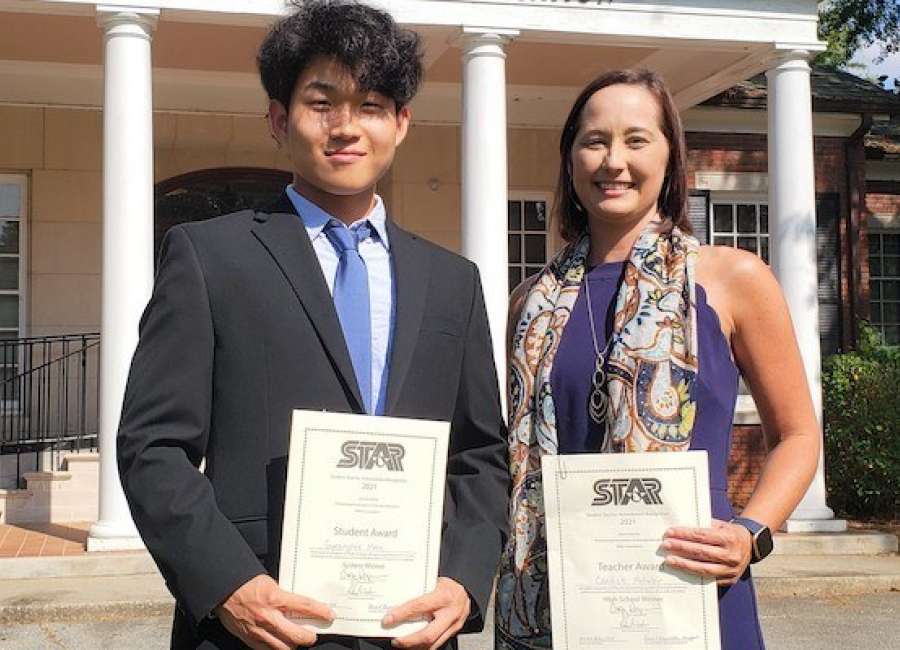 East Coweta High School senior Gyeongtae "Sun" Moon doubled up on honors last week as he was named 2021 STAR Student for both Coweta County and Region 3B.

The Student Teacher Achievement Recognition (STAR) program recognizes top academic students in Georgia high schools each year at the school, county, regional and state levels.
To obtain a 2021 STAR nomination, high school seniors must have the highest score on a single test date on the SAT and be in the top 10 percent or top 10 students of their class, based on grade point average.
Moon was recognized Tuesday, along with seven 2021 STAR Students and STAR Teachers from six Coweta County public and private high schools, by Newnan Rotary Club President Garnet Reynolds. Newnan Rotary acts as local sponsor for the program and holds an annual recognition for Coweta County's STARs.
On Friday, the Professional Association of Georgia Educators – which sponsors the state STAR program, in partnership with the Georgia Chamber of Commerce and the Georgia Department of Education – announced that Moon will represent the 10 counties of Region 3B at the state competition as well.
STAR students are asked to honor the educator who most influenced their academic achievement by naming them as their STAR Teacher. Moon chose East Coweta AP Chemistry teacher Candice Mohabir as his STAR Teacher, and she shares the county-wide and Region 3B honors with him.
STAR Students from East Coweta High School, Newnan High School, Northgate High School, The Heritage School, Central Christian School and Trinity Christian School were all recognized – along with their chosen STAR Teachers – at the Coweta County Board of Education.
Along with Moon and Mohabir, local STAR Students and STAR Teachers are:
Central Christian School (tie)
STAR Student - Jared Furukawa
STAR Teacher - Jason McDaniel, Bible
and
STAR Student - Emily Newman
STAR Teacher - Tammy Newman, English Language Arts
The Heritage School
STAR Student - Banks Coggin
STAR Teacher - Alden Marchman, AP Physics and Multivariable Calculus
Newnan High School
STAR Student - Sarah Dean
STAR Teacher - Dr. Allison Hurston, AP Biology
Northgate High School
STAR Student - William McLane Stephens
STAR Teacher - Bradley Wilson, AP Economics
Trinity Christian School
STAR Student - Nathan Moore
STAR Teacher - Jennifer Rinkenberger, AP Calculus
"The STAR Student recognizes the best of the best among our students and teachers," said Coweta County School System Superintendent Evan Horton. "Congratulations STAR Students and teachers."
As STAR Student and STAR Teacher, Moon and Mohabir will represent Region 3B at the state STAR competition on May 17. Moon will compete for cash scholarship prizes that will be awarded to the state winner, the runners-up and their teachers.
Since its creation in 1958, the STAR program has honored nearly 28,000 students and their teachers.