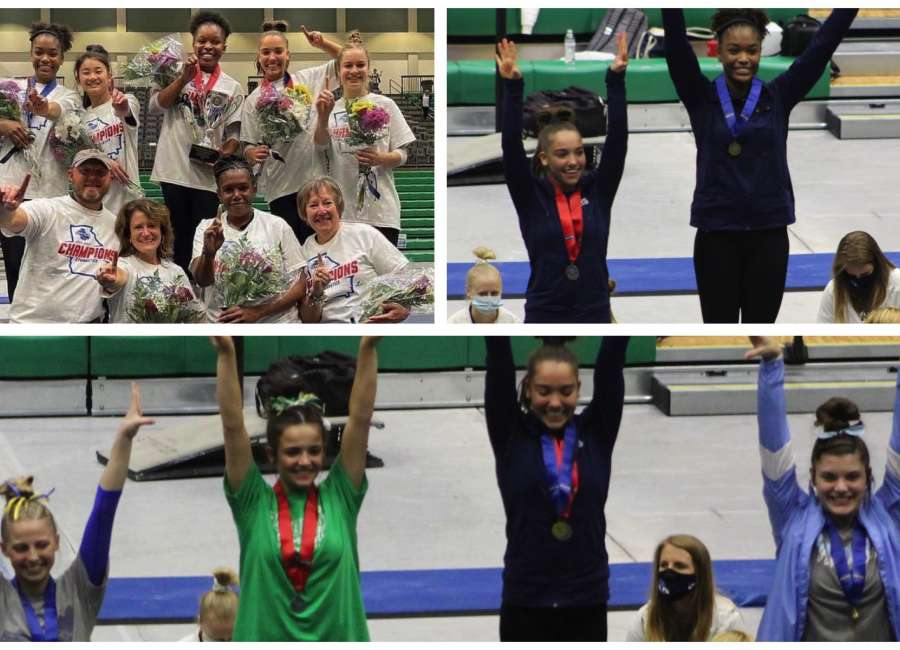 By Walter Krauth III
(Buford, Georgia) - The Newnan Cougars captured the Class 6A-7A Georgia High School State Championship to achieve the program's first team title since 2008. Newnan's 114.680 score bested host Buford's second place score of 111.715 and Cambridge's third place score of 111.746.
The Newnan "Gym Cats" team members are senior Jada Reese, juniors Mikayla Burton and Ruby Goad, freshmen Molly English and Paige Krauth. The team coaches are Robin Goad, Kate Davis, and Ruby Burton.
Each team is allowed up to five teammates for competing, and only four team members may perform their routine in four events: vault, bars, beam, and floor. The three highest scores on each event comprises the team score. A perfect score is 10, a perfect team score is 120.
Coach Robin Goad was glowing about the team when she claimed, "all 16 routines the girls performed were stuck." Stuck is a gymnastic term meaning super performance, a crowd pleaser, which is critical to judges' scoring.
A few team members also earned awards for each individual event. Mikayla Burton placed 1st in beam, Ruby Goad placed 2nd in bars and beam, Jada Reese placed 2nd in vault. Ruby Goad also placed 1st for the All-Around award.
The team trains at the Newnan School of Gymnastics and Cheerleading, which is owned and operated by Greg "Cricket" Shelnutt and assistants Lyudmila Sorokina and Sasha Sorokina.
Cricket told the girls Wednesday prior to the tournament, "this is your tournament and title to win. Remember that no one girl will win it for each of you, and no one girl will lose it for each of you. You have to support each other." After the victory Cricket stated "see, hard work, dedication and sacrifice do pay off, you won!"
Coach Kate Davis and her daughter Elizabeth Davis, (a member of the 2008 Newnan High School state championship team) summarized the day the best. Davis said "These girls fought for this. The score board will tell they won by a landslide. But what we know is they have faced so much adversity to get to this moment. Injuries. COVID completely taking away last season."
"Finally getting to go back to school to have it destroyed by the tornado of March 26. They (the team) stand for everything we have in mind: Character, toughness, community, teammates, strength, and fun!"
They are the Newnan Cougars and have earned not only the State Title, but they have also shown they are Newnan Strong.