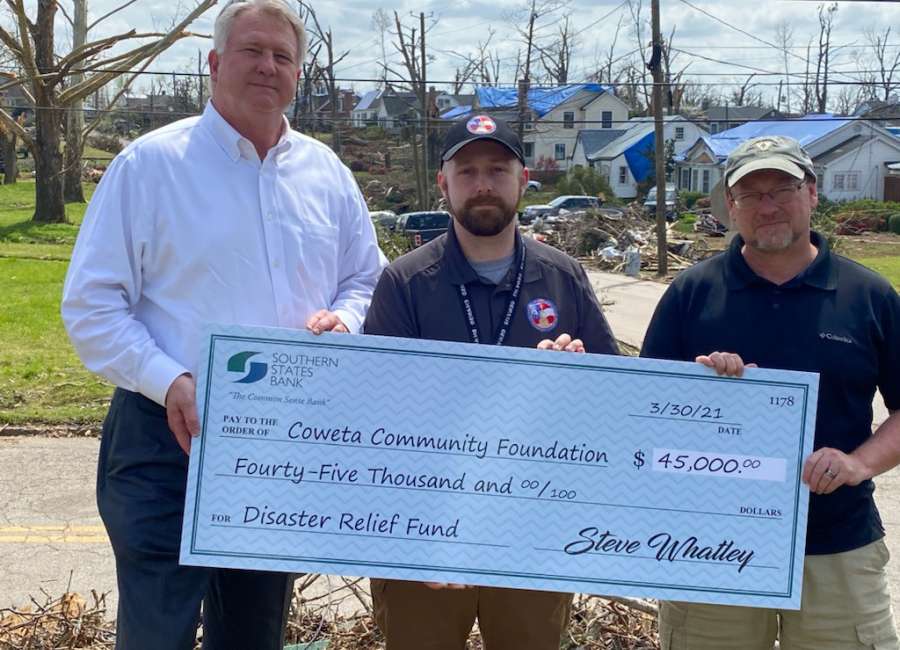 Following last week's devastating EF4 tornado in Newnan, the Coweta County Emergency Management Agency/Coweta 911 established its official disaster relief fund with the Coweta Community Foundation.
One local business, Southern States Bank, has donated $45,000 to Coweta's disaster recovery effort.
Southern States Bank Coweta-Fayette Market President Brett Johnston, who serves on the board of the Coweta Community Foundation, said, "I doubt there is anyone in Newnan who doesn't know of at least one family affected by the devastation. We are thankful to be a part of this community and felt like it was critical that we contribute substantially to the disaster relief efforts."
Johnston made the presentation to two of his fellow board members, Michael Nix, who serves as Executive Director of the Georgia Emergency Communications Authority (GECA) and the Statewide Interoperability Coordinator at GEMA/HS, and Dean Jackson, CCF Board Chair and Public Information Officer for the Coweta County School System.
Others who wish to donate to the tornado relief fund will find a donate button on the home page of the Coweta Community Foundation's website, cowetafoundation.org.
The Coweta Community Foundation is a publicly supported 501(c)3 organization that helps focus local philanthropy on the community's changing needs. The Foundation manages individual gifts and bequests as an endowed pool of assets, distributing grants to a wide variety of organizations that enhance and support the quality of life in Coweta County, while maintaining the charitable intent of the donors. For more information, call the Foundation at 770-253-1833.